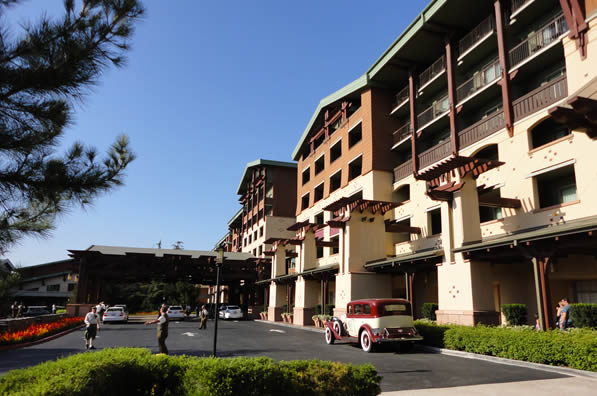 1600 S. Disneyland Drive
Anaheim, CA 92803
Phone: (714) 635-2300
Fax: (714) 300-7300
Check In: 3:00 p.m. for rooms or 4:00 p.m. for villas/ Check Out: 11:00 a.m.
Non-Smoking Hotel
Resort Theme   Resort Rooms   Resort Dining  Child Care   Recreation   Shopping  Resort Tips
The majestic Disney's Grand Californian Hotel, a triumph of Arts and Crafts style and a tribute to timeless architecture and attention to detail, is nestled right inside Disney's California Adventure park. Disney's Grand Californian Hotel is the first hotel ever built inside a Disney theme park. Disney's Grand Californian Hotel provides resort guests an opportunity to experience breathtaking beauty, incredible service, and unforgettable fun. This 751 room hotel features two heated pools with a themed water slide, a children's pool, a health club with saunas and a massage room, a game arcade, two lounges, and three restaurants.
Resort Refurbishment
Check our Rehabs and Closures schedule for any refurbishments or work taking place at the Grand Californian Hotel during your visit.
Resort Theme
The Grand Californian Hotel and Spa has a beautriful American craftsman theme. The interior is inspired by National Park lodges throughout the western part of the country. The lobby has many comfortable seating areas anchored by a massive fireplace. Warm and cozy meets impressive and beautiful in this hotel.
Resort Rooms
Standard Rooms include either a king size bed, two queen size beds, or one queen size bed with bunk beds. Amenities include irons, ironing boards, mini bars, lighted wardrobe, in-room safes, and hair dryers. Coffee/tea makers, refrigerators on request only.
Disabled Guest rooms There are 24 rooms available to accommodate guests with disabilities. Wheelchair access is available in most restaurants, lounges, restrooms and public areas.
Artisan Rooms There are 1-bedroom, 2-bedroom and 3-bedroom suites that offer guests either one king-size bed, or 2 queen-size beds per bedroom. These suites can sleep up to 14 guests, depending on the room type.
Grand Californian Hotel Club Level Club level rooms include either one king-size bed, a queen-side bed and bunk bed, or 2 queen-size beds per bedroom. These rooms sleep up to 5 guests depending on room type.
Other Club Level privileges include:
Priority check-in
Breakfast bar, afternoon tea, twilight wine and cheese reception, and desserts in Craftsman's Club
Personal assistance from the Concierge Staff
Daily newspapers (Monday-Friday)
DVD players and complimentary DVD check-out
Table games and books
Nightly turn down service
The Concierge room in the Grand Californian Hotel is called the Craftsman's Club.  It is located on the 6th floor near the Great Hall elevators and is open from 6:30 a.m. – 10:00 p.m. Breakfast bar with assorted fresh pastries, fruit, cereal and beverages are served from 6:30 a.m. – 10:00 a.m. Afternoon tea with variety of fresh fruits, finger sandwiches and beverages are served between 11:00 a.m. – 4 p.m. Twilight wine and cheese reception with appetizers, cheese tray and complimentary wine or beer are served between 5:00 pm.. – 7:00 p.m. Assorted cookies, desserts and beverages are served between 8:00 p.m. and 10:00 p.m. On nights where fireworks are available you can view the fireworks with soundtrack from the concierge room.
Signature Suites There are four signature suites available at the Grand Californian Hotel that are available for guests.  These expansive suites range from 1,604 to 1,990 square feet and rooms include craftsman-style chandeliers, dining tables, living rooms, a service pantry, a desk and office amenities, and jetted bath tubs.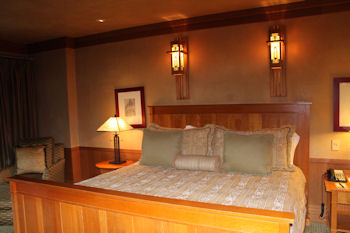 Room Views
Room views of the Downtown Disney shops and restaurants, view of Disney's California Adventures park, or view of the hotel's pools are available for an additional charge.
Room Occupancy
Rooms accommodate up to 5 guests for Standard Rooms, 4 – 6 guests for 1-Bedroom Suites and 8 guests for 2-Bedroom Suites. Sleeping bags and cushions are available. Pak-n-Play Cribs are in all rooms. Metal cribs available on request.
Amenities
Hotel amenities include:
Exclusive entrance to Disney's California Adventure park
Within footsteps from the Downtown Disney District and Disneyland park
3 swimming pools including the fountain pool, kids pool, Redwood Pool and slide, and 2 hot tubs
Storytelling by the Great Hearth, Pianist, and Art of the Craft Tour
Mandara Health Club and Spa including dry and steam sauna
Mandara Massage Services
Grizzly game arcade
Business center
24-hour room service
Shopping at Acorn Gifts and Goods
Complimentary Disney channel and ESPN in every room
Multilingual staff
24-hour valet service
Grand Californian Hotel Resort Dining
Napa Rose is a sophisticated table-service restaurant, that features exquisite dining complemented by fine wines. Napa Rose is an award winning specialty restaurant, celebrating California's famous wine country. Wine Country inspired specialties are designed to showcase the award-winning selection of wines. The restaurant is characterized by a rose motif, which is found in the hand-blown glass light fixtures, ceiling panels, cast member costumes, carpet and border designs. The dining room at Napa Rose overlooks a landscaped area between the hotel and Disney California Adventure park. Guests enjoy a view of Disney California Adventure through a 20-foot-wall of stained glass. Serving: Dinner
Napa Rose Lounge is adjacent to the spectacular Napa Rose Restaurant and offers a wide variety of outstanding California wines available by the glass. Enjoy a glass of California wine while relaxing alongside the beautiful fireplace. Napa Rose Lounge offers full-menu service and pleasant outdoor seating with a stunning view of Disney California Adventure park.
Storyteller's Cafe is a table service restaurant that salutes the art of storytelling through the use of beautiful period murals depicting tall tales set in early California. California stories depicted in the seven murals include Mark Twain's "The Jumping Frogs of Calaveras County" and Scott O'Del's "Island of the Blue Dolphin." The food at Storyteller's Cafe harkens back to a simpler time with hearty home-style favorites. Here you will find a variety of tempting American cuisine on the menu including wood-fired pizzas, bountiful salads, grilled sandwiches and fresh fish. A character buffet breakfast is also offered, where guests can dine with those mischievous chipmunks Chip 'n' Dale. A la carte breakfast items are also available. Meals Served: Character Breakfast, Lunch and Dinner.
Hearthstone Lounge has guests seated around a cozy fireplace in this lodge-like lounge that offers coffee drinks and homemade baked goods in the morning. Later in the day, there's an extensive selection of blended drinks, cocktails and wines.
Whitewater Snacks was designed after a campground pavilion, and is the resort's quick-service location. At this eatery, you will find entrée salads, deli sandwiches, grilled chicken, pizzas, hamburgers, hot dogs and specialty coffees. Breakfast items include burritos, bagels, muffins, Mickey waffles, and sweet rolls. Meals Served: Breakfast, Lunch, Dinner, Snacks
Pool Bar – This bar is open seasonally. Offers beverages and light snacks.
Child Care
Pinocchio's Workshop is a children's activity center located at Disney's Grand Californian Hotel. Pinocchio's Workshop provides a wondrous environment with a caring, licensed supervisor. Available to Disneyland Resort Hotel Guests for children ages 5-12. Open from 5:00 pm until midnight.
Recreation
Mandara Health Club and Spa is a full-service, 4,000-square-foot fitness center with state-of-the-art equipment, massage rooms and dry and steam saunas.  The spa offers treatments like massages, manicures, pedicures, rubs, body wraps, facials, and even teeth whitening.
Fountain Pool offers a quiet atmosphere to guests. Features an artisan-crafted turtle fountain.
Redwood Pool features a water slide that is more than 100 feet long styled around the stump of a giant fallen redwood tree.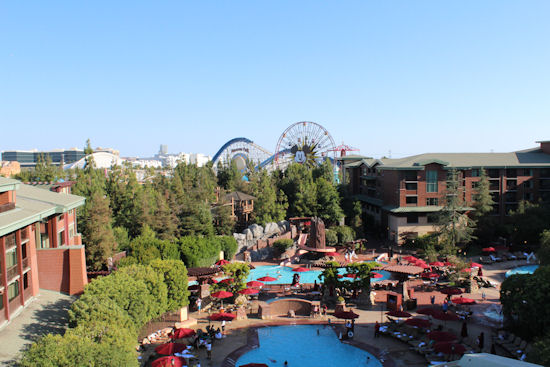 Shopping
Acorn Gifts and Goods This store located on the lobby level offers souvenirs, sundries and other necessities.
Grand Californian Hotel Resort Tips

MouseForLess Room Request Tips:
If you are paying for a theme park view, ask to be looking out toward Paradise Pier. The view at night is incredible, and you look over the pool too.
There is also a great view looking toward the Grizzly park section.
If a balcony is important to you, request it. Not all rooms have balconies although many do.

MouseForLess Hidden Treasures:
There are tours of the resort. Ask at guest services for times.

MouseForLess Tips for Romance:
This resort oozes romance with the Arts and Crafts style and sitting areas, fireplaces and more.  Get a massage or other treatment at the spa. What could be more romantic?

MouseForLess Tips for Families:
You can request bunk bed rooms with one set of bunk beds. Kids love them and there is no bed sharing.
For travel parties that have 2 adults and three children, you can even request a sleeping bag.
There are lots of unique activities for children including storytelling times near the fireplace. Check your resort guide for times and locations.

MouseForLess Tips for Large Travel Groups:
Request rooms in the same area of the hotel if proximity is important. If you end up in different wings of the resort, the rooms could be quite far from each other.

MouseForLess Tips for Disneyland Newbies:
This is a great spot for Disneyland newbies because you have your own entrance right into Disney California Adventure Park, and also a convenient path to Disneyland.

MouseForLess Tips for Luxury Travelers:
The concierge level is very enticing. You will have access to a daily breakfast bar, and wine and cheese in the evening. There are beautiful suites available, some with magnificent views and rooms.