Saratoga Springs Top Ten Tips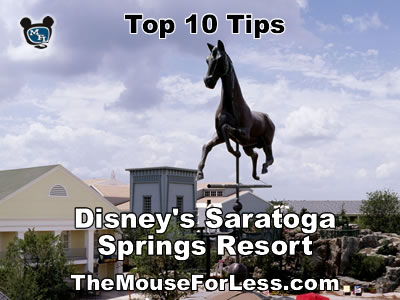 °o° Disney's Saratoga Springs Resort is part of the Disney Vacation Club. It is also considered a Deluxe Villa resort. It is located in the Downtown Disney area. °o°
Transportation to Downtown Disney. There is boat transportation to Disney's Old Key West Resort and Downtown Disney.  Also, there is a walking path to Downtown Disney's Marketplace.  Because of how spread out this resort is, the walking path may not be a viable option for all villa locations.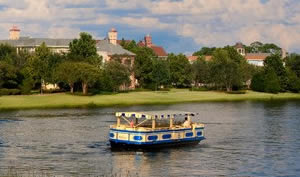 Dining Options. There are many dining options just across the lake at Downtown Disney.
Picnic Areas. Looking to host a laid back group gathering?  There are charcoal barbecue grills and picnic table pavilions located near the pools in The Grandstand, The Paddock and Congress Park sections of this resort.  These are available on a first-come first-served basis.  You can check out barbecue utensils from Horsing Around Recreation Rentals.
Pools. There are four pools at Saratoga Springs Resort.  The main pool is called High Rock Spring Pool.  It is zero-depth entry and has a unique water slide.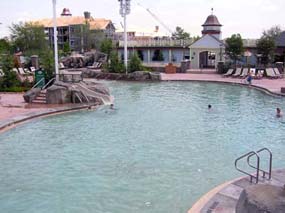 Full Service Spa. The Spa at Disney's Saratoga Springs Resort is a full-service spa that offers single treatments, half-day treatments, or full-day treatments.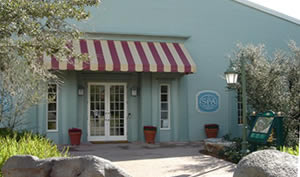 Golf. Do you like to golf?  Why not reserve a tee time at Lake Buena Vista Golf Course?
Jogging Trails. There are two jogging trails at Saratoga Springs Resort.  One trail is 0.8 mile, and the other trail is 1.44 mile.
Keep Up Your Exercise Routine. Bikes and sporting equipment for basketball, tennis, and shuffleboard can be rented at Horsing Around Rentals.
Groceries. Basic groceries can be purchased at Artist's Palette.
Movies Under the Stars. There are nightly "Movies Under the Stars" at High Rock Spring Pool.