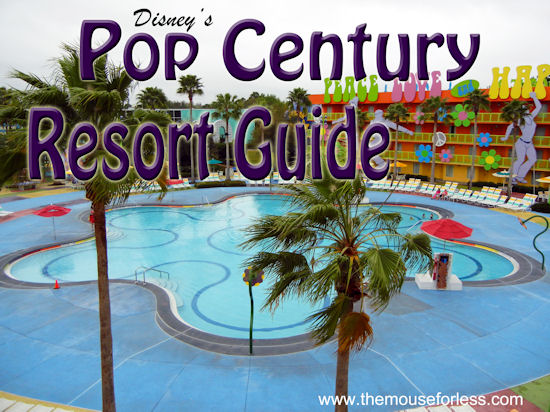 1050 Century Drive
Lake Buena Vista, FL 32830
Phone: 407-938-4000
Fax: 407-938-4040
Rooms   Dining   Recreation   Shopping Transportation   Childcare   Resort Rates   Resort Map

  Reviews Activities

  Top 10 Resort Tips   VIP Tips   Free Quote
Value Resort Classification
Located in the Disney's Hollywood Studios resort area
Check In: 3:00 p.m. / Check Out: 11:00 a.m.
Disney's Pop Century Resort celebrates 20th century pop culture by showcasing the popular toys, fads, dance crazes and catch phrases of the 20th century. The resort features larger than life icons from the 50's, 60's, 70's, 80's and 90's Guests at this 2,880-room resort have the opportunity to live and play inside these unique time capsules and experience the popular culture that defined the century. Disney's Pop Century resort features buildings and furnishings inspired by different decades. Giant pop culture icons celebrate the decade they were introduced in, or when they gained their greatest popularity. Some of these giant icons tower more than 60 feet. The resort is located near Disney's Wide World of Sports Complex and Disney's Caribbean Beach Resort.
Disney's Pop Century Resort, like all Disney resorts, is smoke-free. Designated outdoor smoking areas are indicated on the Resort Map.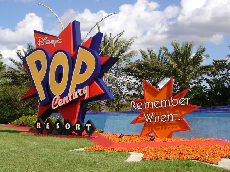 Check our Rehabs and Closures schedule for any refurbishments or work taking place at the Disney's Pop Century Resort during your visit.
See Current Resort Rates and Seasons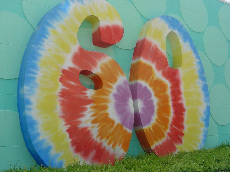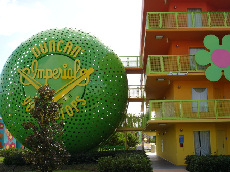 Rooms at Disney's Pop Century Resort
2880 Rooms in all
Preferred rooms are in the 50's, 60's and 70's sections
Rooms will accommodate four (4) people, plus a child under 3.
All buildings have four levels
Stairs and elevators are available
Room Size is approximately 260 square feet
Room views overlook the parking lot, courtyard or pool area
Rooms have exterior hallways
Handicap accessible rooms include a king-sized bed, along with handrails and roll-in showers
Standard room features two double beds
Single sink area is located outside of bathroom
Beverage Cooler
In-room safe
Small Dresser
Table & Chairs
Pack 'n Play available
Alarm Clock
Dual line phones with voicemail
Satellite TV with Disney Programming
Complimentary wireless Internet (Wi-Fi) (click link for specific details)
Iron / Ironing Boards
Hairdryer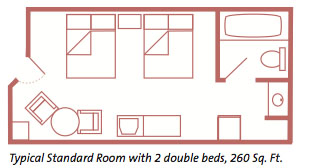 Coin-operated self-service laundry facilities are located throughout Disney's Pop Century Resort. Valet dry cleaning and laundry service is available for pickup from your room.
Located at the Main Lobby in the Classic Hall building, the concierge can help you purchase Disney Theme Park and Disney Water Park tickets, make dining reservations and secure show seats.
Dining Options at Disney's Pop Century Resort
Everything Pop Food Court
Pop Art Pizza Delivery
Classic Concoctions (quick service lounge)
Petals Pool Bar
Refillable mugs are available for purchase at the Everything Pop Food Court.
Sponsor:
Do you need groceries for you Walt Disney World vacation? Give
Garden Grocer
a try, they deliver to your Disney resort! Garden Grocer is often mentioned by Disney veterans as being reliable and reasonable.
Garden Grocer
has a large selection of products including baby items and alcoholic beverages and even an aisle called "Park Essentials".
Recreation at Disney's Pop Century Resort
Three pools – Bowling Pool located in the 50's area, flower-shaped Hippy Dippy Pool located in the 60's area, and monitor-shaped Computer Pool located in the 90's area
Towels are not available at the pool, guests must bring their own from the room
Lifejackets are available for use
Kiddie pool is available near the 60's area, as well as a playground.
Fast Forward video arcade is located in Classic Hall
A 1.4-mile jogging trail surrounds Disney's Pop Century Resort
Health club facilities are not available
Disney's Pop Century Resort Shopping:
Everything Pop shop located in Classic Hall, adjacent to the Food Court
Transportation
Disney's bus service is available to and from this resort. Bus stop is located at Classic Hall at the end of lobby – exit the doors near the Everything Pop shopping location
Transportation Times Between Pop Century and Disney Destinations
These times are approximate, provided to give you an idea of average travel times. Please plan on up to a 20 minute wait for Disney transportation in addition to walking time to resort or theme park transportation stops.
Magic Kingdom – 24 minutes by bus, 31 minutes by car (with transfers)
Epcot – 20 minutes by bus, 19 by car
Disney's Hollywood Studios – 18 minutes by bus, 18 by car
Animal Kingdom – 20 minutes, 15 by car
Disney Springs – 20 minutes by bus, 15 by car
Blizzard Beach Water Park – 19 minutes by bus, 11 minutes by car
Typhoon Lagoon Water Park – 20 minutes by bus, 13 minutes by car
Resort Childcare:
No on-site child care facility. In-room child care is available at all resorts.
Looking for a discounted rate for your Disney Vacation? Let The Magic for Less Travel, an Authorized Disney Vacation Planner, work for you. Their concierge services are always provided free of charge, and The Magic for Less Travel will help you find the best published or unpublished discount for your vacation. Already have a vacation booked directly with Disney? Contact The Magic for Less Travel to see if they can help you find a lower rate.

GET A FREE QUOTE NOW!
Disney's Pop Century Resort VIP Top Tips


This section is sponsored by the Disney experts at The Magic for Less Travel, Authorized Disney Vacation Planner
At Pop Century near the '50s buildings keep a look out for rabbits. They moved in many years ago when the resort was only a couple of years old and they always make our day when we see them outside our room early in the morning.
At Pop Century, we request a water view room, first floor. It gets us down by the lake, it's nice and quiet, and we have seen local wildlife. There are lots of bunnies and we had ducks practically walk into our room one time.
Find the outdoor Twister game available at Pop Century.
At Pop Century, you can catch some of the IllumiNations fireworks from certain areas of the resort. In the '50s section, you may catch a view from the fourth floor balconies.
I think the food courts at both Pop Century and Art of Animation are some of the best food courts on Disney property. They both offer some really unique things. Since the resorts are so close in proximity, you can always walk to the other resort to enjoy their food court.
The path near the water and across the Generation Gap Bridge is a really nice walk.
There are many icons at both resorts that make for great photo ops!
If you are at a park waiting for a bus for Pop Century and one for Art of Animation comes first (or vice versa), take the bus and just walk the short distance from one resort to the other.
Subscribe to our Free Discount Newsletter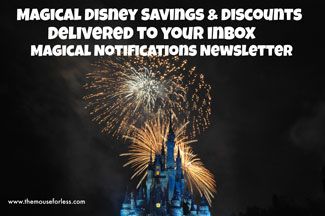 Subscribe to our newsletter, Magical Notifications, and receive our weekly email alerts about special money saving promotions to Disney destinations and Universal Orlando Resort.