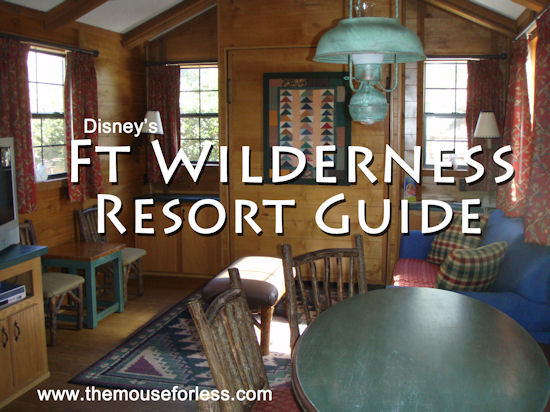 4510 N. Ft. Wilderness Drive
Lake Buena Vista, 32830
Phone: (407) 824-2900
Fax: (407) 824-3508
Refurbishment   Theme   Rooms   Dining   Recreation   Shopping
Transportation   Childcare   Resort Rates   Resort Map   Cabin Reviews
Campsite Reviews   Activities   Top 10 Resort Tips   VIP Tips
Campground Resort Classification
Located in the Magic Kingdom resort area
Check In: 3:00 p.m. Cabins; 1:00 p.m Campsites / Check Out: 11:00 a.m.
Here's where you go for the Disney Magic with a rustic touch. Choose between air-conditioned cabins with decks or secluded, scenic sites for tents and RVs. Enjoy hiking trails, horseback rides, evening Disney movies with Chip and Dale, and of course access to all the activities and benefits of an on-site Disney vacation.
Fort Wilderness, like all Disney resorts, is smoke-free. Designated outdoor smoking areas are indicated on the Resort Map.
Resort Refurbishment
Check our Rehabs and Closures schedule for any refurbishments or work taking place at the Fort Wilderness Resort and Campground during your visit.
Resort Theme
This is an actual campground, as only Disney can do it, with campsites or cabins available.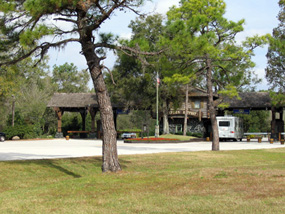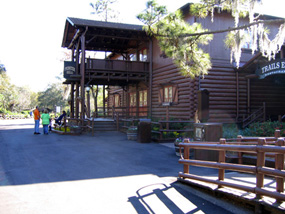 Accommodations
This resort has 409 cabins and 784 campsites.
Cabins
Cabins have a capacity of six plus one child under three in a crib (504 square feet).
Each cabin has a double bed, a bunk bed and a double Murphy bed.
Disabled cabins are available.
Each cabin has:
Alarm Clock
AC/Heat
Charcoal Grill
Coffeemaker & setup
Dining Table & Chairs
Driveway (one car only)
Hair Dryer
In-Room Wall Safe
Iron and Board
Kitchen:
Full-size Refrigerator, Microwave,
Stove, Oven, Toaster, Blender,
Dishwasher, Plates, Flatware,
Glasses, Cookware, Sink
Living Room Area
Patio
Picnic Table
Telephone with voice mail
Television
  ABC, Disney Channel, ESPN & more
DVD Player
Complimentary wireless Internet (Wi-Fi) (click link for specific details)
Housekeeping service




Campsites
Tent/Pop-up Hookup campsites:
– Have electric, water, cable, internet.
– Accommodate 4 plus one child under three.
– Fit 1 pop-up OR 1 van camper OR two tents (No RVs)
Full Hook-up campsites:
– Have electric, water, sewer, cable, internet.
– Accommodate 10 plus one child under three.
– Fit 1 tent plus either a motor home or a travel trailer or a 5th wheel
Preferred Location Hookup campsites:
– Have electric, water, sewer, cable, internet, preferred locations.
– Accommodate 10 plus one child under three.
– Fit 1 tent plus either a motor home or a travel trailer or a 5th wheel
Premium Location Hookup campsites:
– Have electric, water, sewer, cable, internet, prime locations.
– Large level paved pad, upgraded picnic table & grill, Designed especially for RVs.
– Accommodate 10 plus one child under three.
– Fit 1 tent plus either a motor home or a travel trailer or a 5th wheel
Each campsite loop has a comfort station:
Climate-controlled
Toilet facilities
Showers
Laundry
Ice Machines
Picnic Table and Charcoal Grill
There are campsite pet loops- restrictions apply; documentation required.
Resort amenities include:
Groceries available
On-site kennel
Self service laundry facilities
Wireless Internet access points are located throughout the Resort
Available upon request, subject to availability
Electric Carts (fee)
Pet Loop (per pet fee)
Tent/Cot rental (fee)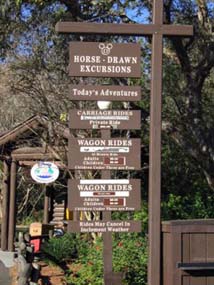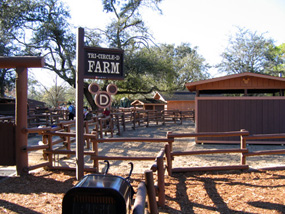 Resort Dining
Trail's End Restaurant has buffet-style breakfast, lunch, and dinner.
Hoop Dee Doo Musical Revue is Disney World's longest-running dinner show.
Mickey's Backyard BBQ is an outdoor all-you-can-eat barbecue with Disney characters (seasonal).
Meadow Snack Bar serves snacks and drinks by the pool.
The Chuck Wagon has hot dogs, pizza, popcorn and marshmallows, at the campfire.
Refillable mugs are available for purchase at Trail's End Restaurant and Meadow Snack Bar for $15.49 plus tax.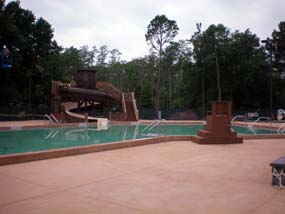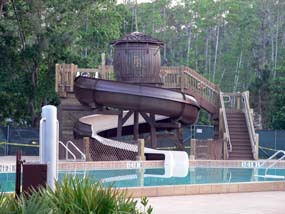 Resort Recreation
Two pools:
Ol' Meadow Swimmin' Hole located near campground with slide & hot tub
Wilderness Pool in the cabins area
Child wading pool and water play area
Children's playground
Two video arcades:
Davy Crockett Wilderness Arcade near Pioneer Hall and Bay Lake
Daniel Boone's Wilderness Arcade at the Meadow Recreation Complex
Tennis
Marina/boat rental
Canoe or kayak rental
Bike rental
Fishing
shuffleboard
Archery
Segway Tour
Beach area
Fort Wilderness Swamp Trail
Horse-drawn carriage rides
Horseback riding & Pony rides
Wagon Hayrides
Petting farm
Horseshoes
Waggin' Trails Dog Park
Electric Cart Rentals
Evening campfires with movies and Chip & Dale
Electrical Water Pageant view
Resort Shopping
Meadows Trading Post stocks groceries, souvenirs, and sundries.
Settlement Trading Post sells Fort Wilderness logo clothing and souvenirs, general Disney character merchandise, and sundries.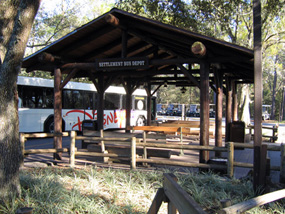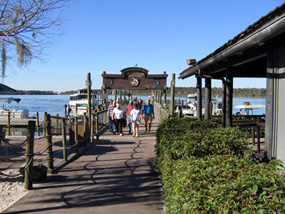 Resort Transportation
Disney's bus service is available to and from this resort to the four theme parks, the two water parks, and Downtown Disney. A water launch, which docks near Pioneer Hall, transports guests to the Magic Kingdom, as well as the Wilderness Lodge and the Contemporary Resort.
There are numerous internal bus system stops located around the resort- the internal buses transport guests throughout the Fort Wilderness resort between 7 a.m. and 2 a.m.
Transportation Times Between Fort Wilderness Resort & Campgrounds and Disney Destinations
These times are approximate, provided to give you an idea of average travel times. Please plan on up to a 20 minute wait for Disney transportation in addition to walking time to resort or theme park transportation stops; those staying at Fort Wilderness may also need to take one of the internal buses to reach the main Disney transportation stops (bus or boat). This will add to the travel times listed below between destinations.
Magic Kingdom – 16 minutes by bus, 23 minutes by boat, 23 minutes by car (with transfers)
Epcot – 27 minutes by bus, 18 by car
Disney's Hollywood Studios – 25 minutes by bus, 19 by car
Animal Kingdom – 28 minutes, 24 by car
Downtown Disney – 30 minutes by bus, 19 by car
Blizzard Beach Water Park – 27 minutes by bus, 22 minutes by car
Typhoon Lagoon Water Park – 27 minutes by bus, 15 minutes by car
Resort Childcare
No on-site child care facility. In-room child care is available at all resorts.
Read a first hand report about on TheMouseForLess reader's stay at the Fort Wilderness Cabins.
Resort Rates
Looking for a discounted rate for your Disney Vacation? Let The Magic for Less Travel, an Authorized Disney Vacation Planner, work for you. Their concierge services are always provided free of charge, and The Magic for Less Travel will help you find the best published or unpublished discount for your vacation. Already have a vacation booked directly with Disney? Contact The Magic for Less Travel to see if they can help you find a lower rate.

GET A FREE QUOTE NOW!
Fort Wilderness Resort & Campground VIP Top Tips
This section is sponsored by the Disney experts at The Magic for Less Travel, Authorized Disney Vacation Planner
If you have more than two adults and are staying in the Cabins at Fort Wilderness, consider requesting a loop and cabin close to a convenience station. You will have access to additional bathroom and shower facilities which makes getting ready in the morning much easier! Laundry facilities are there, too! Remember, though, room requests aren't guaranteed, but Disney will do its best to honor them.
Want convenience? Rent a golf cart during your stay. Not only can you get around the resort property more easily, but you can drive and park it at the bus stop to the parks. No need to rely on the timing of internal transportation, although we found we never waited more than five minutes or so for an internal bus. Just remember to bring something fun to identify your cart among all the others!
If you want convenience, a car or cart rental is nearly a must. If you don't have either, plan to have patience. You will still have fun without a rental, but you have to allow extra travel time to/from the parks.
There is a grocery delivery service at the cabins for a small fee.
Storage is a little tricky for seven large suitcases, so be prepared if you're bringing many large bags!
Quick Service at the Meadow Snack Bar closes early, so getting a late night bite can be tricky if you don't have your own supplies.