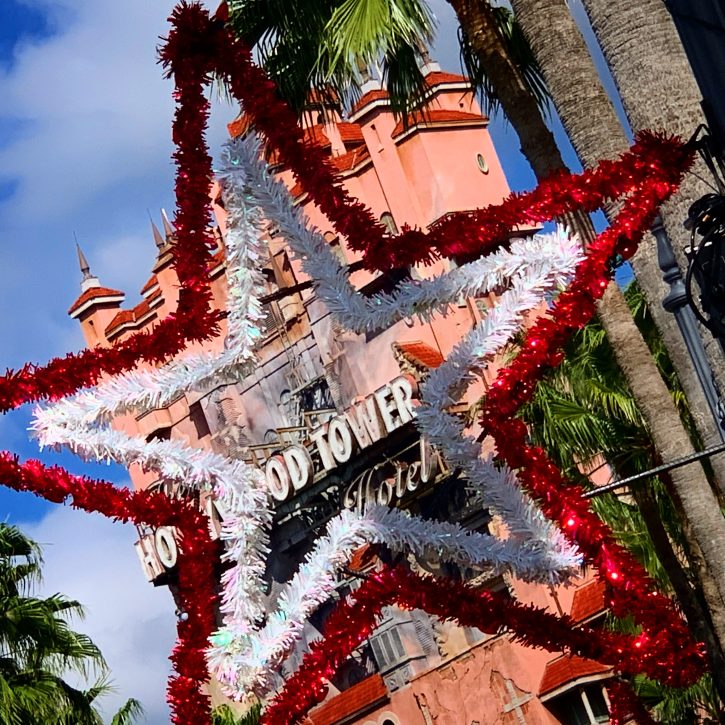 The holidays are a magical time of at Disney's Hollywood Studios in Walt Disney World. The park really is the epitome of tinsel town with tinsel decor found throughout during the season. In addition, there are fun holiday shows like the the Sunset Seasons Greetings projection show, plus lots of other great holiday fun.
Disney Jollywood Nights Sunset Seasons Greetings Toy Story Land Meet Santa Holiday Decor Minnie's Hollywood Dine Holiday Treats MFL Tips
Disney Jollywood Nights
New for 2023 is a hard ticketed event called Disney Jollywood Nights. This event will take place on 10 select nights from November 11 through December 20, 2023.
The event will include the holiday nighttime fireworks spectacular, Jingle Bell, Jingle BAM! which will be exclusive to the party. There will also be a brand new show at the Theater of the Stars that is hosted by Kermit the Frog and Miss Piggy that will include Disney friends and a spirited sing-along. Guests will be able to stop at a jazz lounge at The Hollywood Brown Derby and an other-worldly soiree at The Hollywood Tower Hotel Courtyard. And, if you head over to Commissary Lane, you'll find a Latin Street Fair. There will also be Disney characters will be available for the occasion. In addition, Guests will be able to ride favorite attractions throughout the night.
Disney Jollywood Nights will take place on:
November: 11,18, 20, 27, 29
December: 4, 6,16,18, 20
The party will last from 8:30 p.m.-12:30 a.m. Ticket holders will be admitted to Disney's Hollywood Studios as early as 7:00 p.m. on their party night. These event tickets do not require an additional day theme park ticket or theme park reservation.
Sunset Seasons Greetings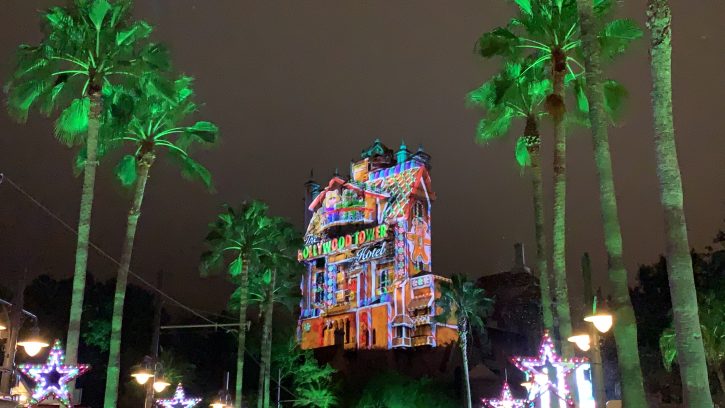 Introduced in 2017 was the nighttime projection show, Sunset Seasons Greetings. During this nightly event, Guests are able to experience falling snow, twinkling lights and watch stories from several iconic Disney characters all on Sunset Boulevard. During the Sunset Seasons Greetings projection show, billboards suddenly begin to move into motion and tell a tale, courtesy of iconic characters sharing their love for the season. Also, the Hollywood Tower Hotel magically transforms, bringing to life the characters' stories. Some of those special stories that will be told will include:
Mickey and Minnie reminiscing about a hometown Christmas as the scene shifts into a romanticized, Norman Rockwell-inspired town—starting in black and white before slowly changing into color.
The Toy Story characters guessing which new toys are coming this Christmas as the scene becomes covered in holiday wrapping paper.
The Swedish Chef from The Muppets babbling as only he can while the scene turns into giant gingerbread houses.
Olaf pining over his holiday wish as iconic music plays and the scene freezes over into a Frozen winter wonderland—complete with dancing Aurora Borealis lights and projected falling snow.
Sunset Seasons Greeting Video
Toy Story Land
Toy Story Land gets special seasonal fun!
Guests will be able to enjoy the land's new holiday decor, including including oversized cranberry-and-popcorn garland, a holiday card "selfie", an oversized Hamm sugar cookie, Green Alien ornaments and more.
The land's attractions are plussed up for the season, as Guests will hear sleigh bells ringing on Slinky Dog Dash, while Alien Swirling Saucers will offer two special holiday tracks, plus themed lighting.
In addition, Guests visiting during the holidays can expect to see Woody in a holiday vest adorned with a Christmas tree and presents, as well as a candy cane accessory for his holster. Jessie will trade in her cowgirl vest for a red holiday vest trimmed in a peppermint pattern, while Buzz Lightyear will add a sparkly Santa hat.
Meet Santa Claus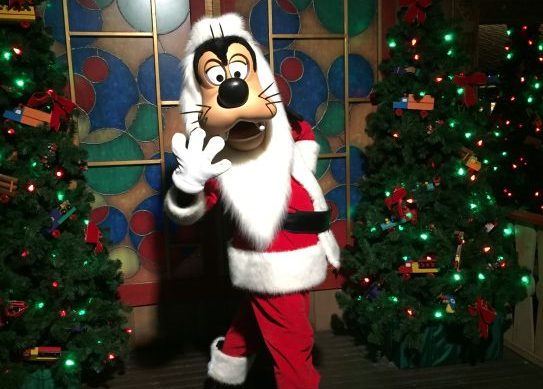 Santa Claus will be able to be found in the Once Upon a Time shop beginning November 9 through December 24.
Once Old Saint Nick returns back to the North Pole, Santa Goofy will step in from December 25 – 31.
Holiday Decor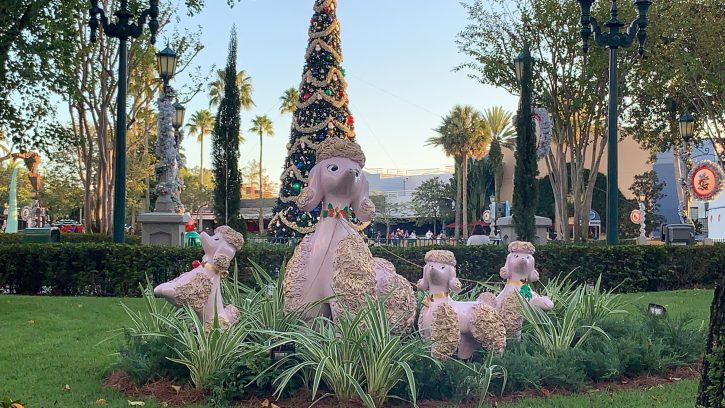 At Disney's Hollywood Studios during the holiday season, "Tinsel Town" takes on a completely different kind of meaning at this theme park that celebrates the magic of movies and television. When celebrating Disney's Hollywood Studios Christmas, Guests will find a giant Christmas tree that towers on Echo Lake, holiday displays that capture the imagination, and colorful garlands and lights sparkle. There are also colorful garlands near Echo Lake – the merriest of places this holiday season. Even the famous Dinosaur, Gertie, is dressed for the occasion. She's wearing a dino-Santa hat for the Disney's Hollywood Studios Christmas season.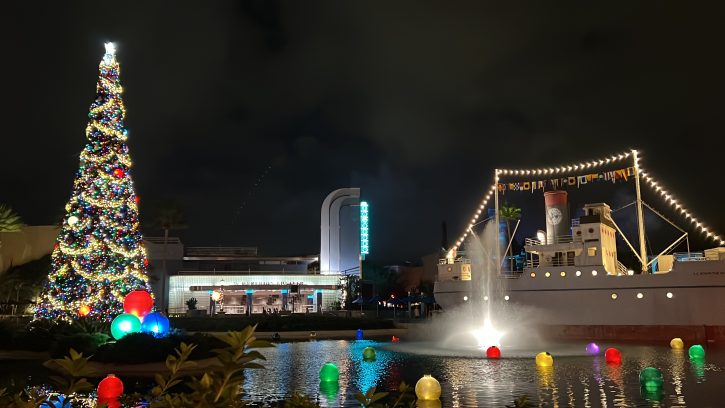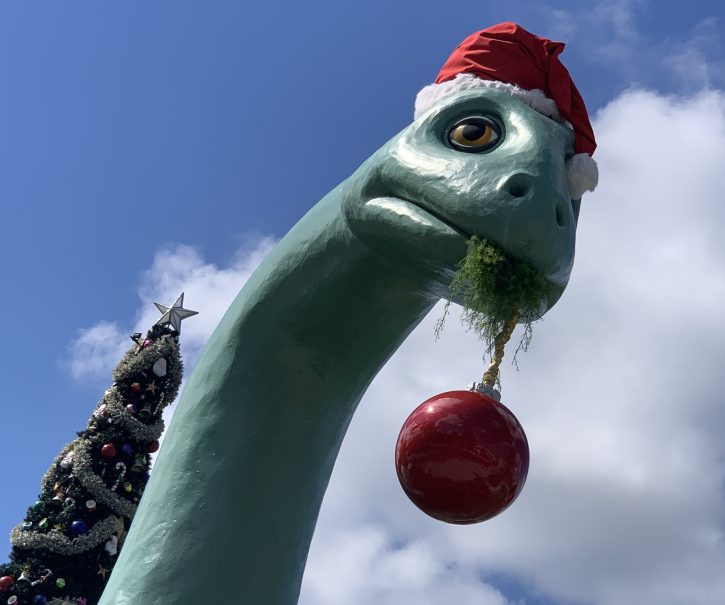 Minnie's Holiday Dine at Hollywood & Vine
Taking place most dates beginning November 5, 2023 will be Minnie's Holiday Dine at Hollywood & Vine. The meal will be the place to celebrate the holiday season. Here, Minnie Mouse hosts a festive dinner with her friends Mickey Mouse, Donald Duck, Daisy Duck and special guest Santa Goofy. Holiday themed décor, food, music and activities create the perfect place to deck the halls with friends and family. The cost of the meal is $59 for adults ages 10 and up and $38 for children ages 3-9.
Holiday Treats
There are many different holiday treats available at Disney's Hollywood Studios! Guests can typically find them at many locations around the park. Items include holiday whoopie pies, cookies, ice cream treats, and more.
TheMouseForLess Tips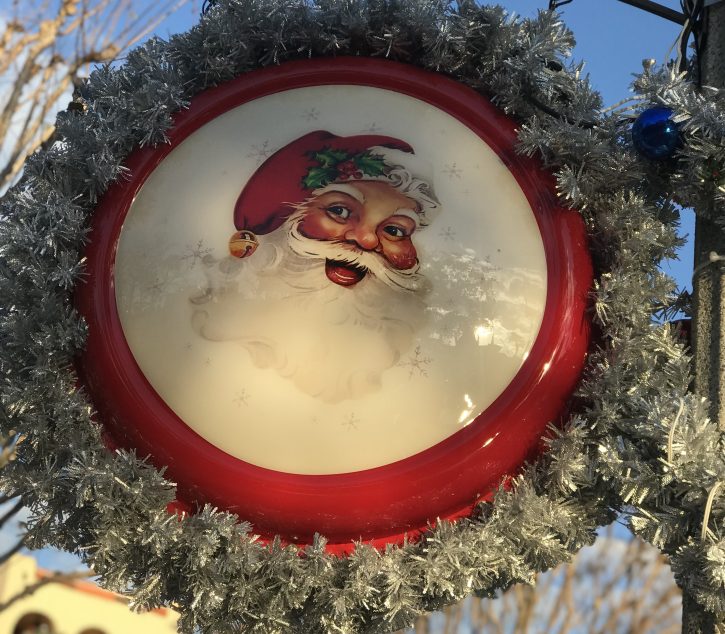 If you'll be visiting Disney's Hollywood Studios during the very busy week between Christmas and New Years, it's a great time to take in some of the less popular attractions. These include things like Indiana Jones and Muppet*Vision 3D where crowds will be more manageable.

It's a Wonderful Shop, sells Christmas decorations and is open for the holidays.
Click if you are curious about holiday events at the Magic Kingdom, Epcot, Disney's Animal Kingdom, Disney Springs, and the Disney Resort Hotels.