Early November 2023 – Early January 2024 (Dates for specific events will vary)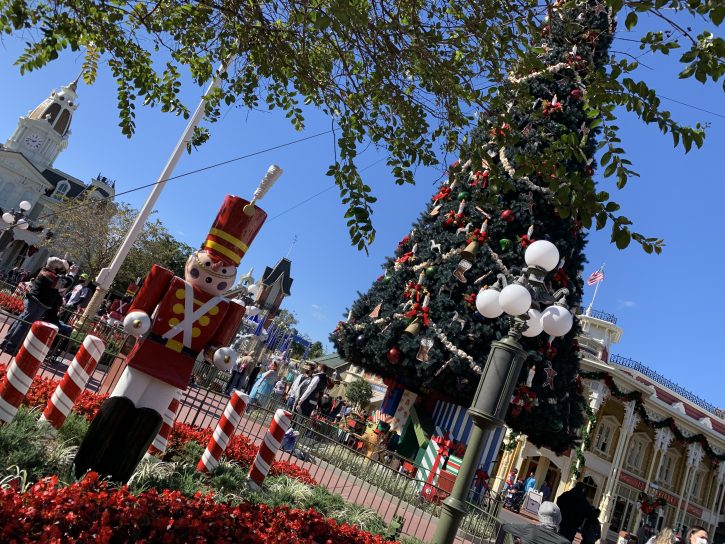 There's just so much to do at Walt Disney World during the Holiday season. In addition to special parades and entertainment, dazzling decorations, holiday treats and themed fireworks in the parks, there's lots to do at the resorts and Disney Springs too. So let's get started – it's going to take a while to tell you about it all!
It's the Busiest Time of Year  Magic Kingdom Events Epcot Events  Disney's Hollywood Studios Events  Disney's Animal Kingdom Events Disney Springs Events Holiday Dining Holidays at the Resorts Holiday Merchandise & Special Offers Other Holiday Events
It's the Busiest Time of Year
The week between Christmas and the New Years at Walt Disney World Resort is not for "first-time" vacationers, those who think it's just about the rides or those who do not like crowds. That being said, it can be a most wonderful time of the year – if you plan ahead, know what to expect and come mentally prepared for the challenges.
In the past, Magic Kingdom in particular has had to close its gates due to capacity crowds the week between Christmas and New Years. In addition, the Transportation and Ticket Center Parking lots that service the Magic Kingdom have, on occasion, reached capacity. Guests arriving at the toll plaza of the Magic Kingdom on such days are then directed to alternate parking at EPCOT where they have the option to park and then use Resort transportation (monorails and/or buses) to return to Magic Kingdom. Parking at all of the monorail and EPCOT area resorts is severely restricted beginning a few days prior to Christmas and continuing until after the New Year. High levels of traffic on New Years Eve night typically cause road closures and traffic pattern changes around property.
Tips for handling crowds at particular parks or during particular times during the holiday period can be found throughout our holiday guide. Those who would like to avoid the crowds as much as possible can still take in much of what Walt Disney World has to offer during the holidays by visiting any time beginning early December, with some holiday offerings starting as early as the second week of November. You'll find the dates for most holiday attractions noted in our guide below.
Walt Disney World Theme Parks and Disney Springs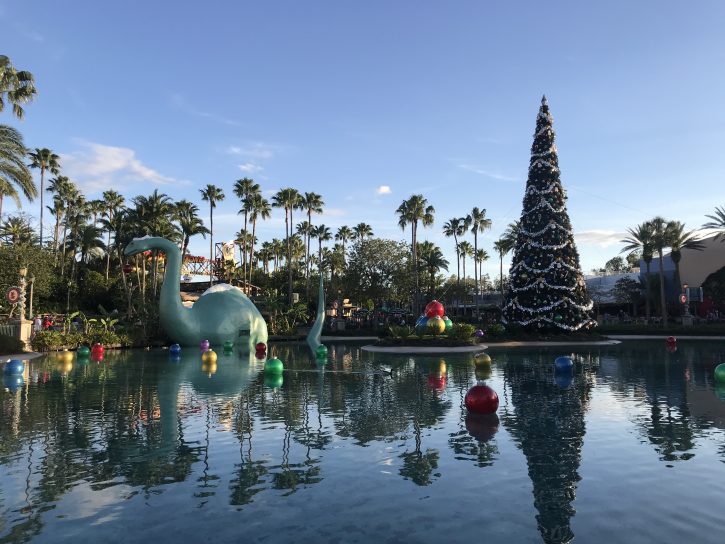 The four theme parks and Disney Springs are the place to deck the halls! Walt Disney World Resort does that and plenty more this holiday season – the parks turn up the yuletide magic with shows, thrilling spectaculars, beloved characters, yummy and festive holiday treats, and theme parks and resort hotels all aglitter with holly, jolly decorations. Click on each link to learn more about what each park does for the holidays.
Holiday Dining
Holiday Dining Around the "World"
Several Walt Disney World resort and park restaurants will offer special holiday dining on Christmas. Reservations for Table Service meals should be made well in advance and are available 60 days in advance. You can make them by calling 407-WDW-DINE or going online. As it gets closer to Christmas, Disney may open additional seasonal venues in the parks. Special holiday treats can be found throughout Walt Disney World resort during the holiday season – from snack carts, to bakeries and confectioneries, to Quick Service and Table Service restaurants and even at resort and park gift shops.
Check here for a full list of restaurants offering Christmas Day dinner. (As a head's up….Disney doesn't traditionally announce special holiday meals until a few weeks before the actual holiday. With this in mind, make a reservation at the restaurant you're hoping to celebrate Christmas at. Then, more than likely, there will be some sort of special offering available announced later.)
Christmas Holidays at the Walt Disney World Resort Hotels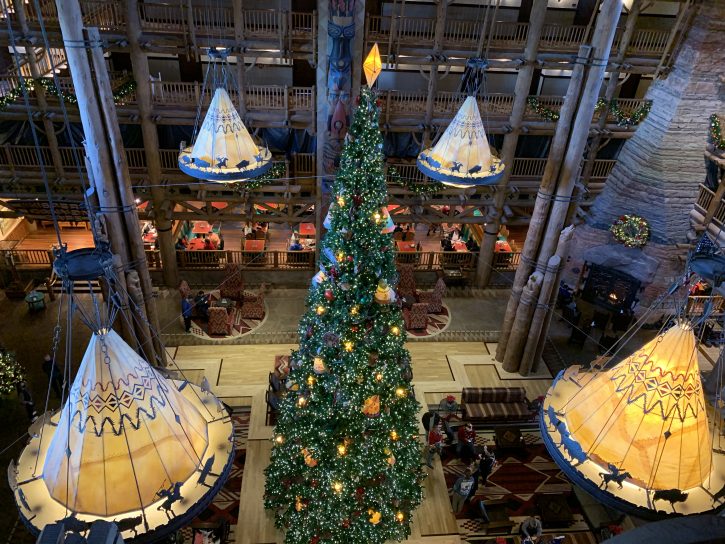 Holidays at Walt Disney World Resort Hotels are a huge part of the fun you can have at Disney during the Christmas season. They include gingerbread displays, train exhibits, treat shops, sleigh rides, and more. Below are listed a few of the "can't miss" holiday displays around the resort hotels.
Holiday Merchandise & Special Offers
Every year a great selection of holiday merchandise and special offers are offered throughout Walt Disney World Resort. They run the gamut from holiday ear hats, trading pins, special holiday gift tins and candy treats, and more.
Guests can celebrate the holiday with a spectacular In-Room Celebration at your Disney Resort hotel! Guests should be sure to set up the holiday surprise of a lifetime in the comfort of your room with an over-the-top, personalized welcome. Consider adding even more cheer to your room with the purchase of a beautifully designed Christmas tree or personalized stockings. To learn more about this and other In-Room Celebrations, please visit Disney Floral and Gifts online or call (407) WDW-GIFT or (407) 939-4438.
Other Holiday Events
New Years Eve
From celebrations in the theme parks to an upscale dining experience and dancing on Disney's BoardWalk, take your pick of how you want to ring in the New Year. See our New Years Eve Events page.
---
To make arrangements for a holiday vacation at Walt Disney World Resort, guests can call the Disney Reservation Center at 407/W-DISNEY, or consult with The Magic For Less Travel.