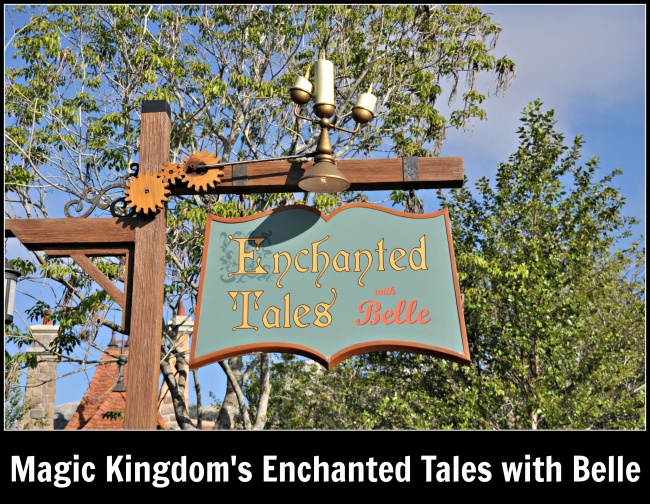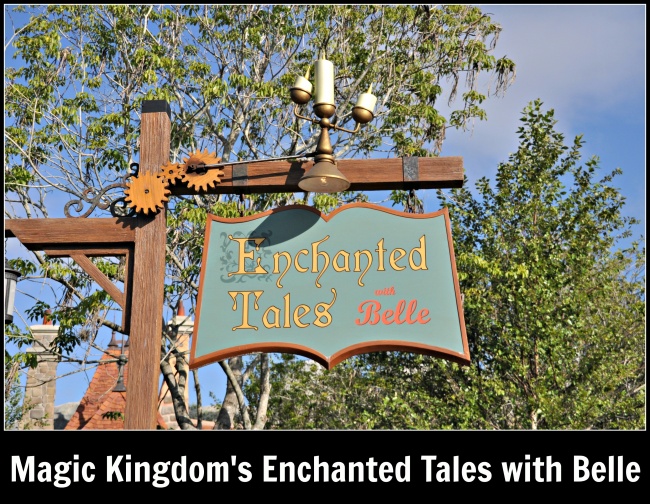 In Enchanted Tales with Belle, guests can join in the fun to help reenact the night when Belle met the Beast in this interactive celebration.
Ride Information  Restrictions  Location  Fun Facts  Top 5 Tips
Ride Information
Opening Day: December 6, 2012
Type of Ride: Interactive show; Meet-and-greet
Age Recommendation: All ages; performance is geared towards children
Duration of Ride: About 20 minutes
Typical Queue Time: Long; typically between 40 and 70 minutes
Single Rider Line: No
Chicken Exit Available: No
Baby Swap Available: No
Type of Vehicle: None
Type of Restraint: None
Attraction Open During Early Theme Park Entry: No. See our Early Theme Park Entry page for more information.
Ride Photo Available For Purchase: No

Planning a Walt Disney World Vacation?
For a Free no-obligation quote, contact our sponsor
The Magic For Less Travel
. Services are provided free of charge and their expert planning advice will help you make the most of your vacation time and money.
Ride Restrictions
Height Requirements: None
Flash Photography or Video Allowed: No
Location
Park Map of Magic Kingdom: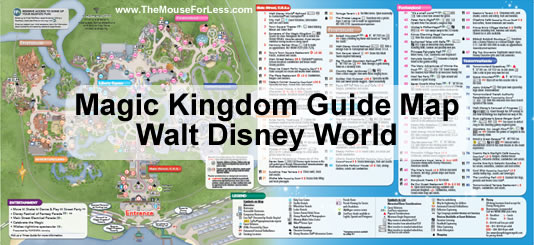 Other Rides/Attractions In the Area:
This attraction is located in the Magic Kingdom's Fantasyland.
Shopping: Across Belle's Village from Enchanted Tales with Belle, an eclectic array of Beauty and the Beast-inspired goods, ranging from kitchenware to t-shirts, is available for purchase at "Bonjour! Village Gifts."
Dining/Refreshment: Whether you are craving a full service meal, a counter service meal, or just a snack, you can satisfy your appetite near Enchanted Tales with Belle. The counter service Pinocchio Village Haus serves Italian fare, including flatbread pizzas and a meatball hero, at both lunch and dinner. The highly-popular Be Our Guest Restaurant operates as a counter service restaurant during lunch hours, a sit down experience at dinner, and a hybrid of these two styles at breakfast. ADRs should be made up to 180 days in advance for any meal, even lunch, at Be Our Guest Restaurant. Finally, for snacks, Gaston's Tavern features a warm cinnamon roll, a chocolate croissant, and a roasted pork shank.
Restroom: Facilities convenient to Enchanted Tales with Belle are located behind Pinocchio Village Haus and next to Gaston's Tavern, respectively.
Smoking Location: Smoking is permitted in designated smoking areas only. Disney parks are smoke free.
Fun Facts
Did you know?
Enchanted Tales with Belle is one of six new attractions from the recent Fantasyland expansion, along with "Casey Jr. Splash 'N' Soak Station," "Pete's Silly Side Show," "Princess Fairytale Hall,"  Seven Dwarfs Mine Train, and "Under the Sea – Journey of the Little Mermaid."
Enchanted Tales with Belle is set in Maurice's Cottage, which contains a magic portal to the "Beast's Castle." Upon entering the cottage into Maurice's living room, guests will see paintings, a fireplace, books, and sketches for possible inventions. Proceeding to Maurice's workshop, more sketches and actual inventions by Belle's father are encountered. The portal to the Beast's Castle, where Maurice visits Belle, exudes some beautiful lighting effects.
An elaborate animatronic Wardrobe introduces guests to the castle and stores the props for the show. Lumiere is also afforded an animatronic.
Audience participation is crucial to Enchanted Tales with Belle.  Roles include knights, the Beast, Maurice, Phillippe, Mrs. Potts, Chip, the enchanted portraits, the footstool, salt and pepper shakers, and Wardrobe.
Actors are given a souvenir bookmark by Belle after the show.
One other attraction based on Beauty and the Beast exists at Walt Disney World: "Beauty and the Beast: Live on Stage" at Disney's Hollywood Studios.
Guests can also volunteer for acting roles at "Indiana Jones Epic Stunt Spectacular!" at Disney's Hollywood Studios.
Hidden Mickeys:
Two Hidden Mickeys are embedded in a book spine at the rear of the library (performance room).
Sponsored Ad: Learn more about Hidden Mickey details and location throughout Walt Disney World in A Field Guide to Walt Disney World's Best Kept Secrets
.
Top 5 Tips for Enchanted Tales with Belle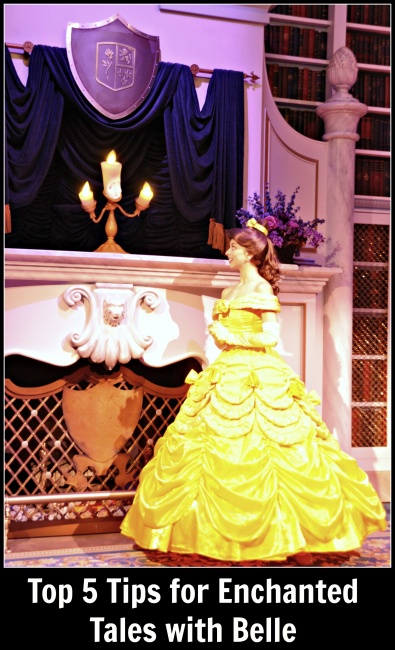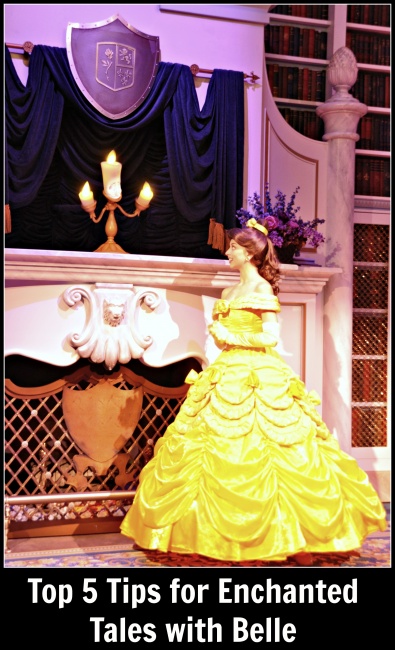 Encourage your children to volunteer, as the actors enjoy ample interaction with Belle. In this regard, Enchanted Tales with Belle is an elaborate character meet in addition to a show.
Non-flash photography is permitted at Enchanted Tales with Belle.
Take in the details throughout the attraction.
Consider watching Beauty and the Beast prior to your visit such as to enhance your appreciation of this attraction.