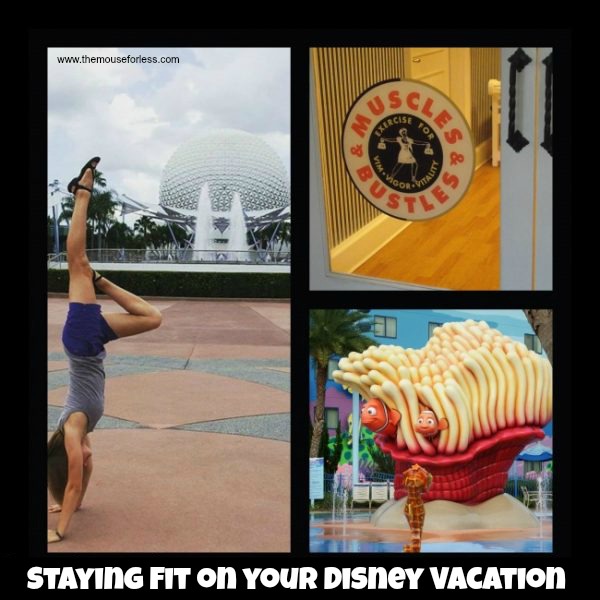 Tips to Stay Fit On Your Disney Vacation
While staying at one of Walt Disney World's resorts, there are a variety of ways to stay fit on your Disney vacation that is both convenient and enjoyable. In many of the Walt Disney World Resort Hotel areas, there are jogging and biking trails, tennis courts, and fitness centers. Also, Disney's Contemporary Resort offers Yoga on the Lawn, which is located in the Magic Kingdom resort area.
Jogging Trails  Yoga  Tennis Courts  Bike Rentals  Fitness Centers

Planning a Walt Disney World Vacation?
For a Free no-obligation quote, contact our sponsor,
The Magic For Less Travel
. The Magic For Less Travel is an Authorized Disney Vacation Planner and has been helping guests plan magical vacations since 2002. Receive the best prices and free travel planning services. Their fee-free services will help you save time, money, and stress while planning a vacation designed around you and your needs!
Jogging Trails
Animal Kingdom Resort Area
The All-Star resorts share a 1-mile, paved trail along the beautiful Buena Vista Drive.
At Coronado Springs Resort, the trail loops around the Lago Dorado, which is .75 miles.
Magic Kingdom Resort Area
Fort Wilderness resort grounds provide a 2.5-mile scenic trail. It also provides a .75 mile trail and bike path for those who want a shorter jog or wish to push past that first 2.5 miles.
This 1-mile pathway runs alongside the Seven Seas Lagoon connecting these two resorts. As a bonus, it passes Disney's wedding pavilion and gives you a great view of Magic Kingdom Park.
A paved path circling the Bay Lake Tower and South Garden Wing. It is .9 miles and perfect for a quick start or finish to the day.
Epcot Resort Area
Each of these stays has a connecting trail running around Crescent Lake, adding up to .8 miles. It also connects with the walkway to Epcot.
This walkway has views of Barefoot Bay and is .6 miles.
Both hotels offer the .8 mile trail that circles Crescent Lake. Additionally, there are more challenging 2, 3, and 4-mile trails available.
Disney Springs Area & More
Connecting the two resort areas, this is a peaceful 1.7-mile trail running along the tranquil Sassagoula River.
This resort area provides paved trails with 1.44 and 0.8-mile loops. It runs along the beautiful greens of the Lake Buena Vista golf course.
This 1.37 mile-long trail starts are the Conch Flats and runs along the Lake Buena Vista Golf Course fairways.
Choose from a 1.1 or a 1.38-mile loop along Hourglass Lake.
This 1.38-mile trail along Hourglass Lake is inspired by many of the Disney Pixar films making for a fun run.
More Ways to Stay Fit
Yoga on the Lawn
If you are staying at Disney's Contemporary Resort or Bay Lake Tower, a free yoga class is offered on Tuesday and Thursday mornings. It is held under the Skyway Bridge at 7 am, and there are 20 people per class. Yoga on the Lawn is a peaceful 30-minute session to prepare you for your adventure to come! Don't worry; this class is available to all skill levels and all ages. However, children must be accompanied by an adult. Mats and towels are provided to you free of charge.
Tennis Courts
Bay Lake Tower at Contemporary Resort
The Cabins at Fort Wilderness Resort
The Campsites at Fort Wilderness Resort
Animal Kingdom Lodge
Animal Kingdom Villas – Jambo House and Kidani Village
Beach Club Resort
Beach Club Villas
Each of Disney's tennis courts provides racquets and tennis balls.
Bike Rentals
Boardwalk Inn & Villas (Surrey Bikes only )
Caribbean Beach Resort (Regular Bikes only)
Old Key West Resort (Both Surrey and Regular Bikes)
Port Orleans Resort – French Quarter & Riverside (Both Surrey and Regular Bikes)
Saratoga Springs Resort & Spa (Both Surrey and Regular Bikes)
Wilderness Lodge (Regular Bikes only)
The Cabins & Campsites at Fort Wilderness Resort (Regular Bikes only)
Helmets and seats for young children are available at request, free of charge. Guests under the age of 16 must wear a helmet at all times per Florida Law.
Choose from dozens of beautiful paved trails to ride through, but Disney asks you to stay within the resort area the bike was rented. Bike rentals are around $18.00 per person, not including tax. Surrey bikes are $25.00 per bike, including tax.
Fitness Centers
Zahanati Massage and Fitness – Animal Kingdom Lodge
Olympiad Fitness – Contemporary Resort
Ship Shape Massage Salon & Fitness – Yacht Club Resort
La Vida Health Club – Coronado Springs Resort
Old Key West Exercise Room – Old Key West Resort
Sturdy Branches Health Club – Boulder Ridge Villas
Muscles & Bustles Health Club – BoardWalk Villas
Most of the fitness centers will include state of the art cardio workout machines and free weights and weightlifting.