Sitting at home, thinking about traveling to Walt Disney World during the holiday season, can conjure images of bliss. Picture Mickey and Minnie dressed in their holiday finery, lights and decorations as far as the eye can see, and special events to mark the occasion. It sounds magical, and it truly is. But there is something that guests can prepare to bring that will make your trip very memorable: patience.
Planning and patience are useful during any Disney trip, of course! They are especially helpful during what can be the most crowded week at Walt Disney World – the week between Christmas and New Year's Day.  While this shouldn't discourage guests from traveling during this time, it should encourage them to be ready for what comes their way during a holiday trip.
The general tips for traveling to Walt Disney World will still apply, but there are some special considerations for visiting during the holiday season:
When booking a trip:
If you are planning a trip sometime between December 24 and January 1, book early. Availability will be limited as the date approaches.
Don't try and wait for this week to be discounted. Book what you can afford, and if something becomes available, that's great. Resort prices are higher during the week between Christmas and New Year's Day than any other time of year.
The decorations and special events start mid-November and most last through the first week of the New Year. Check schedules to see what is offered during a particular week. Historically, Mickey's Very Merry Christmas Party begins in the first or second week of November. The resort decorations and gingerbread houses are up by around Thanksgiving. The Candlelight Processional in EPCOT starts just after Thanksgiving, and the Christmas parade and fireworks in the Magic Kingdom replace the regular ones a few days before Christmas.  You can lessen the crowd levels and still experience the magic if your schedule allows you to be flexible with your dates. Just check on the attractions and activities that are important to you.
If your goal is to see Walt Disney World for the first time or to go on rides and attractions, you may want to avoid the end of December. Lines for attractions will be long, and you may not be able to see as much as you would other times of the year. If your goal is to see the special events held during the season, hit some rides, and soak up the fun, then start your planning!
Before You Go:
Guests can build a whole trip just seeing the special events. Check out what is available during your trip, and make a plan to see some. For the other attractions, make sure to prioritize those which you would be disappointed to miss.
Prepare your family and those traveling with you for the crowds. Make sure everyone knows what to expect. Prepare younger ones for lines by bringing small toys or games to occupy them while waiting.
The weather in Central Florida can be unpredictable in the winter. It might be nippy at night. Even northerners who might not bundle up at home might get chilled spending so much time outdoors. Layers work well. Bring a hat or gloves, too. It's better to be prepared than spend your entire souvenir budget on warm clothes for the whole family.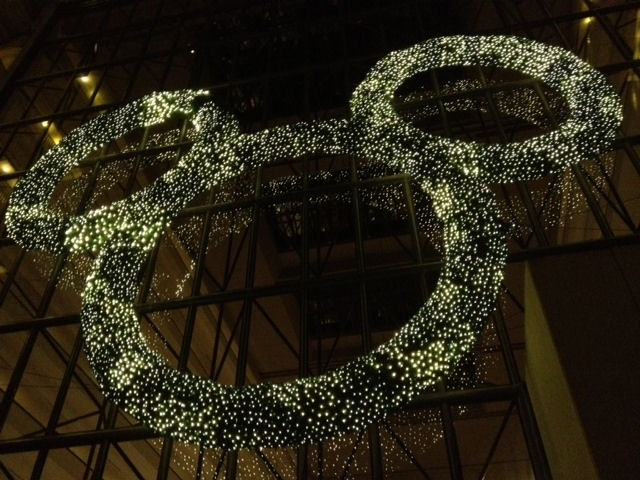 Special Events:
Mickey's Very Merry Christmas Party (MVMCP) will end before Christmas. However, "Mickey's Once Upon a Christmastime Parade" will be shown at the Magic Kingdom after the last MVMCP through New Year's Eve. Whichever way you see it, this is a wonderful parade, and make sure to find a viewing spot early.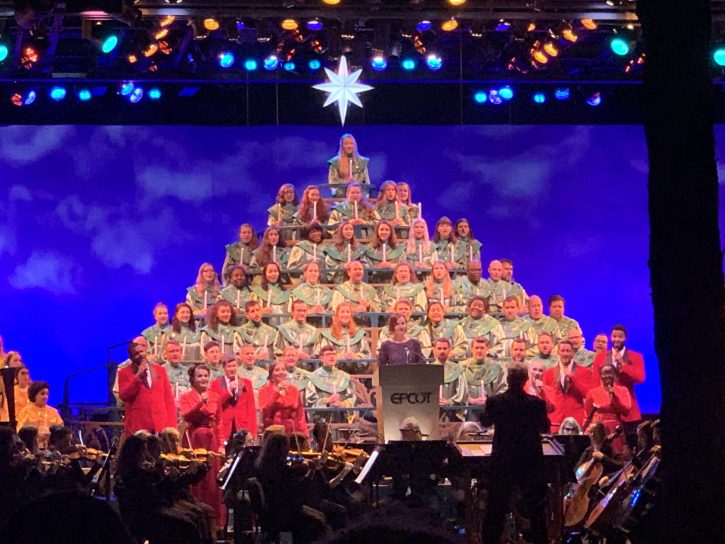 The Candlelight Processional in EPCOT tells the Christmas story with orchestra, choir, and a celebrity narrator. It is included with park admission, but shows for more popular narrators will fill up. You can also purchase a dining package to reserve a seat.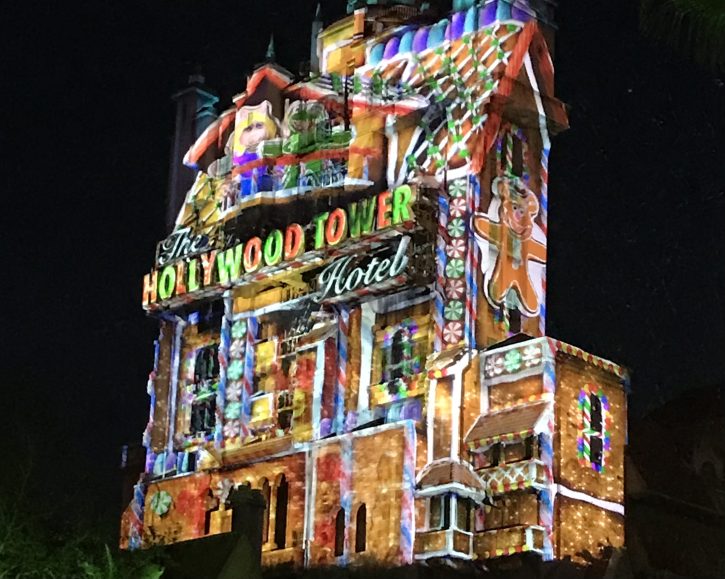 Disney's Hollywood Studios offers the Sunset Seasons Greetings, which is a projection show that takes place on the Twilight Zone Tower of Terror's exterior. During this nightly event, Guests are able to experience falling snow, twinkling lights and watch stories from several iconic Disney characters all on Sunset Boulevard.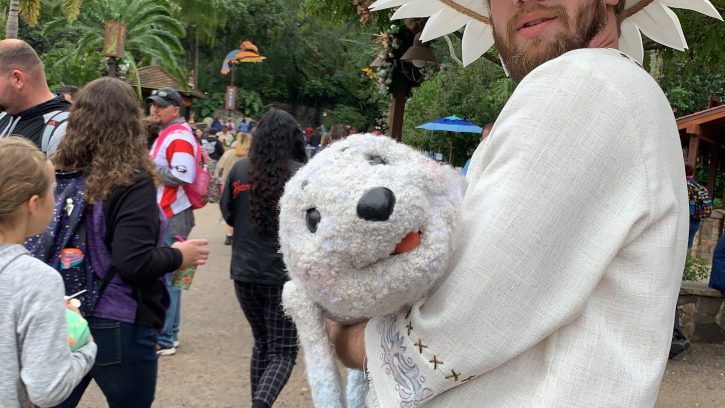 Disney's Animal Kingdom includes the Merry Menagerie puppets.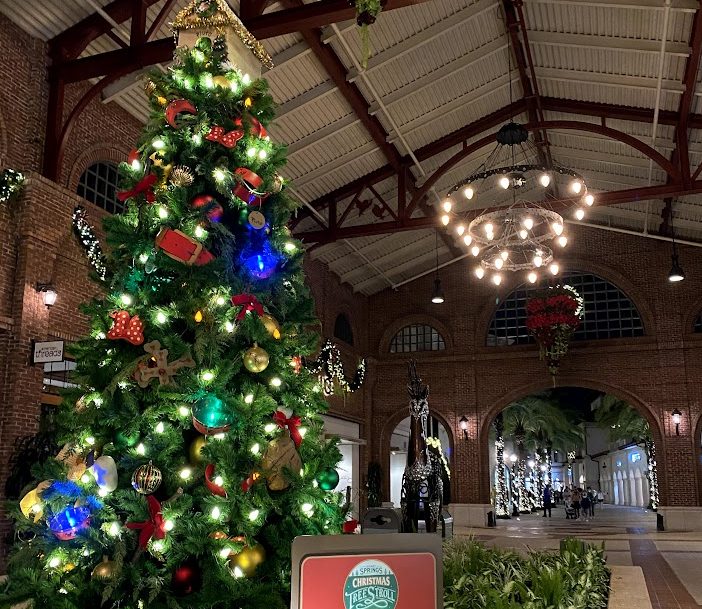 Disney Springs has gotten into the spirit with a Christmas Tree Stroll, complete with Santa. Be on the lookout of several dozen trees decorated in different Disney themes.
Be sure to tour the resorts, especially the deluxe resorts. They all boast unique decorations. It's fun to spend some time checking them out. If you have one, in particular, you would like to see, try to book an Advance Dining Reservation there to spend more time soaking up the atmosphere. It makes the journey worth the time.
Tips for Creating Magic:
Some parks may close for capacity on Christmas Day, New Year's Day, or possibly the days surrounding them. If you want to be in a park, Magic Kingdom will be the most crowded. Plan on spending the day just people watching and taking it all in. Everything else will be gravy.
Nighttime spectaculars at Walt Disney World are always must-see events. That's even more so during the holiday season. Make a plan to see Sunset Seasons Showcase and the Tree of Life Awakening holiday edition.
If you are so inclined, bring your favorite Christmas shirt or a Santa hat. Dressing for the season makes things more fun when celebrating the holiday at Walt Disney World!
Consider spending some of your souvenir budget on a special Disney-themed holiday trinket. Even if you can't go back year after year, it will be special when you pull out those Santa Mickey ears or a particular ornament for the Christmas tree each December.
If you have room in your luggage, bring along some simple decorations for your room. Some guests decorate their windows, rooms, etc. to add to the magic.
Take lots of photos, make lots of memories, and experience the magic of the holiday season!

Planning a Walt Disney World Vacation?
For a Free no-obligation quote, contact our sponsor,
The Magic For Less Travel
. The Magic For Less Travel is an Authorized Disney Vacation Planner and has been helping guests plan magical vacations since 2002. Receive the best prices and free travel planning services. Their fee-free services will help you save time, money, and stress while planning a vacation designed around you and your needs!