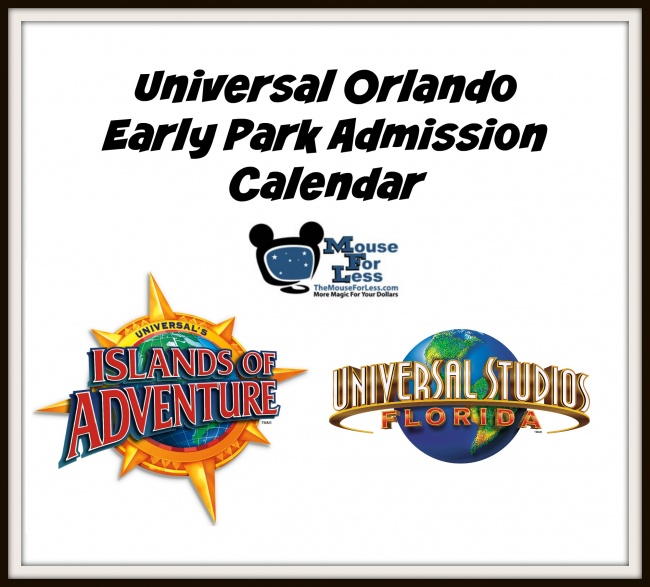 Attractions April 2019 Annual Passholders

Planning a Universal Vacation?
Early Park Admission Attractions
Early Park Admission at Universal Orlando Resort lets annual passholders as well as on-site hotel guests early entry to the parks on select days. There is no charge for on-site hotel guests, however annual passholders have their own fees and Early Admission schedule. The following is a list of the available attractions for this time.
Puihi of the Maku Puihi Round Raft Rides
Ohyah & Ohno Drop Slides
Early Park Admission Schedule
April 2019
Universal Studios Florida
April 1 – 30 | 8:00 am
April 5, 6, 12, & 26 | 7:00am
Islands of Adventure
April 13 – 20 | 8:00am
Volcano Bay
April 1 – 30 | 9:00am
May 2019
Universal Studios Florida
May 1-31 | 8:00 am
With the exception of May 3, 10, & 17 | 7:00am
Islands of Adventure
May 1-31 | Not Available
Volcano Bay
May 1-23 | 9:00am
May 24-31 | 8:00am
Annual Passholder Early Admission Schedule
Premier & Preferred Pass
Universal Studios Florida
April 1 – 30 | 8:00 a.m.
April 5, 6, 12, 29 | 7:00am
May 1-31 | 8:00 am
With the exception of May 3, 10, & 17 | 7:00am
Islands of Adventure
April 13 – 20 | 8:00am
May 1-31 | Not Available
**The Universal Orlando Resort Early Park Admission schedule is subject to change.**