April 13 – September 3, 2018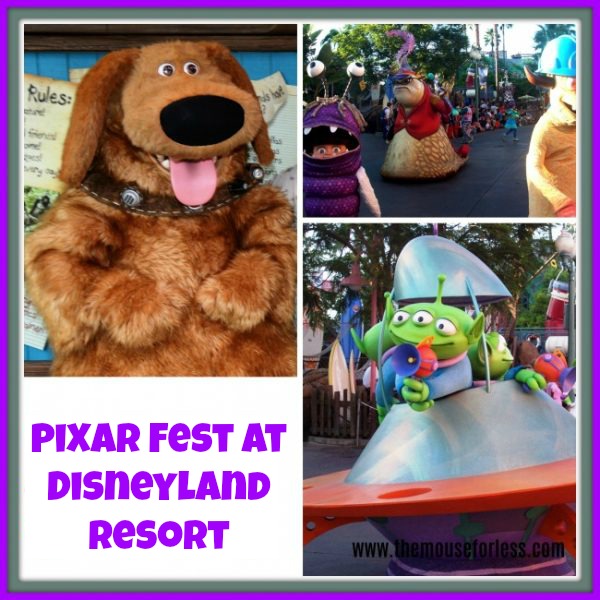 Pixar Fest at Disneyland Resort
I don't know about you but anything that says FEST or FESTIVAL really gets us wanting to know more!  And if you start it out with Pixar, who has created so many unique worlds we would love to visit, well it's a done deal for us.
Now, Pixar Fest's main goal is to celebrate the main thing that almost every single Pixar movie makes you think of…friendship.  So what friends and family do you want to experience this with?  Make your plans to celebrate all things Pixar and friendship now before time runs out!
This first-ever Pixar Fest presents some of the beloved stories from Pixar Animation Studios in new ways at both Disneyland and Disney California Adventure Parks, with characters and experiences from films such as Toy Story, Monsters, Inc., Finding Nemo and Up. Guests will join the fun as they experience a new nighttime spectacular, the return of two favorite parades, new décor, entertainment, creatively themed food and beverage and exclusive event merchandise.
Unfortunately, this festival is limited from April 13, 2018-September 3, 2018.  And this is the FIRST EVER Pixar Fest; there are no guarantees there will be another one.
Together Forever Fireworks Paint the Night Pixar Play Parade Dining Additional Pixar Fun Tips
Together Forever – A Pixar Nighttime Spectacular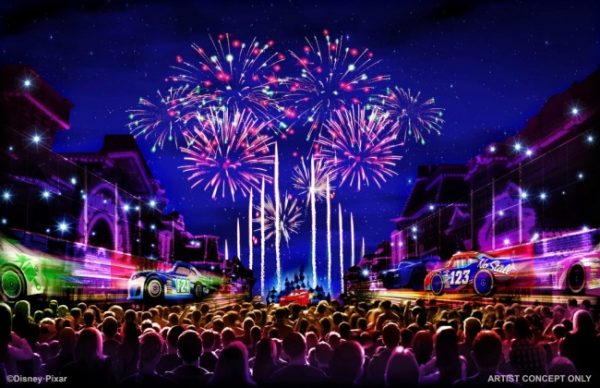 This is going to be a first for pyrotechnic and immersive projections at the original Disneyland park.   You will be able to watch it with a view from four different locations.  So long as you can see Sleeping Beauty Castle, the Rivers of America (where Fantasmic is shown, as in stay put), It's a Small World or Main Street USA, you will be able to enjoy this wonderful, colorful new show.  Visiting Disneyland more than once this trip?   Move to another location for an entirely different experience.  And what is this fireworks spectacular celebrating?  Friendship!
Paint the Night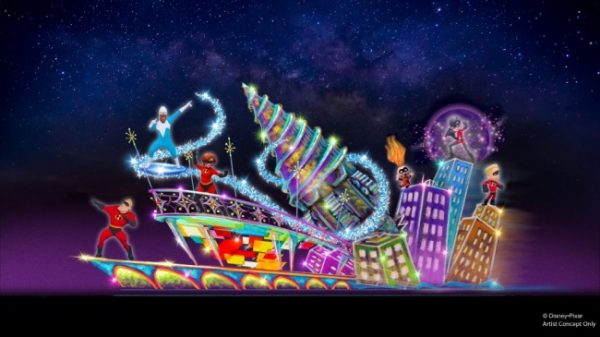 Paint the Night parade returns to Disney's California Adventure. This popular parade is set to return on April 13 throughout the summer until Labor Day weekend, if you have never seen it, now is the time!  In addition, Coming in June is an brand incredible new float featuring the Incredibles!
Here is the Paint the Night Parade when it was performed at Disneyland:
Pixar Play Parade
Speaking of parades, the Pixar Play Parade is making its way to Disneyland for the Pixar Fest. This parade is loaded with all you favorite Pixar characters.
Take a look at the Pixar Play Parade when it was performed at Disney California Adventure:
Dining
With specialty dishes themed around almost every single Pixar film, Guests will be able to choose from a multitude of dining options. From full on meals, to beverages, to snacks, to souvenir merchandise, there's something for everyone during Pixar Fest. Take a look at our handy guide and make sure to save it for later!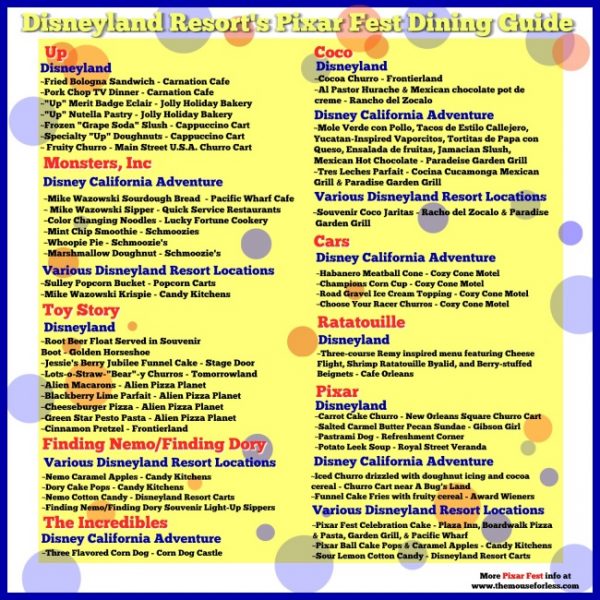 Additional Pixar Fun
The Pixar shorts, more fun than should be packed into a short film, but there you have it. If you haven't watched them, or even if you have, you can get out of the heat and watch them a the Sunset Showcase Theater in Hollywood Land, they will feature rotating favorites throughout the festival, including shorts like "For the Birds" and "LAVA."
Look for some fun Pixar merchandise and maybe give your friend a souvenir celebrating your friendship like the new Pixar Fest charm bracelets. Heck maybe you need one too!
A musical troupe will entertain guests with Pixar-inspired performances in the Paradise Gardens area of Disney California Adventure. Guests may also discover opportunities to greet Pixar characters, and younger guests will enjoy crafts and an activity area.
Opening on June 23, many of the new Pixar events will be moving to their permanent home on Pixar Pier. Part of Pixar Pier will be the ever popular Toy Story Mania and the newly reimagined Incredicoaster.  This new coaster will permanently transformed from the attraction that was California Screamin'. Incredicoaster invites guests into a mid-century-modern-style loading area where they will board vehicles with a distinctive, new look. New character moments, new scenes and special effects, and an exciting musical score connect the attraction's story to Pixar's "The Incredibles 2," which opens in theaters June 15, 2018.

Mouse For Less Tips
Is this your first trip to Disneyland and you feel a bit Off Kilter (yes a tribute to the group), for no extra charge, a friendly agent from The Magic for Less Travel will be happy to help you, and might even find some savings for you!   Contact them for a no obligation quote to get the "pixar" ball rolling.
If you're looking to prepare ahead of time, we suggest starting off with a Pixar Movie Fest at home, just to get you really thinking how much you want to meet those Pixar characters and enter their worlds.