November 24 – December 30, 2023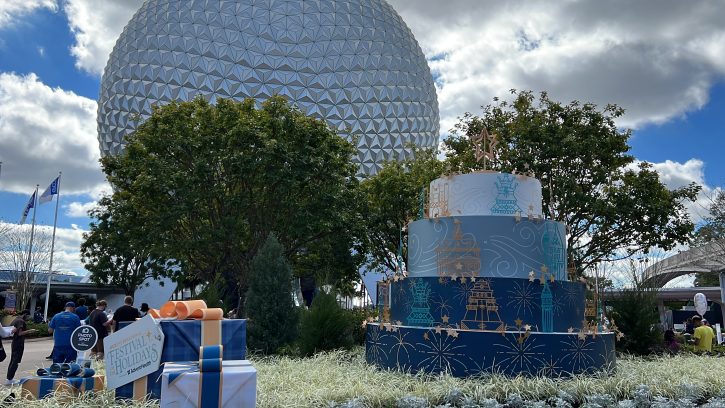 During the EPCOT Festival of the Holidays, which takes place from November 24 through December 30, 2023, discover a festival featuring the joyous holiday traditions of the 11 World Showcase nations. The event surrounds you in the wondrous sights, sounds and flavors of the season as celebrated by cultures near and far.
Guests will be able to enjoy live musical productions, savor seasonal food & beverage specialties at the expanded Holiday Kitchens, and take a festive global tour as costumed performers bring time-honored traditions to life throughout World Showcase!
The following is what occurred in 2022 and should be used as a guide for planning. This page will be updated when details for 2023 are announced. 
Candlelight Processional Holiday Kitchen Cookie Stroll Holiday Storytellers Meet Santa Holiday Character Topiaries Entertainment Holiday Scavenger Hunt MFL Tips
Candlelight Processional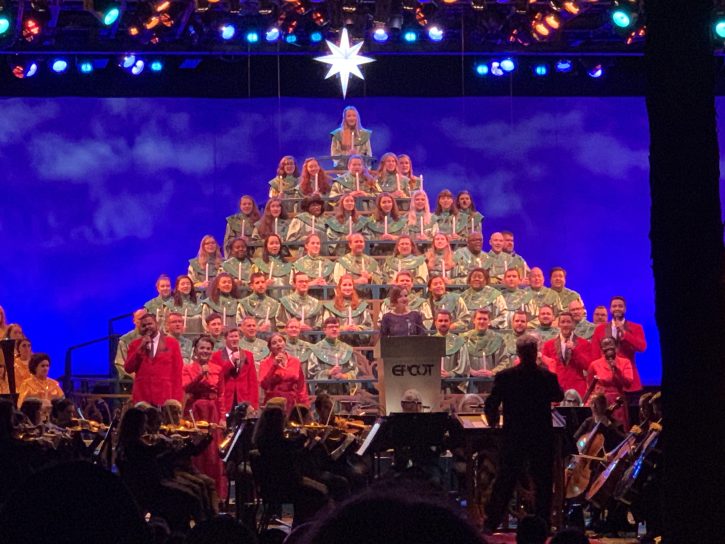 Normally showing nightly to park guests at 5:00 p.m., 6:45 p.m. and 8:15 p.m., the Candlelight Processional is a breathtaking retelling of the Christmas story in words and music complete with a 50 piece orchestra, choir and celebrity guest narrator. Candlelight Processional Dining Packages with reserved seating may be booked by calling (407) WDW-DINE.
Holiday Kitchens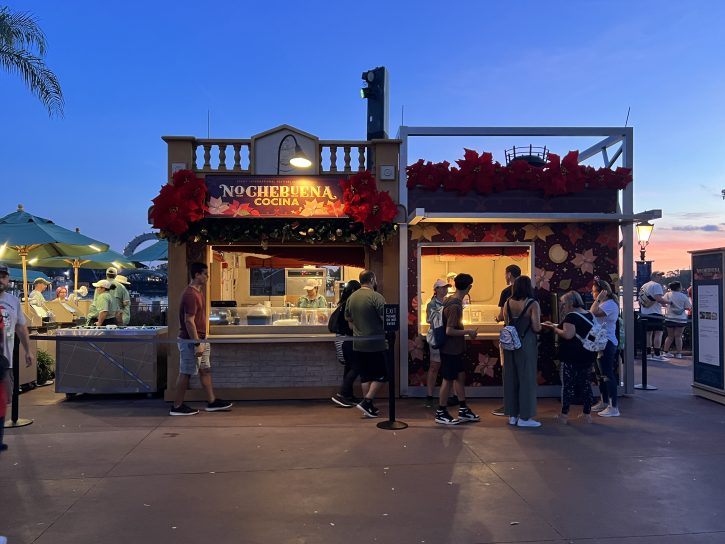 During the EPCOT Festival of the Holidays there are delicious Holiday Kitchens food and beverage kiosks. There will be 16 kiosks in total. These will be similar to what Guests experience during the EPCOT Food and Wine Festival and the EPCOT Flower and Garden Festival.
This year there will be a special Cookie Stroll around the World Showcase. Guests can purchase cookies at several festival booths and keep track of these cookies in the Festival Passport with stamps. After collecting and sampling 5 different cookies, guests can collect a special complimentary cookie from Holiday Sweets and Treats. The Cookie Stroll can be completed all on one day, or you can take several visits to complete the adventure. Once you have collected 5 stamps then you get to sample the complimentary completer cookie!
Holiday Cookie Stroll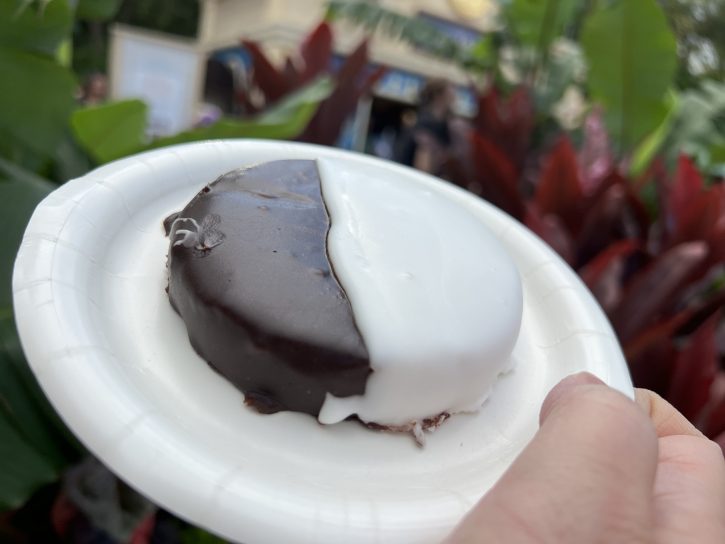 Enjoy an array of sweet treats during the Holiday Cookie Stroll. Purchase 5 cookies from any of the official cookie stroll locations featured in your Festival Passport. Be sure to collect a matching stamp for each cookie purchased. Once you've collected 5 stamps, bring the stamped Passport to Holiday Sweets & Treats to receive a specialty treat! Collect all the stamps anytime between now and December 30, 2022.
Menu Items and Locations:
Nochebuena Cocina: Alfajores – Vanilla Shortbread Cookie with Dulce de Leche and Coconut
Yukon Holiday Kitchen: SNICKERS-Doodle Cookie made with SNICKERS® Bar pieces
L'Chaim! Holiday Kitchen: Black and White Cookie (plant-based)
American Holiday Table: Chocolate Crinkle Cookie
Bavaria Holiday Kitchen: Linzer Cookie
Holiday Hearth Desserts: Gingerbread Cookie
Sunshine Seasons: M&M's Sugar Cookie
Connections Café: Sugar Cookie
EPCOT Festival of the Holidays Holiday Storytellers
 
International holiday traditions unfold at Walt Disney World when storytellers such as Pere Noel in France, La Befana in Italy, and others, share the traditions of the season and spread the message of goodwill in short presentations that take less than 15 minutes. Storytellers appear in each country's pavilion throughout the day. Check the times guide for a daily schedule.


Canada: The Canadian Holiday Voyageurs will take guests on a musical journey across the Great White North, exploring unique holiday traditions from the various regions of Canada.
Sundays through Saturdays
11:45 AM, 12:45 PM, 1:45 PM, 3:25 PM, 4:30 PM and 6:35 PM
20-minute performances

United Kingdom: Father Christmas tells tales of Christmas past dating back to 15th century England.
Sundays through Saturdays
10:30 AM, 11:30 AM, 12:40 PM, 1:30 PM, 3:00 PM, 4:00 PM, 5:00 PM and 6:00 PM
15-minute performances

France: Pere Noel awaits your visit as he unfolds magic of Christmas with a letter from a child.
Sundays through Saturdays
10:00 AM, 11:00 AM, 12:10 PM, 12:50 PM, 2:15 PM, 3:15 PM, 4:30 PM and 5:15 PM
15-minute performances

Hanukkah: Located between Morocco and France,  Guests will discover an entertaining celebration of Hanukkah along World Showcase promenade, where a storyteller recounts traveling abroad to explore the diverse music and traditions of Hanukkah around the world.
Sundays through Saturdays
10:15 AM, 11:30 AM, 12:40 PM, 1:15 PM, 2:45 PM, 3:45 PM, 5:00 PM and 6:00 PM
15-minute performances

Japan: Daruma vendor tells the story of the Daruma doll and the Japanese customs of the New Year.
Sundays through Saturdays
11:20 AM, 12:40 PM, 1:40 PM, 3:20 PM, 4:20 PM, 5:05 PM, 5:50 PM and 6:35 PM
15-minute performances

Italy: La Befana is Italy's good Christmas witch. She comes down the chimney of the little bambinos (children) and leaves them treats. La Befana remembers the Epiphany and her first Christmas 2,000 years ago.
Sundays through Saturdays
11:30 AM, 12:15 PM, 1:00 PM, 2:40 PM, 3:35 PM, 4:20 PM, 5:05 PM and 5:45 PM
15-minute performances

China: Enjoy the Chinese Lion Dance, which brings good fortune during the celebrations of Lunar New Year and Lantern Festival.
Sundays through Saturdays
Noon, 1:00 PM, 2:00 PM, 3:00 PM and 4:00 PM
15-minute performances

Norway: Sigrid, a beautiful farm girl, will give you all details of celebrating Christmas in Norway, and tell you of the mischievous Julenissen, or Christmas Gnome. Be forewarned though, Julenissen has been known to play a little trick or two on the storyteller herself.
Sundays through Saturdays
11:35 AM, 12:35 PM, 1:35 PM, 2:35PM, 4:35PM, 5:35 PM, 6:35 PM and 7:10 PM
15-minute performances

Mexico: Celebrate with mariachis and dances with a holiday fiesta. Share in the music, dance and traditions of the season.
Sundays through Thursdays
11:05 AM, 12:05 PM, 1:05 PM, 3:05 PM, 4:10 PM and 5:15 PM
25-minute performances
Santa Meet and Greet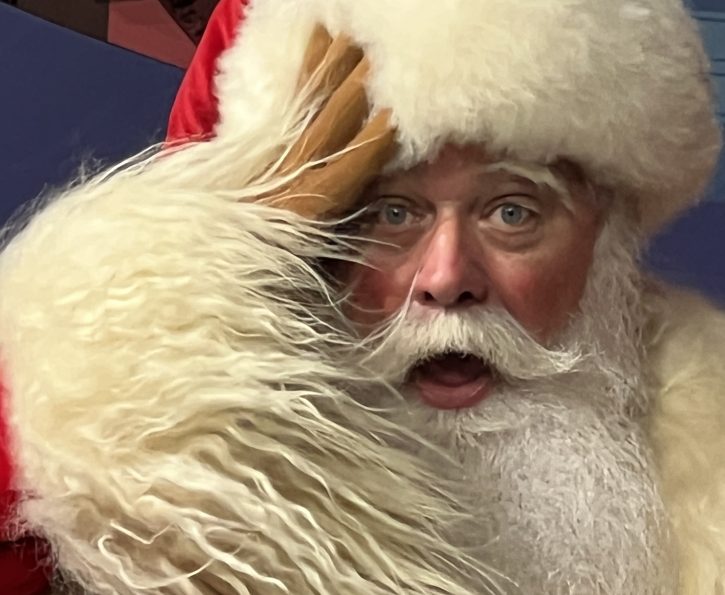 Get ready for Christmas with Santa Claus through December 24. Whether you know him as St. Nick, Père Noël or Father Christmas, a visit with jolly Santa Claus brings good cheer to the season. Guests will find Santa in the Odyssey Pavilion this year.
Sundays through Saturdays
11:00 AM, 12:30 PM, 2:00 PM, 3:30 PM, 5:00 PM and 6:30 PM
60-minute performances
EPCOT Festival of the Holidays Character Topiaries
Festive red, white and green topiaries feature beloved Disney characters and can be found in several locations during the EPCOT Festival of the Holidays.
EPCOT Festival of the Holidays Light Show
This year, a brand-new light show debuts at Spaceship Earth. The light display will invoke some of the sights of winter, including snowflakes, northern lights and warm candles.
EPCOT Festival of the Holidays Attraction Holiday Overlays
Living With The Land
To celebrate the season, a fun holiday overlay occurs at Living with the Land in The Land pavilion.
Guardians of the Galaxy Holiday Overlay
Guests on Guardians of the Galaxy: Cosmic Rewind can experience an all-new holiday remix with a Guardians twist on this intergalactic chase through space and time. The popular coaster will be trading in their classic hits playlist with songs like "September", "Conga", and "Everybody Wants to Rule the World" to a more seasonal playlist. Guests will cruise along to a mash-up of holiday jams. The coaster will have Guests blasting off to an awesome holiday single.
EPCOT Festival of the Holidays Entertainment
Various entertainment artists perform throughout the park.
Taking place at the World Showcase Plaza, this holiday show features the group Joyful. The show blends Gospel music and inspirational music. Performances begin at 2:40 PM, 3:45 PM, 4:50 PM and 6:10 PM daily at World Showcase Plaza. Our video above shows what Guests can expect during their performance.
Olaf's Holiday Tradition Expedition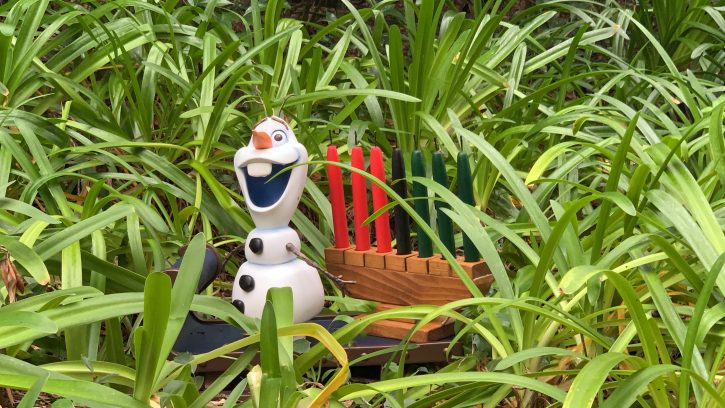 Guests will be able to search around World Showcase hunting for holiday traditions that Olaf has gathered for Anna and Elsa—and lost—along the way! To help him Guests can purchase a Scavenger Hunt map and stickers ($9.99) at participating locations, including Creations Shop, Port of Entry and World Traveler at International Gateway. Guests can search for Olaf in each pavilion, then match the tradition on his sleigh to the location on your sticker map. Once you have found all of the traditions, visit Creations or World Traveler at International Gateway to redeem your map for a gift (while supplies last).
TheMouseForLess EPCOT Tips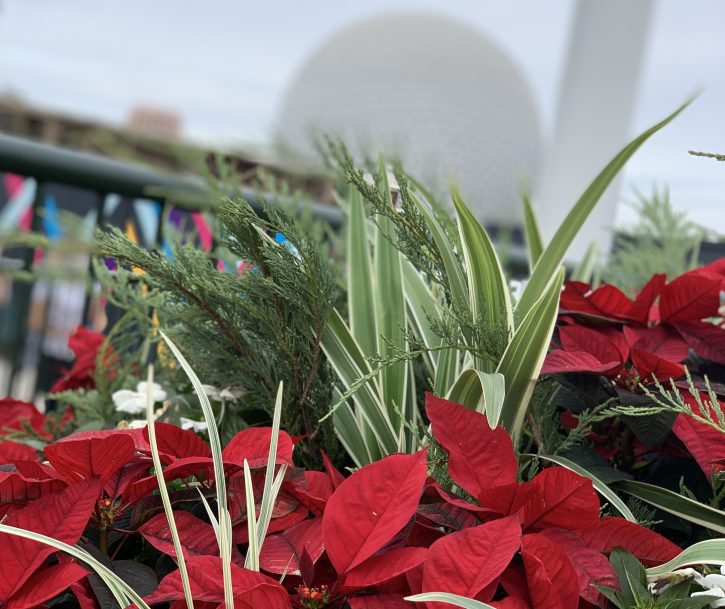 EPCOT's holiday tree is located at the entrance of World Showcase Plaza. Its ornaments represent the various countries around World Showcase. You can find another large holiday tree at the American Adventure Pavilion in the center of Santa's Village.
If you'll be visiting the EPCOT Festival of the Holidays during the very busy week between Christmas and New Years, it's a great time to take in some of the less popular attractions like American Adventure, Impressions de France, and Reflections of China where crowds will be more manageable.
 If you only have time to visit a few holiday storytellers at World Showcase, be sure to stop by Norway, China, Italy and Canada.
Visit Port of Entry for holiday themed keepsakes or Creations Shop for all of your holiday trimmings.
Disney offers a holiday edition of its World Showcase Passport. The Holiday Passport features holiday treat and beverage locations, holiday merchandise, and holiday entertainment for each country around World Showcase, as well as any holiday photo ops. There's also a place to collect the tradition country stamps. You can even get ask the EPCOT Storytellers to sign each country of your Holiday Passport (or your autograph book), and don't forget to get your photo taken with them. Pickup the booklet at holiday snack & beverages kiosks around World Showcase.
Click if you are curious about holiday events at the Magic Kingdom, Disney's Hollywood Studios, Disney's Animal Kingdom, Disney Springs, and the Disney Resort Hotels.