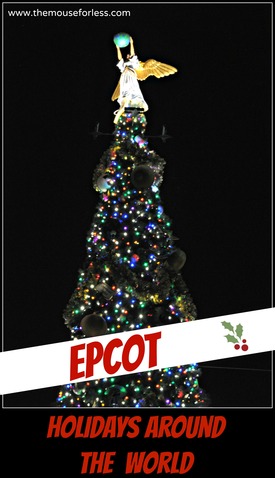 Candlelight Processional Holiday Marketplaces Holiday Storytellers Meet Santa Holiday Character Topiaries Fountain Stage Illuminations  MFL Tips
Epcot Christmas Events
Candlelight Processional
Showing nightly to park guests from November 25-December 30, 2016 at 5:00p.m., 6:45p.m. and 8:15 p.m. The Candlelight Processional is a breathtaking retelling of the Christmas story in words and music complete with a 50 piece orchestra, choir and celebrity guest narrator. Candlelight Processional Dining Packages with reserved seating may be booked by calling (407) WDW-DINE.
Holidays Around the World Marketplaces
New for 2016 will be five Holidays Around the World Marketplace food and beverage kiosks. These will be similar to what Guests experience during the Epcot Food and Wine Festival and the Epcot Flower and Garden Festival. Booths will include:
Prost!
Germany Pavilion
Artisan Cheese Plate
Sauerbraten with Red Cabbage and Spatzle
Alcoholic Ciders
Williams Punch (hot)
Caramel Kiss (Werther's Caramel and gluwein)
American Holiday Table
American Adventure Pavilion
Slow Roasted Turkey with Stuffing, Mashed Potatoes, and Cranberry Sauce
Seared Pork Tenderloin with Green Bean Casserole, Roasted Sweet Potato Wedges, and a Champagne demi-glace.
Shipyard Eggnog White Porter Aged on Bourbon
Firenog (Eggnog with Fireball Whisky)
Great American Wine Company Red Blend
Great American Wine Company Chardonnay
Hot Chocolate
Eggnog
Cocoa Candy Cane (Hot Chocolate with Peppermint Schnapps)
Alpine Haus
Between Morocco and France
Duck Confit
Dumplings and Roasted Brussels Sprouts with a Fig Reduction
Cheese Fondue in a Bread Bowl with Fresh Steamed Vegetables
Sachertorte (A Chocolate Cake with Apricot Jam and Dark Chocolate Glaze)
Frozen Winter Spice Hot Chocolate featuring Twinings of London Tea (alcoholic or non-alcoholic)
Weingut Stadt Krems Gruner Vetliner White Wine
Heinrich Red Blend
Seasonal Southern Delights
Near World Showcase Plaza
Hoppin' John (Black-Eyed Peas, Ham Hocks, and Kale with Rice, and Cornbread Crumbles)
Blackened Catfish with White Cheddar Grits with Okra, Tomato, and Onion Stew
Chocolate Pecan Tart
Frozen S'mores
Central 28 Beers
Three Kings Feast
Near World Showcase Plaza
Shredded Beef Tamale with Avocado Crema
Roasted Pork with Mashed Yucca and Pickled Green Bananas
Three Kings Bread
Coquito (Coconut Milk)
Coquito with a Rum Floater
Additional Treats found around Epcot during the holiday season will include:
Hot and cold drinks found all around World Showcase
Fountain View – Mickey Santa Hat cupcake
Morocco – Chocolate honey baklava
Italy – Panettone (Italian Christmas cake) in Italy
France – Gingerbread ice cream and buche de Noel au chocolat (Christmas cake shaped like a log)
China – Pai cha (Beijing-style fried dough twist with sesame)
Mexico – Guava tamales
Norway – Frozen Peppermint Trifle; Traditional Rice Cream.
Germany – Stollen, the classic holiday fruit bread; Glühwein, a hot spiced wine; Werther's Original specialty drinks and treats, and a German artisanal cheese plate.
Sugar and Spice Shop in the America pavilion serves many traditional treats perfect for sampling while listening to Candlelight Processional. Mrs. Claus' bustling bake shop serves delicious treats you should try such as gingerbread men, chocolate chunk and sugar cookies, hot chocolate, hot apple cider, delicious peppermint bark, holiday tree sugar cookies, eggnog, hot chocolate with peppermint Schnapps, and eggnog with Buffalo Trace Kentucky Bourbon.
Holiday Storytellers at World Showcase

International holiday traditions unfold when storytellers such as Pere Noel in France, La Befana in Italy, and others, share the traditions of the season and spread the message of goodwill in short presentations that take less than 15 minutes. Holidays around the World takes place November 28 – December 30, 2016. Storytellers appear in each country's pavilion throughout the day. Check the times guide for a daily schedule.


Canada: The Canadian Holiday Voyageurs will take guests on a musical journey across the Great White North, exploring unique holiday traditions from the various regions of Canada.

United Kingdom: Father Christmas tells tales of Christmas past dating back to 15th century England.

France: Pere Noel awaits your visit as he unfolds magic of Christmas with a letter from a child.

Morocco: Journey through the seasons of holidays. In Morocco, celebrations are "the spice of life."

Japan: Daruma vendor tells the story of the Daruma doll and the Japanese customs of the New Year.

American Adventure: Discover the connection of today's Hanukkah tradition and the story of the brave Maccabees and the lamp that burned miraculously for eight days or, experience the spirit of Kwanzaa, a celebration of family, creativity and community. Plus, don't miss the Voices of Liberty Dickens Carolers. This outstanding a cappella group brings in the holidays with a special repertoire of holiday songs. See Santa info below.

Italy: La Befana is Italy's good Christmas witch. She comes down the chimney of the little bambinos (children) and leaves them treats. La Befana remembers the Epiphany and her first Christmas 2,000 years ago.

Germany: Listen as Helga tells the story of the first Christmas tree and the tale of her first Nutcracker.

China: Enjoy the Chinese Lion Dance, which brings good fortune during the celebrations of Lunar New Year and Lantern Festival.

Norway: Sigrid, a beautiful farm girl, will give you all details of celebrating Christmas in Norway, and tell you of the mischievous Julenissen, or Christmas Gnome. Be forewarned though, Julenissen has been known to play a little trick or two on the storyteller herself.

Mexico: Celebrate with mariachis and dances with a holiday fiesta. Share in the music, dance and traditions of the season.
Santa Meet and Greet
Whisper your Christmas wishes in Santa's ear at Santa's Village in the American Adventure pavilion in World Showcase. Santa appears from November 29 – December 24 at 1:30 p.m., 3:30 p.m., 5:30 p.m., 7:30 p.m. Sessions are 70-minute each. Even Mrs. Claus will be there.
Holiday Character Topiaries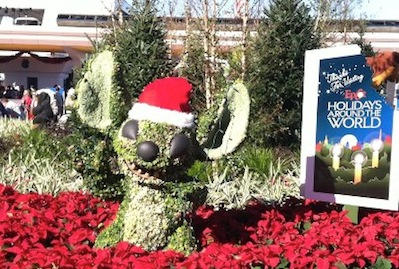 These festive red, white and green topiaries feature beloved Disney characters and can be found in several locations in the Future World section of the park.
Fountain Stage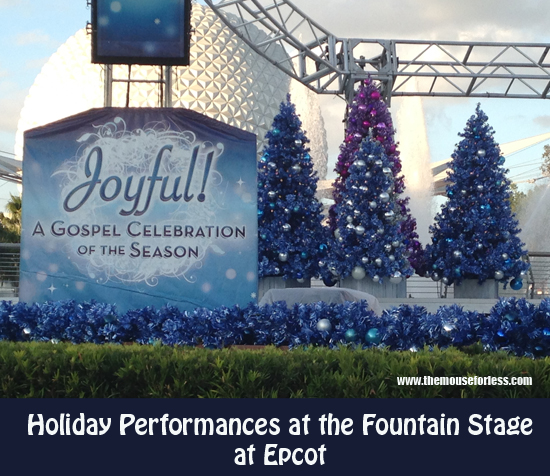 Taking place on Future World's Fountain Stage, this holiday show features the group Joyful. The show blends Gospel music and inspirational music. Also taking place on the Fountain Stage will be performances by the American Music Machine, a five-member a cappella group who will be bringing a contemporary take on classic Christmas songs. American Music Machine will be performing both modern and nostalgic holiday hits, including "White Christmas," "Rudolph the Red-Nosed Reindeer" and "All I Want for Christmas is You."
IllumiNations: Reflections of Earth
This kaleidoscope of lasers, lights, fireworks and music features a special holiday ending from November 25 – December 25, 2016 at 9:30 p.m. nightly and from December 19 – 30 at 10:00 p.m. nightly. The "Peace on Earth" holiday finale is narrated by Walter Cronkite. Some of the best viewing spots include the area between the two gift shops at the entrance of World Showcase, the balcony at the Japan pavilion, on the bridge between France and the United Kingdom, at the front of Italy's pavilion (this area is often occupied by private parties), or from patio seating at Rose & Crown or La Hacienda de San Angel restaurants.
TheMouseForLess Epcot Tips

You can read more about Holidays from Around The World at Epcot on our MFL Blog.

Special musical performances can be found throughout the park. The JAMMitors, a talented group of musicians that play percussion on garbage pails entertain Epcot guests with their holiday show. Look for them in Future World section of the park. At Germany in World Showcase, during the holidays at the Biergarten restaurant, the oompah band plays holiday favorites in addition to beer drinking songs. Also stop by American Adventures Pavilion in World Showcase to hear the a cappella group, Voices of Liberty. The group gets out their holiday songbook this time of year.

Epcot's holiday tree is located at the entrance of World Showcase Plaza. Its ornaments represent the various countries around World Showcase. You can find another large holiday tree at the American Adventure Pavilion in the center of Santa's Village.

If you'll be visiting Epcot during the very busy week between Christmas and New Years, it's a great time to take in some of the less popular attractions like American Adventure, Impressions de France, and Reflections of China where crowds will be more manageable.

If you only have time to visit a few holiday storytellers at World Showcase, be sure to stop by Norway, China, Italy and Canada.

Visit Port of Entry for holiday themed keepsakes or visit Santa's Village near American Adventure for all of your holiday trimmings.

Check out the gingerbread holiday display of the United States Capitol Building at the American Adventure Pavilion. The display features 5 hidden Mickey's and a handcrafted garden, plus handcrafted miniature people made of chocolate!

Disney offers a holiday edition of its World Showcase Passport. The Holiday Passport features holiday treat and beverage locations, holiday merchandise, and holiday entertainment for each country around World Showcase, as well as any holiday photo ops. There's also a place to collect the tradition country stamps. You can even get ask the Epcot Storytellers to sign each country of your Holiday Passport (or your autograph book), and don't forget to get your photo taken with them. Pickup the booklet at holiday snack & beverages kiosks around World Showcase.

Guests can taste seasonal flavors at Holiday Craft Beer at the Odyssey. They will serve beers with ties to the holidays along with a selection of snacks from November 16 through December 30. The location will be closed on November 24, December 1, 2, 8 and 29.
Click if you are curious about holiday events at the Magic Kingdom, Disney's Hollywood Studios, Disney's Animal Kingdom, Disney Springs, and the Disney Resort Hotels.
Save
Save
Save
Save
Save