Stroller rentals are available at all four Walt Disney World Parks. The rental price is $15 per day for a single and $31 per day for a double. If you hop to a second (or more) park on the same day as your paid rental, showing your receipt from the first park with allow you use of a stroller at no additional cost.
For Guests who require a stroller rental for multiple days, Disney offers a Length of Stay rental ticket. You make a one-time payment transaction for as many days of rental that you will need. Single-passenger strollers are available for $13.00 per day on the extended plan and $27 for a double. Just show your receipt for the next day and be expedited through the queue with little or no wait time.
For other receipt savings, visit our Spend Less Money in the parks page.
To download stroller tag templates, visit our Stroller Tag page.
Animal Kingdom – Single Stroller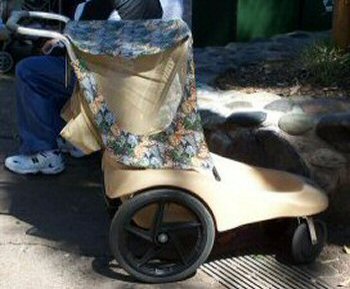 Animal Kingdom – Double Stroller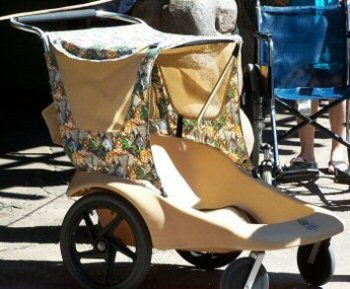 MouseForLess Tips:


Little legs get tired from walking at Disney. Even a child who normally doesn't use a stroller at home may benefit from one.

If your stroller disappears, you can obtain another one at the stroller rental free of additional cost.

Don't leave anything of value on the stroller.

Disney cast members frequently move strollers around in the stroller parking area. It might help to tie something to your stroller handle (a balloon or a scarf) to identify it as yours.

If you think your child will want to nap in the stroller, rent a double (except at Disney's Hollywood Studios, where the double seats are divided) and bring along a blanket or pillow. He or she can curl up on the wider seat in comfort.