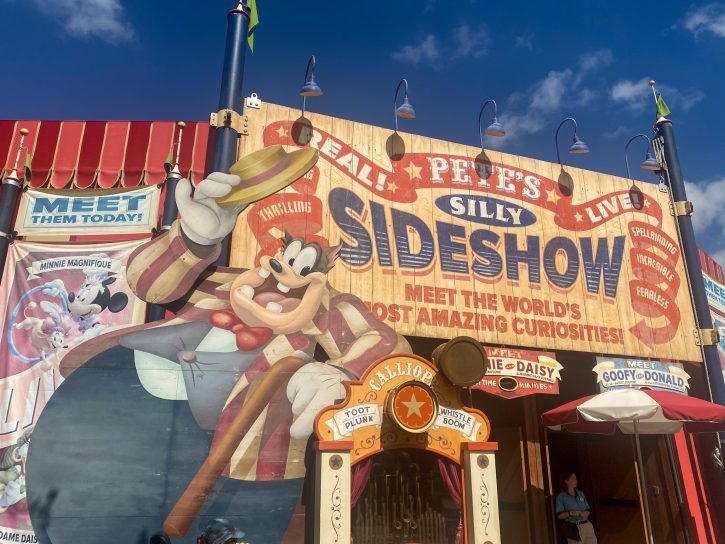 Pete's Silly Sideshow allows guests to interact with classic Disney characters at this elaborate character-greeting location.
Ride Information  Restrictions  Accessibility Location  Fun Facts  Top 5 Tips
Ride Information
Opening Day: October 4, 2012
Type of Ride: Character meet location
Age Recommendation: All ages
Duration of Ride: About 10 minutes
Typical Queue Time: Short to moderate; both queues typically peak at around 30 minutes
Single Rider Line: No
Chicken Exit Available: No
Baby Swap Available: No
Type of Vehicle: None
Type of Restraint: None
Attraction Open During Early Theme Park Entry: No. See our Early Theme Park Entry page for more information.
Ride Photo Available For Purchase: No

Planning a Walt Disney World Vacation?
For a Free no-obligation quote, contact our sponsor
The Magic For Less Travel
. Services are provided free of charge and their expert planning advice will help you make the most of your vacation time and money.
Ride Restrictions
Height Requirements: None
Flash Photography or Video Allowed: Yes
Safety, Accessibility, and Guest Policies
Accessibility: Guests May Remain in Wheelchair/ECV
Location
Park Map of Magic Kingdom: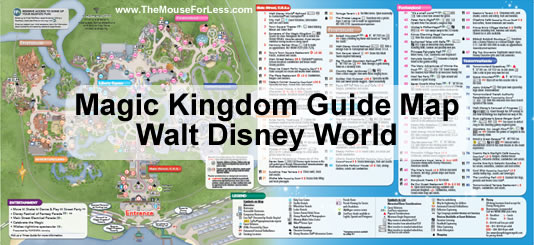 Other Rides/Attractions In the Area:
This attraction is located in the Magic Kingdom's Fantasyland.
Shopping: Find various souvenirs, many exuding a circus theme, nearby at "Big Top Souvenirs."
Dining/Refreshment: Guests craving a snack should check out Big Top Treats inside "Big Top Souvenirs." An assortment of desserts, such as cotton candy, cookies, caramel corn, and specialty apples, are sold at Big Top Treats. Nearby, Be Our Guest Restaurant offers breakfast, lunch, and dinner. ADRs are recommended for any meal at Be Our Guest Restaurant; lunch at Be Our Guest Restaurant utilizes a counter service style, while dinner is a sit-down affair, and breakfast features a hybrid setup.
Restroom: Restrooms near Pete's Silly Sideshow are situated at Fantasyland's "Walt Disney World Railroad" station.
Smoking Location: Smoking is permitted in designated smoking areas only. Disney parks are smoke free.
Pete's Silly Sideshow Fun Facts
Did you know?
Pete's Silly Sideshow's namesake comes a cat that served as a villain in Disney cartoons since the 1920s. In these cartoons Pete would battle Oswald the Lucky Rabbit and Mickey Mouse.
An old-fashioned calliope outside Pete's Silly Sideshow is inscribed "Melody Time: Brass Horn Band" and "Toot, Plunk, Whistle, Boom." Melody Time (1948) was one of Disney's package films, a series of flicks during the 1940s that incorporated numerous short segments rather than a single plot-based story. One of the shorts in Melody Time was "Little Toot," the tale of a young, mischievous tugboat.
At Pete's Silly Sideshow, guests can meet four classic Disney characters enhanced with circus themes: "The Astounding Donaldo," "The Great Goofini," "Minnie Magnifique," and "Madame Daisy Fortuna." These legends impersonate a snake charmer, a circus stuntman, a poodle trainer, and a fortuneteller, respectively.
Guests can join separate queues for Donald and Goofy, and Minnie and Daisy, respectively. Guests wanting to meet all four characters have to line up twice.
Pete's Silly Sideshow is one of two elaborate multi-character greeting attractions in Fantasyland, Princess Fairytale Hall being the other.
Because Donald works with snakes, there is a zero percent chance you will encounter Indiana Jones at Pete's Silly Sideshow. At Disney's Hollywood Studios, however, guests can enjoy "Indiana Jones Epic Stunt Spectacular!," an exciting show featuring audience participation.
Top 5 Tips for Pete's Silly Sideshow
With an air-conditioned indoor queue and generally moderate wait times, Pete's Silly Sideshow is a solid option for the middle part of the day.
Bring your camera!
Take in the theming throughout the attraction, especially the backdrops for the four characters.
After meeting The Great Goofini, consider riding his biplane nearby at "Barnstormer Starring The Great Goofini," a mild roller coaster attraction.
Consider watching some classic Disney cartoons prior to your visit such as to better appreciate this attraction.