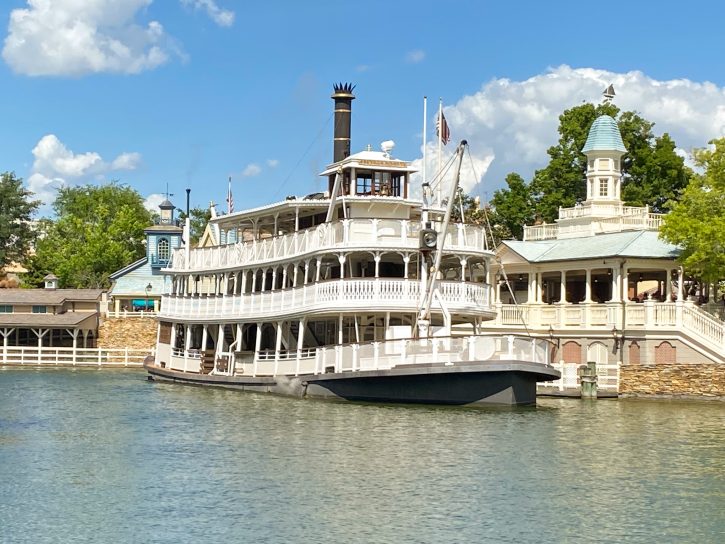 The Liberty Square Riverboat allows guests to set sail to a bygone era aboard the Liberty Belle.
Ride Information  Restrictions   Accessibility  Location  Fun Facts  Top 5 Tips
Ride Information
Opening Day: October 2, 1971
Type of Ride: Boat
Age Recommendation: All ages
Duration of Ride: 16 minutes
Typical Queue Time: Short; about 30 minutes, or the length until the next departure
Single Rider Line: No
Chicken Exit Available: No
Baby Swap Available: No
Type of Vehicle: Boat
Type of Restraint: None; guests can walk around as they please
Attraction Open During Extended Evening Hours: No. See our Extended Evening Hours page for more information.
Ride Photo Available For Purchase: No

Planning a Walt Disney World Vacation?
For a Free no-obligation quote, contact our sponsor
The Magic For Less Travel
. Services are provided free of charge and their expert planning advice will help you make the most of your vacation time and money.
Ride Restrictions
Height Requirements: None
Flash Photography or Video Allowed: Yes
Safety, Accessibility, and Guest Policies
Accessibility: May Remain in Wheelchair/ECV
Guest Policies: Children under age 7 years must be accompanied by a person age 14 years or older.
Location
Park Map of Magic Kingdom: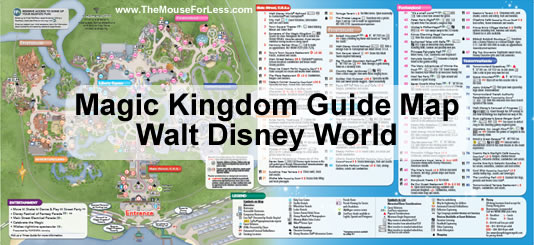 Other Rides/Attractions In the Area:
This attraction is located in the Magic Kingdom's Liberty Square.
Shopping: In Liberty Square, guests can have a silhouette or portrait drawn at "Liberty Square Portrait Gallery," purchase Haunted Mansion-inspired merchandise at "Memento Mori," and shop for Christmas items all year long at Ye Olde Christmas Shoppe.
Dining/Refreshment: Three counter service restaurants (Columbia Harbour House; Liberty Square Market; and Sleepy Hollow) are located in Liberty Square, offering seafood, sandwiches, and various fruits. Table service dining for lunch and dinner is available at Liberty Tree Tavern.
Restroom: The closest restrooms are located in Fantasyland, just past the Liberty Square border. Restrooms were purposely excluded from Liberty Square because plumbing didn't exist in colonial times.
Smoking Location: Smoking is permitted in designated smoking areas only. Disney parks are smoke free.
Liberty Square Riverboat Fun Facts
Did you know?
Liberty Square Riverboat is a steam-powered paddle wheeler, a replica of a vessel that one may have seen sailing the Mississippi River during the 19th century. Liberty Square Riverboat does not, however, operate solely on steam power; it is aided by a submerged rail.
The vessel's official name is Liberty Belle, a moniker it has held since 1996. From 1973 to 1996, the riverboat was entitled Richard F. Irvine, after a Disney executive.
The Liberty Square Riverboat embarked on its first voyage on October 2, 1971, one day after the Magic Kingdom opened. Titled Admiral Joe Fowler, after a retired navy admiral who was instrumental in the building of both Disneyland Park and the Magic Kingdom, this vessel was inadvertently destroyed during a 1980 refurbishment. Richard F. Irvine/Liberty Belle has served as the Magic Kingdom's sole paddle wheeler since 1980.
Liberty Square Riverboat has four decks from which guests can view the lush wilderness of Tom Sawyer Island, as well as Big Thunder Mountain Railroad, and Haunted Mansion.
A voice actor portraying Mark Twain narrates the voyage.
Guests are often, though not always, upon request allowed in the Pilothouse, where they can interact with the captain and "steer the ship" with the big wheel—the boat is guided on rail, so there's no danger here.
Liberty Square Riverboat is currently the only boat to sail the Rivers of America. Previously, "Davy Crockett's Explorer Canoes" operated from opening day, October 1, 1971, until 1994; and "Mike Fink Keel Boats" sailed from opening day through April 29, 2001.
Liberty Square Riverboat's counterpart at Disneyland is Mark Twain Riverboat. Disneyland also offers two seasonal vessel experiences: "Davy Crockett's Explorer Canoes" and "Sailing Ship Columbia," a replica of Columbia Rediviva, an 18th-century merchant ship.
Top 5 Tips for Liberty Square Riverboat
Experience Liberty Square Riverboat during the afternoon, when crowds are especially heavy at the park's headliner attractions.
Explore the various decks of the vessel.
Enjoy the scenery around the vessel.
Inquire about sailing in the Pilothouse for a different perspective of the voyage.
Snacks and drinks are not allowed aboard the Liberty Square Riverboat, so prepare to eat either before or after your voyage.