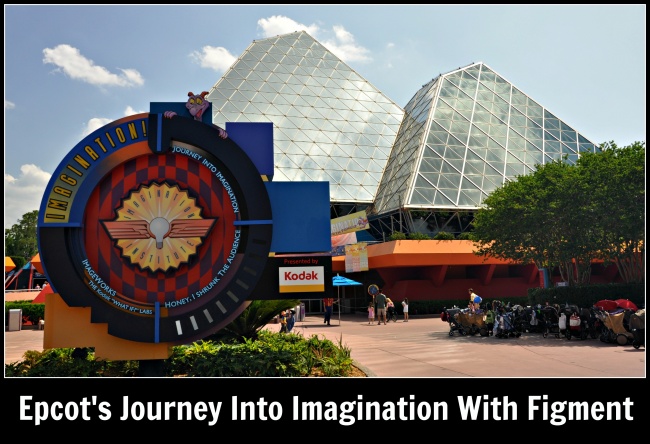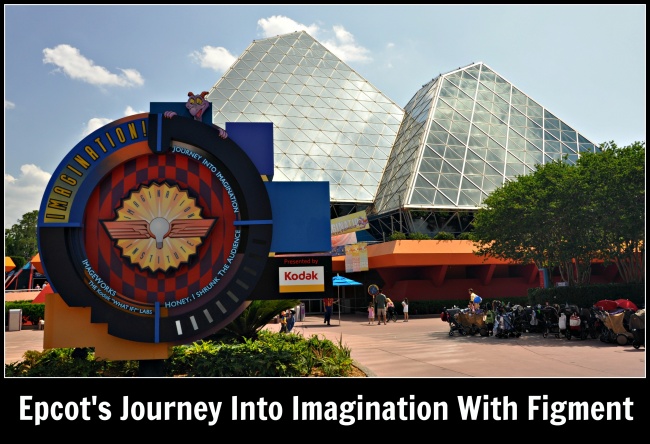 Journey into Imagination with Figment is located in Future World, Epcot.  Join Dr. Nigel Channing (Eric Idle) and his mischievous purple dragon, Figment, on a whimsical open house tour of the Imagination Institute.
Ride Information  Restrictions  Location  Fun Facts  Top 5 Tips
Ride Information
Opening Day: June 2, 2002
Type of Ride: Track ride
Age Recommendation: All ages
Duration of Ride: About 6 minutes
Typical Queue Time: Short to moderate; usually tops out at about 30 minutes
Single Rider Line: No
Chicken Exit Available: Yes
Baby Swap Available: Yes
Type of Vehicle: Car
Type of Restraint: None
Attraction Open During Early Theme Park Entry: No. See our Early Theme Park Entry page for more information.
Ride Photo Available For Purchase: No

Planning a Walt Disney World Vacation?
For a Free no-obligation quote, contact our sponsor
The Magic For Less Travel
. Services are provided free of charge and their expert planning advice will help you make the most of your vacation time and money.
Ride Restrictions
Height Requirements: None
Flash Photography or Video Allowed: No
Location
Shopping: A gift shop is situated at the attraction's exit following the ride and the interactive "ImageWorks" activities. Many of the souvenirs sold here involve Figment.
Dining/Refreshment: One full service restaurant and one counter service restaurant are featured in the adjacent "The Land" pavilion. The full service restaurant, Garden Grill, serves "all-you-care-to-enjoy" family style character meals at breakfast, lunch, and dinner. The breakfast offerings include biscuits and gravy, scrambled eggs, bacon, waffles, and sticky buns; while the lunch and dinner platters feature bread, a salad, beef, turkey, fish, mashed potatoes, rice, and macaroni and cheese. The restaurant slowly rotates during your meal, affording diners views of the "Living with the Land" boat ride. Chip 'n' Dale, Farmer Mickey, and Pluto are usually in attendance at Garden Grill. Meanwhile, guests preferring a counter service meal can choose among sandwiches, Asian dishes, soups, salads, chicken, and pork at the Sunshine Seasons food court.
Restroom: Facilities are situated adjacent to the "Imagination!" pavilion.
Smoking Location: Smoking is permitted in designated smoking areas only. Disney parks are smoke free.
Journey Into Imagination With Figment Fun Facts
Did you Know?
Journey Into Imagination With Figment is one of two attractions in the pyramidal Imagination! pavilion, a 3D show in the adjacent "Magic Eye Theater" being the other.
Journey Into Imagination With Figment is set in the fictional "Imagination Institute," a science research facility.
The photographs of three "Imagination Institute Inventor of the Year Award Recipients" hang in the queue: Dr. Nigel Channing from the upcoming ride; Dr. Wayne Szalinski from "Honey I Shrunk the Audience," the 3D show that ran in Imagination! from 1994 to 2010, and the Honey, I Shrunk the Kids trilogy (1989, 1992, and 1996), respectively; and Professor Philip Brainard from Flubber (1997). Flubber, starring Robin Williams, was a remake of The Absent-Minded Professor (1961), which starred Fred MacMurray as Professor Ned Brainard.
In the queue, guests hear the announcement "Dexter Reilly, attention Dexter Reilly, you left your tennis shoes in the computer room" and see the name "Dean Higgins" inscribed on an office door. These are references to the "Medfield College Trilogy": The Computer Wore Tennis Shoes (1969), Now You See Him, Now You Don't (1972), and The Strongest Man in the World (1975). These three live action comedies starred Kurt Russell as Dexter Reilly and Joe Flynn as Dean Eugene Higgins. The films were set at the fictional Medfield College, which was also the setting of The Absent-Minded Professor, Son of Flubber (1963), and Flubber.
In Journey Into Imagination With Figment, Dr. Channing, the chairman of the Imagination Institute, is set to lead a tour through five labs, one for each of the five senses. After wreaking havoc in the Sound Lab, the Sight Lab, and the Smell Lab, however, the concurrently mischievous and witty purple dragon Figment replaces the disgruntled Channing in the lead, substituting a fanciful upside room for the Touch and Taste Labs.
A catchy tune, "One Little Spark," written by the legendary Disney songwriting duo of Richard and Robert Sherman for the attraction's first iteration in 1983, serves as the theme song for Journey Into Imagination With Figment.
Figment is a play on the phrase "figment of imagination."
By virtue of the "big stink in the Smell Lab" caused by skunk Figment, Journey Into Imagination With Figment is one three attractions at Walt Disney World to purposely incorporate a foul odor.  The Animal Kingdom's "It's Tough to Be a Bug" (stink bug) is another ride with foul odor.
Following the ride proper, guests can participate in various interactive activities at "ImageWorks." Imageworks was situated on the now-closed upper level of the pavilion from 1982 to 1998.
Kodak sponsored the Imagination! pavilion from its 1982 opening until 2010.
Journey Into Imagination With Figment is the third version of the attraction, following "Journey Into Imagination" (1983-1998) and "Journey Into Your Imagination" (1999-2001).
Journey Into Imagination featured a human character called "Dreamfinder" in addition to Figment and focused on dreaming up new ideas for incorporation in areas such as art, literature, acting, and science. The literature section was based in a nightmare, and contained frightening imagery and noises.
Journey Into Your Imagination marked the debuts of Dr. Channing and the Imagination Institute. Rather than hosting an open house, in this version, Dr. Channing put guests through an invention called the "Imagination Scanner," which discovered a lack of imagination in the riders and sought to correct the problem through various experimental stimulations.
In Journey Into Your Imagination, Figment appeared only during the preshow and the post show, not the ride proper. This version was poorly received by guests and replaced by Journey Into Imagination With Figment. Journey Into Your Imagination omitted "One Little Spark."
Top 5 Tips for Journey Into Imagination With Figment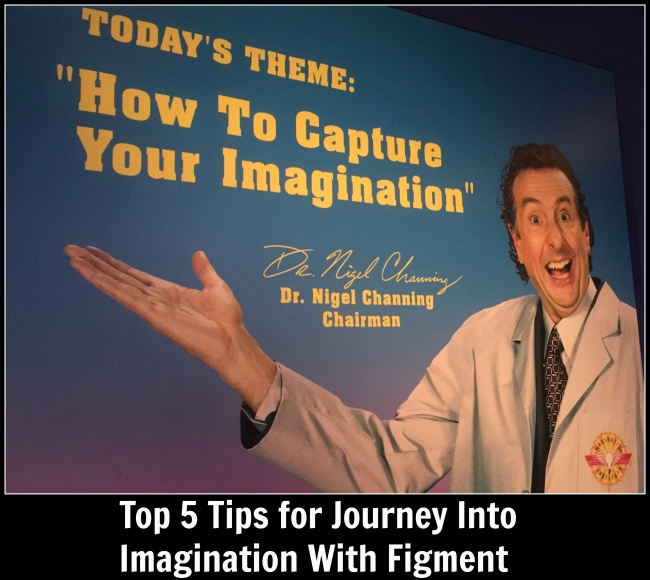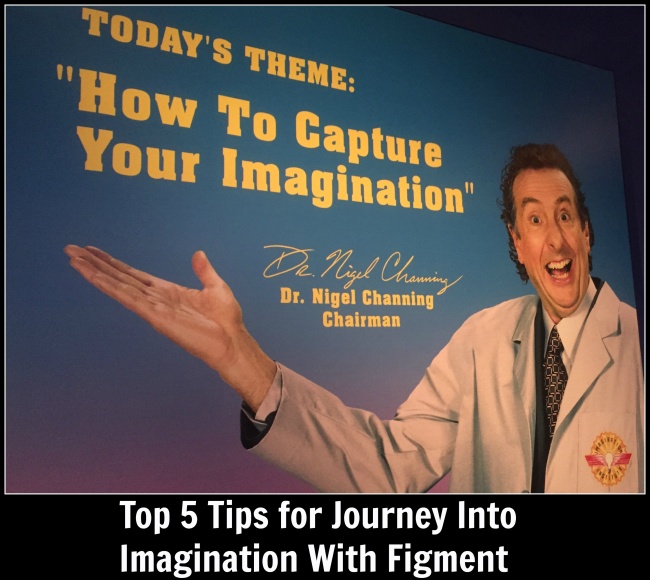 Be prepared for "One Little Spark" to linger in your head for a while.
If you don't want to smell skunk, hold your breath in the Smell Lab.
Take in the details throughout the attraction.
Especially if you are touring with children, spend some time at ImageWorks.
Remove your hats and Mickey Ears before you ride.  There is a sudden strong blast of air during the attraction.