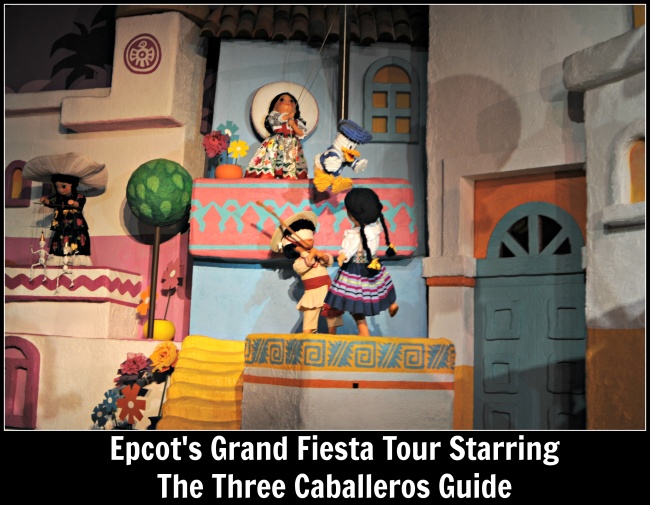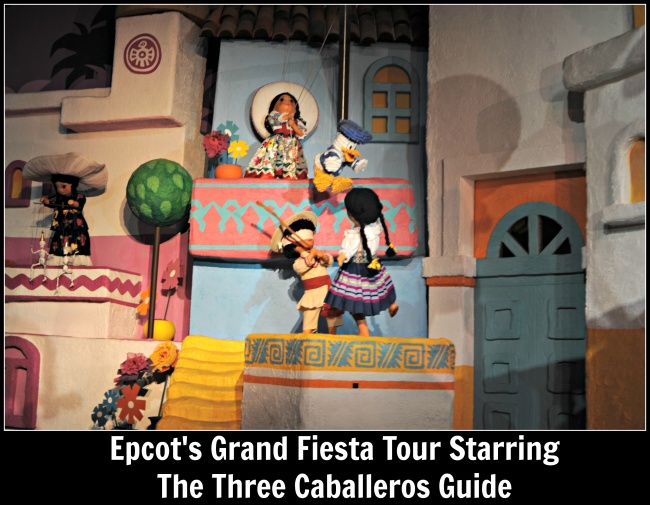 Join Donald Duck, Jose Carioca, and Panchito Pistoles, the title characters from Disney's 1944 animated classic The Three Caballeros, on this Gran Fiesta Tour through Mexican history and culture in the Mexico Pavilion's iconic pyramid.
Ride Information  Restrictions  Location  Fun Facts  Top 5 Tips
Gran Fiesta Tour Starring The Three Caballeros Ride Information
Opening Day: April 6, 2007
Type of Ride: Boat ride through Mexican culture
Age Recommendation: All ages
Duration of Ride: About 7 minutes
Typical Queue Time: Short; typically less than 10 minutes
Single Rider Line: No
Chicken Exit Available: No
Baby Swap Available: No
Type of Vehicle: Boats
Type of Restraint: None
Attraction Open During Early Theme Park Entry: No. See our Early Theme Park Entry page for more information.
Ride Photo Available For Purchase: No

Planning a Walt Disney World Vacation?
For a Free no-obligation quote, contact our sponsor
The Magic For Less Travel
. Services are provided free of charge and their expert planning advice will help you make the most of your vacation time and money.
Gran Fiesta Tour Starring The Three Caballeros Ride Restrictions
Height Requirements: None
Flash Photography or Video Allowed: No
Location
Shopping: Shopping options abound inside Mexico's multipurpose pyramid. Ceramics, sombreros, pinatas, worry dolls, leather goods, jewelry, apparel, and pottery can all be purchased at the spacious indoor marketplace.
Dining/Refreshment: Augmented by views of a volcano, a pyramid, and Gran Fiesta's Tour's boats, guests can enjoy a table service lunch or dinner at San Angel Inn. Offerings at this charming restaurant include steak, beef, pork, chicken, and fish entrees; tacos; quesadillas; soups; salads; and a plethora of margaritas.
Restroom: Facilities are situated in the "Odyssey Center," across the Future World border from the Mexico Pavilion.
Smoking Location: Smoking is permitted in designated smoking areas only. Disney parks are smoke free.
Gran Fiesta Tour Starring The Three Caballeros Fun Facts
Did you know?
Gran Fiesta Tour Starring The Three Caballeros replaced a more serious boat ride, "El Rio del Tiempo," in 2007. Translating to "The River of Time," El Rio del Tiempo had operated since Epcot's opening day, October 1, 1982. El Rio del Tiempo was augmented by an upbeat tune of the same name.
Gran Fiesta Tour Starring The Three Caballeros is hosted by Donald Duck, Jose Carioca, and Panchito Pistoles from The Three Caballeros (1944). Of the trio, only Panchito is from Mexico, Jose Carioca being from Brazil and Donald from the United States. Jose Carioca had previously appeared with Donald in Saludos Amigos (1942).
Content differences notwithstanding, the facades and dolls seen during Gran Fiesta Tour are largely unchanged from those of El Rio del Tiempo.
An imposing pyramid—within the larger pyramid—and a volcano are seen at the beginning of the cruise.
The protagonists of Gran Fiesta Tour travel via flying sarape, essentially a magic carpet.
Video clips of Donald, Panchito, and Jose Carioca enjoying Mexican beaches, restaurants, and dances are seen during the attraction, which culminates with fireworks.
The segment with the dolls is reminiscent of It's a Small World.
The theme song, "The Three Caballeros," from The Three Caballeros is heard instrumentally throughout the attraction, with the trio singing the lyrics at the end of the voyage.
Gran Fiesta Tour sits aside the San Angel Inn restaurant, effectively making San Angel Inn the Walt Disney World version of Disneyland Park's Blue Bayou Restaurant, which occupies the same position for that park's Pirates of the Caribbean attraction. Similar restaurants, "Blue Bayou" and "Blue Lagoon," complement the respective Pirates of the Caribbean attractions at Tokyo Disneyland Park and Disneyland Park Paris. A Blue Bayou Restaurant was never added to the Magic Kingdom's version of Pirates of the Caribbean.
Hidden Mickeys:
Hidden Mickeys are embedded on tiles on the platform base on the left side of your boat during the attraction's final scene. A Hidden Mickey can also be seen in the smoke from the adjacent volcano.
Sponsored Ad: Learn more about Hidden Mickey details and location throughout Walt Disney World in A Field Guide to Walt Disney World's Best Kept Secrets
.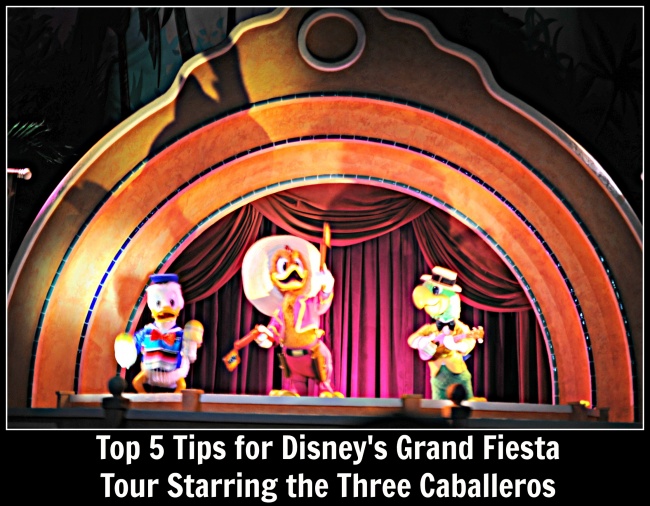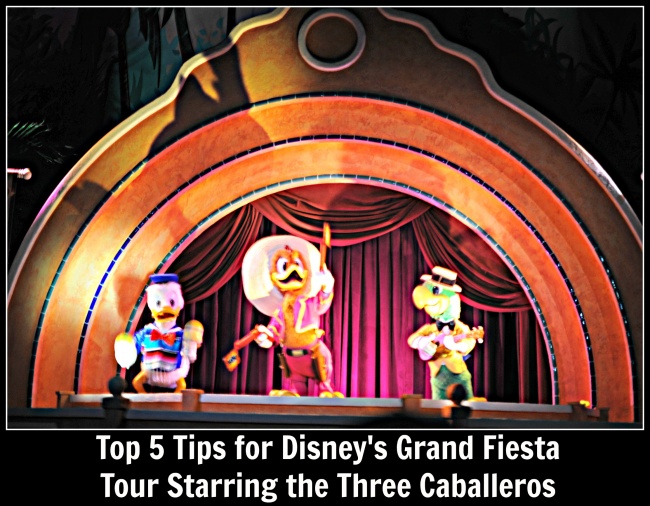 Top 5 Tips for Grand Fiesta Tour Starring The Three Caballeros
With negligible wait times, guests can enjoy Gran Fiesta Tour at their pleasure.
Consider making an ADR for San Angel Inn and requesting a table with a view of Gran Fiesta Tour.
Do not expect an educational attraction. Gran Fiesta Tour provides more laughs than information.
Be prepared to have "The Three Caballeros" song linger in your head for a while after riding Gran Fiesta Tour.
Consider watching Saludos Amigos and The Three Caballeros prior to your visit such as to better appreciate this attraction.