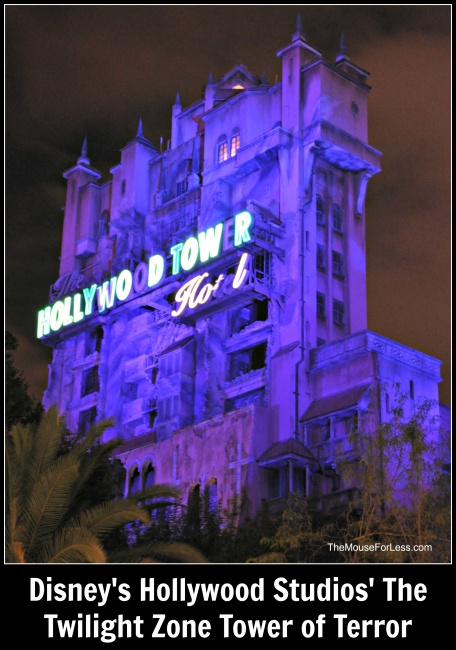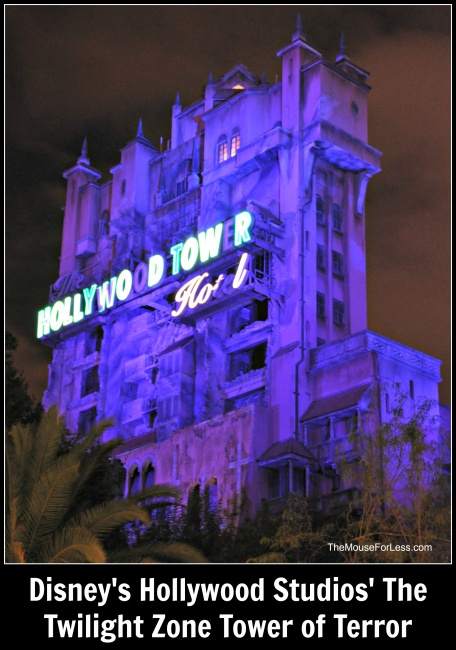 Even if you can't book a room at the Hollywood Tower Hotel, be sure to drop in and experience the elevator, which is the highlight of the edifice in any event!
Ride Information  Restrictions  Accessibility  Location  Fun Facts  Top 5 Tips
Ride Information
Opening Day: July 22, 1994
Type of Ride: Elaborate drop tower
Age Recommendation: Ages 8 and up
Duration of Ride: About 3 minutes
Typical Queue Time: Long; often upwards of one hour
Single Rider Line: No
Chicken Exit Available: Yes
Baby Swap Available: Yes
Type of Vehicle: Roaming elevator car
Type of Restraint: Seat belt
Attraction Open During Early Theme Park Entry: Yes. See our Early Theme Park Entry page for more information.
Ride Photo Available For Purchase: Yes

Planning a Walt Disney World Vacation?
For a Free no-obligation quote, contact our sponsor
The Magic For Less Travel
. Services are provided free of charge and their expert planning advice will help you make the most of your vacation time and money.
Ride Restrictions
Height Requirements: 40 inches
Flash Photography or Video Allowed: No
Safety, Accessibility, and Guest Policies
Accessibility:
Guests must transfer from wheelchair
Video Captioning available
Service animals not permitted
Guest Policies: Children under age 7 years must be accompanied by a person age 14 years or older.
Location
Shopping: Purchase an assortment of merchandise, much of which relates to the Tower of Terror, including t-shirts, bellhop hats, glassware, posters, pillows, tote bags, and on-ride photographs at "Tower Hotel Gifts," located at the attraction's exit.
Dining/Refreshment: Located outside the attraction, the Tower of Terror Coffee Cart offers pastries, muffins, cookies, and, of course, coffee. Guests craving a more substantial, counter service, lunch or dinner should check out Rosie's All-American Café, Fairfax Fare, and Catalina Eddie's located across Sunset Boulevard. Rosie's offers burgers and soups; Fairfax Fare specializes in barbecue; and Catalina Eddie's is the place on Sunset Boulevard for pizza in addition to deli sandwiches.
Restroom: Find facilities conveniently located near the attraction's entrance.
Smoking Location: Smoking is permitted in designated smoking areas only. Disney parks are smoke free.
The Twilight Zone Tower of Terror Fun Facts
Did you know?
The Twilight Zone Tower of Terror takes place on October 31, 1939. On that Halloween night, lightning struck the hotel with five guests in the fateful elevator, which went plummeting to the unknown, the Twilight Zone.
The Twilight Zone Tower of Terror stands at 199 feet, making it the second-tallest attraction at Walt Disney World behind only "Expedition Everest" at Disney's Animal Kingdom. Imagineers elected not to make the structure any taller because FAA regulations require red light beacons to be attached to any building 200 feet or taller. The Imagineers deemed such an inclusion obstructive to the attraction's theme.
Though promotional videos show guests standing in the attraction's freefalling elevator, guests actually sit and are harnessed with seatbelts.
The Twilight Zone Tower of Terror is exquisitely themed throughout. After winding through an outdoor courtyard, guests enter a dusty lobby filled with antiques, sculptures, furniture, and a reception desk, before viewing a video in the library and ushered to the elevators by a bellhop.
The grand finale of The Twilight Zone Tower of Terror is the freefall. Riders drop up to 13 stories multiple times in random intervals. A wire at the bottom of the vehicle renders the drop "faster than gravity." The randomization of the drops came about in late 2002 with reprogramming of the computers. Upon reaching the Tower's apex, guests can briefly see a panoramic view of the park through a window.
The Twilight Zone Tower of Terror's facade blends with the edifices at Epcot's Morocco pavilion
History
The Twilight Zone Tower of Terror is based on Rod Serling's "The Twilight Zone" television program, which originally aired on CBS-TV from 1959-1964. In designing The Tower of Terror, Disney's Imagineers viewed all 156 episodes of the series.
The Twilight Zone Tower of Terror inspired the 1997 television film Tower of Terror.
The video in the library, which informs guests that they are going to be the stars of the attraction, is a clip from The Twilight Zone episode "It's a Good Life." Rod Serling is juxtaposed in the clip, but the audio was provided by voice actor Mark Silverman.
Amidst sights of a star field, the elevator vehicles, guided by computerized wires, enter "The Fifth Dimension" scene. Here, the vehicles move horizontally between separate elevator shafts. This scene was based on The Twilight Zone episode "Little Girl Lost."
Sunset Boulevard opened with The Twilight Zone Tower of Terror in 1994.
Other versions of The Twilight Zone Tower of Terror are located at Disney's California Adventure, Walt Disney Studios Paris, and Tokyo DisneySea, debuting in 2004, 2007, and 2006, respectively. The Tokyo version omits The Twilight Zone theme.
The Fifth Dimension scene is only featured in Florida's Tower of Terror. In California and Paris, this scene is substituted by an effect that makes the riders "disappear."
The Twilight Zone Tower of Terror is one of four freefall rides to have appeared in a Disney theme park, the others being the now-defunct "Maliboomer," which sat in the Paradise Pier section of Disney's California Adventure from 2001 to 2010; "Jumpin' Jellyfish" at Disney's California Adventure and Tokyo DisneySea; and "Toy Story Parachute Drop" at Walt Disney Studios Paris and Hong Kong Disneyland.
Hidden Mickeys:
The girl entering the elevator in the library video is holding a Mickey doll.
Sponsored Ad: Learn more about Hidden Mickey details and location throughout Walt Disney World in A Field Guide to Walt Disney World's Best Kept Secrets
.
Top 5 Tips for The Twilight Zone Tower of Terror
Even if you do not want to experience the ride proper, consider checking out the queue and preshow. Guests can choose to exit the attraction prior to boarding the elevators.
Consider purchasing an on-ride photograph.
Guests with a Magic Band and a Memory Maker package can receive a video of their Tower of Terror experience.
Because of the spooky theme and thrill factor, The Twilight Zone Tower of Terror is not recommended for young children.
Consider watching some Twilight Zone episodes before your visit such as to better appreciate this attraction.