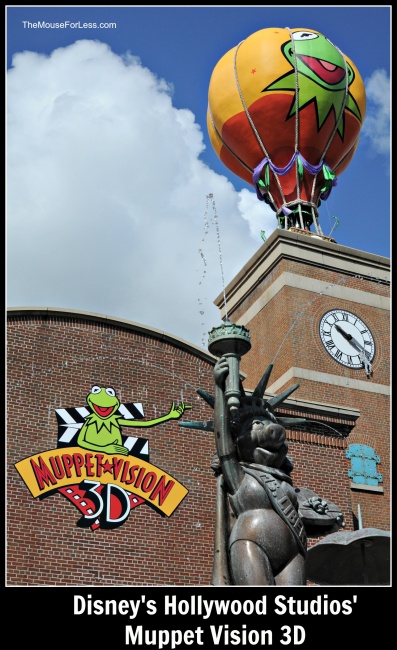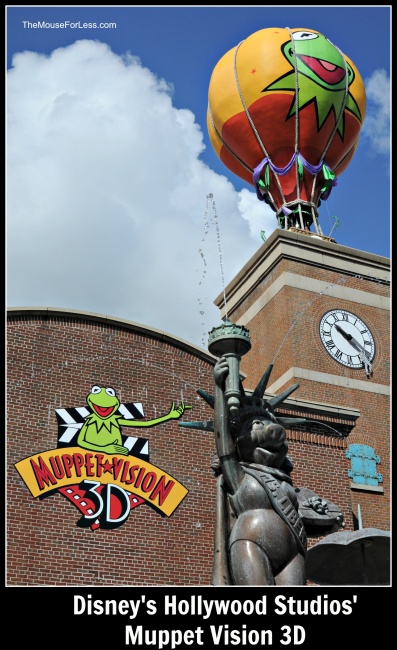 Jim Henson's final Muppets project, Muppet Vision 3D, allows guests  to experience a plethora of gags and skits in this classic 3D attraction.
Ride Information  Restrictions  Location  Fun Facts  Top 5 Tips
Ride Information
Opening Day: May 16, 1991
Type of Ride: 3D show
Age Recommendation: All ages
Duration of Ride: About 14 minutes
Typical Queue Time: Short; usually less than 20 minutes, or the duration until the next show
Single Rider Line: No
Chicken Exit Available: Yes
Baby Swap Available: No
Type of Vehicle: Theater seats
Type of Restraint: None
Attraction Open During Early Theme Park Entry: Yes. See our Early Theme Park Entry page for more information.
Ride Photo Available For Purchase: No

Planning a Walt Disney World Vacation?
For a Free no-obligation quote, contact our sponsor
The Magic For Less Travel
. Services are provided free of charge and their expert planning advice will help you make the most of your vacation time and money.
Ride Restrictions
Height Requirements: None
Flash Photography or Video Allowed: No
Location
Shopping: Guests can purchase Muppets merchandise and animation artwork next door at the "Stage 1 Company Store," which is themed after the not-so-aptly named Happiness Hotel from The Great Muppet Caper (1981).
Dining/Refreshment: Italian cuisine, including calamari, flatbread pizzas, spaghetti, chicken parmigiana, lasagna, and penne alla vodka, is served at the adjacent Mama Melrose's Ristorante Italiano. Prior to Jim Henson's 1990 death, a Muppets-themed eatery to be called "Great Gonzo's Pizza Pandemonium Parlor" was contemplated for this space.
Restroom: Facilities convenient to Muppet Vision 3D are situated across from Star Tours—The Adventures Continue and Backlot Express.
Smoking Location: Smoking is permitted in designated smoking areas only. Disney parks are smoke free.
Fun Facts
Did you know?
Attraction Trivia
Muppet Vision 3D marked Jim Henson's final performance as Kermit the Frog before his death.
Muppet Vision 3D sits in the Muppet Courtyard section of Disney's Hollywood Studios. Although Muppet Vision 3D held its location for a quarter-century, it only received an exclusive area in 2016. The change occurred when the adjacent Streets of America closed to prepare for the Star Wars and Toy Story expansions.
Muppet Vision 3D was previously entitled "Jim Henson's Muppet Vision 3D" and "Muppet Vision 4D."
Muppet Vision 3D presents a tour of a "modern, high-tech" research center which supposedly perfected a new film process. Hilarious chaos with "cheap 3D tricks" result.
Muppets encountered during Muppet Vision 3D include Kermit the Frog, Miss Piggy, Fozzie Bear, Gonzo, Scooter, Sam the Eagle, the Swedish Chef, Statler, Waldorf,  Sweetums, Dr. Bunsen Honeydew, Beaker, and Bean Bunny.
Although Kermit invited distinguished scientists from all over the world to work at the Muppet laboratory, unfortunately, none of these scientists accepted the offer. As a result, Dr. Bunsen Honeydew with his assistant Beaker do the scientific honors.
Waldo C. Graphic, Dr. Honeydew's first "living 3D effect," entertains the entire crowd while also providing individualized attention. Waldo first appeared on "The Jim Henson Hour" television show in 1989.
Sam the Eagle's musical finale is called "A Salute to All Nations but Mostly America." Originally intended to last three hours, Sam is given less than two minutes.
Four Muppets appear as animatronics or costumed actors outside of the movie: Statler, Waldorf, Bean Bunny, and Sweetums.
4D effects include bursts of air, squirts of water, and soap bubbles.
Muppet Vision 3D's preshow includes a video hosted by Scooter. After he tells guests to move closer together to accommodate more people, Rizzo the Rat jokes that they are "doing research on deodorant strength." Then, after Scooter announces the preparation for Muppet Vision 3D, Fozzie Bear introduces a new act featuring three "Ds": Dorothy, Dina, and Max. Max replaced his infirm daughter, whose name presumably began with "D."
Location
Muppet Vision 3D is housed in a large brick building with a clock tower and a faux hot air balloon adorned with Kermit's head. The hot air balloon is a tribute to the opening scene of The Great Muppet Caper.
An elaborate fountain topped by a statue of Miss Piggy posing as the Statue of Liberty sits across from the Muppet Vision 3D theater.
Although Muppet Vision 3D's film is uproarious, many Disney and Muppet diehards find the preshow holding area superior. Upon entering the building, a faux ticket window adorns the notice "Back in 5 minutes key is under mat." There is actually a key under a mat below this window. Additionally, a net full of jello, a punny reference to late Disney Legend Annette Funicello, hangs from the ceiling. Best known for her run as a Mouseketeer on "The Mickey Mouse Club" television show in the late-1950s, Funicello starred in several Disney movies, including The Shaggy Dog (1959) and The Misadventures of Merlin Jones (1964).
Muppet Vision 3D is one of three 3D attractions at Disney's Hollywood Studios. In addition to the Muppet are Toy Story Midway Mania and Star Tours—The Adventures Continue.
Attraction History
To promote Muppets Most Wanted, Disney incorporated Constantine the Frog into the pre show in 2014. Essentially, Constantine repeatedly interrupts the regular film with a pirated broadcast.
Muppet Vision 3D was the second of three Muppet attractions at Disney's Hollywood Studios, following "Here Come the Muppets" (1990-1991) and preceding "Muppets on Location: Days of Swine and Roses" (1991-1994). The other two attractions were stage shows.
Muppet Vision was Walt Disney World's third 3D attraction, following "Magic Journeys" and "Captain EO." Magic Journeys played at Epcot from 1982 to 1986 and at the Magic Kingdom from 1987 to 1993. Captain EO played at Epcot from 1986 to 1994 and again from 2010 to 2015.
 The Muppets encountered in Muppet Vision 3D originate from the numerous Muppet films, and television specials and series produced over the last forty or so years. These include  "The Muppet Show" (1976-1981), The Muppet Movie (1979), The Great Muppet Caper, The Muppets Take Manhattan (1984), "The Tale of the Bunny Picnic" (1986), "The Jim Henson Hour" (1989), The Muppet Christmas Carol (1992), Muppet Treasure Island (1996), Muppets from Space (1999), The Muppets (2011), Muppets Most Wanted (2014), and The Muppets (2015).
The Muppets were expected to play a larger role when Disney's MGM Studios park opened in 1989. Concepts included "The Great Muppet Movie Ride," a parody of the Great Movie Ride, and "Great Gonzo's Pizza Pandemonium Parlor." This plan faltered when a merger agreement between Disney and The Jim Henson Company collapsed upon Jim Henson's death.
Kodak sponsored Muppet Vision 3D from 1991 to 2014.
Disney California Adventure also hosted Muppet Vision 3D when that park debuted in 2001.
In 2004, Disney acquired the Muppets franchise from The Jim Henson Company. The acquisition excluded "Sesame Street," "Fraggle Rock," The Muppets Take Manhattan, and Muppets from Space.
Hidden Mickeys:
A Hidden Mickey is located on the life preserver under the Gonzo statue in the fountain outside the theater. During the preshow video, Rizzo the Rat impersonates Mickey Mouse, much to the anger of Sam the Eagle.
Sponsored Ad: Learn more about Hidden Mickey details and location throughout Walt Disney World in A Field Guide to Walt Disney World's Best Kept Secrets
.
Top 5 Tips for Muppet Vision 3D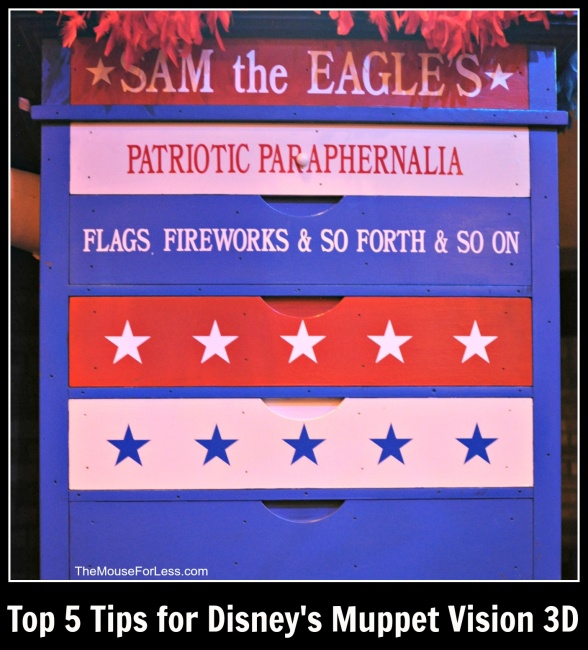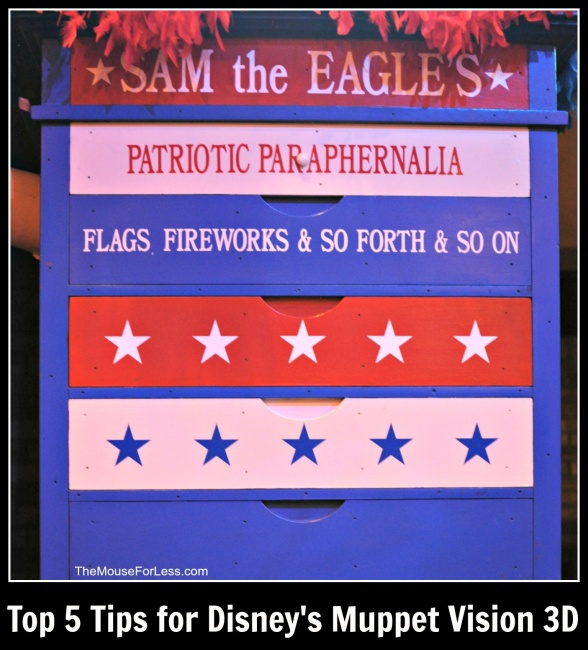 Although the show is fun, make sure to enjoy the details throughout the attraction including the preshow.
Prepare to laugh.
This show is a must see for all Muppet fans.
Consider watching the various Muppet productions prior to your visit such as to better appreciate this attraction.