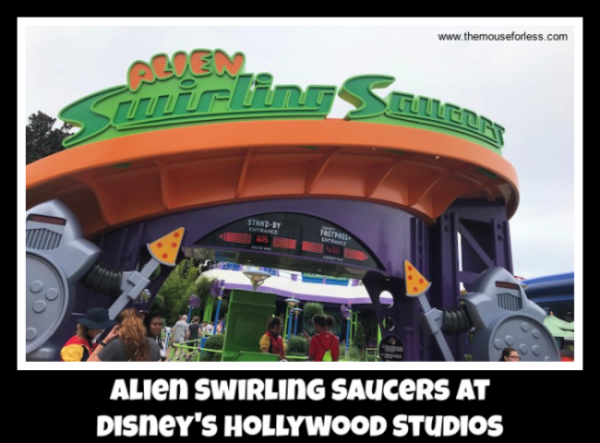 Board your toy rocket and hang on tight as the Aliens take you on a spin through space.  On Alien Swirling Saucers, guests, having shrunk to enter Toy Story Land, ride flying saucer vehicles around a playset that Andy, the child protagonist from Toy Story (1995), won at Pizza Planet.
Alien Swirling Saucers uses a ride system similar to that of "Mater's Junkyard Jamboree" in Cars Land at Disney California Adventure and that of "Woody's Roundup" in the Toy Story Land at Shanghai Disneyland. The ride vehicles move in a whip-like manner between figure-eight tracks.
Ride Information  Restrictions  Location  Fun Facts  Top 5 Tips
Ride Information
Opening Day: June 30, 2018
Type of Ride: Elaborate Midway ride
Age Recommendation: All ages
Duration of Ride: To be determined
Typical Queue Time: Very long; probably in excess of one hour
Single Rider Line: No
Chicken Exit Available: Yes
Baby Swap Available: Yes
Type of Vehicle: Flying saucer
Type of Restraint: Type to be determined
Attraction Open During Early Theme Park Entry: Yes. See our Early Theme Park Entry page for more information.
Ride Photo Available For Purchase: No

Planning a Walt Disney World Vacation?
For a Free no-obligation quote, contact our sponsor
The Magic For Less Travel
. Services are provided free of charge and their expert planning advice will help you make the most of your vacation time and money.
Ride Restrictions
Height Requirements: 32 inches
Flash Photography or Video Allowed: No
Location
Shopping: Numerous Toy Story-based goods can be purchased near Alien Swirling Saucers at "Toy Story Dept."
Dining/Refreshment: Breakfast, lunch, and dinner are served near Alien Swirling Saucers at Woody's Lunch Box. Sandwiches and specialty beverages are the highlights at this counter service restaurant.
Restroom: Facilities convenient to Alien Swirling Saucers are located near Toy Story Mania.
Smoking Location: Smoking is permitted in designated smoking areas only. Disney parks are smoke free.
Fun Facts
Did you know?
Alien Swirling Saucers, in addition to Toy Story Land generally, was first announced at the 2015 "D23" Disney fan convention.
Alien Swirling Saucers, like the rest of Toy Story Land, is based on Pixar's Toy Story franchise. As of 2018, three feature-length Toy Story films, Toy Story, Toy Story 2 (1999), and Toy Story 3 (2010), have been released. A fourth Toy Story movie is scheduled for theatrical release in 2019.
Alien Swirling Saucers is one of three attractions in Toy Story Land, Slinky Dog Dash and Toy Story Mania being the other two. Alien Swirling Saucers and Slinky Dog Dash are new attractions, while Toy Story Mania, which formerly resided in park's "Pixar Place" section, debuted at Disney's Hollywood Studios in 2008.
The aliens from the attraction were originally seen in the crane machine in the Pizza Planet scene of Toy Story. From 1996 to 2016, a counter service pizza restaurant and arcade called Toy Story Pizza Planet occupied the space that is now taken by the PizzeRizzo pizza restaurant in the park's "Grand Avenue" section.
Alien Swirling Saucers is under cover and features music, lighting effects, and the infamous claw from the Pizza Planet arcade machine.
Alien Swirling Saucers is the second Toy Story-based attraction in the history of Walt Disney World to involve outer space, the Magic Kingdom's Buzz Lightyear's Space Ranger Spin being the first.
Top 5 Tips for Alien Swirling Saucers
Guests prone to motion sickness should avoid this attraction.
Do not eat a heavy meal at Woody's Lunchbox, or anywhere else for that matter, immediately before riding.
Consider watching the Toy Story movies prior to your visit such as to better appreciate this attraction.
Hang on tight!