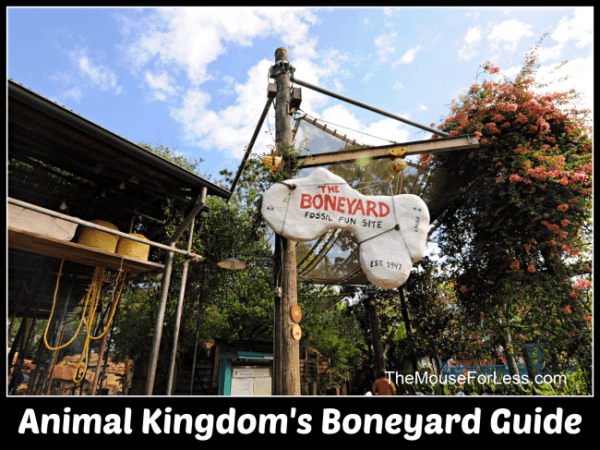 Check out the Boneyard where children can become amateur paleontologists while blowing off steam at this elaborate playground.
Ride Information  Restrictions  Accessibility  Location  Fun Facts  Top 5 Tips
Ride Information
Opening Day: April 22, 1998
Type of Ride: Playground
Age Recommendation: 4 to 10
Duration of Ride: Unlimited
Typical Queue Time: None
Single Rider Line: No
Chicken Exit Available: Yes
Baby Swap Available: No
Type of Vehicle: None
Type of Restraint: None
Attraction Open During Early Theme Park Entry: No. See our Early Theme Park Entry page for more information.
Ride Photo Available For Purchase: No
Ride Restrictions
Height Requirements: None
Flash Photography or Video Allowed: Yes
Safety, Accessibility, and Guest Policies
Accessibility: Guests may remain in wheelchair.
Guest Policies:
Children under age 7 years must be accompanied by a person age 14 years or older.
The playground experience best suits kids 10 and under
Location
Shopping: Purchase dinosaur-related souvenirs nearby at "Boneyard Cart."
Dining/Refreshment: Several counter service restaurants are located near The Boneyard in DinoLand U.S.A. Guests can enjoy a complete lunch and dinner at Restaurantosaurus; offerings at this well-themed eatery include roasted chicken, burgers, hot dogs, a BLT sandwich, and clam chowder. Meanwhile, ice cream treats dominate the menu at Dino Bite Snacks.
Restroom: Find facilities convenient to The Boneyard situated near Restaurantosaurus.
Smoking Location: Smoking is permitted in designated smoking areas only. Animal Kingdom smoking areas can be found on our Walt Disney World Designated Smoking Areas page.
The Boneyard Fun Facts
Did you know?
The Boneyard is one of three major playground attractions at Walt Disney World, the others being Tom Sawyer Island and the queue for Dumbo the Flying Elephant, both located at the Magic Kingdom. From 1990 until 2016, a fourth major playground, "Honey, I Shrunk the Kids: Movie Set Adventure," based on Honey, I Shrunk the Kids (1989), operated at Disney's Hollywood Studios. Honey, I Shrunk the Kids: Movie Set Adventure closed to prepare for the park's Star Wars expansion.
The Boneyard opened with the Animal Kingdom on April 22, 1998.
The Boneyard is "operated" by the Dino Institute, which guests can experience more fully on the DINOSAUR attraction. DINOSAUR, unlike The Boneyard, has thrill aspects and therefore better suits older kids.
The Boneyard features a plethora of activities and visuals for children, including elevated walkways, slides, staircases, tunnels, a Jeep, net and rope climbing ramps, musical fossils, fact sheets, sandboxes where guests can dig for faux dinosaur and mammoth bones, and dinosaur skeletons.
The ground at the Boneyard has cushioning for safety purposes.
The sandbox contains "Texas Grit," rather than real sand.
The plastic cement bones found around The Boneyard were cast from real dinosaur bones found in places such as Utah's Dinosaur National Park.
The entrance sign for The Boneyard is a replica of a Stegosaurus' shoulder blade.
Hidden Mickeys:
Find a Hidden Mickeys on a red bicycle towards the back of The Boneyard and near the water fountain on the playground's ground level, respectively.
Sponsored Ad: Learn more about Hidden Mickey details and location throughout Walt Disney World in A Field Guide to Walt Disney World's Best Kept Secrets
.
Top 5 Tips for The Boneyard
Make sure to watch your children closely in the busy atmosphere of the playground. There is only one exit to the playground, and it is well staffed with Cast Members.
If you are on a tight schedule, set a time limit for The Boneyard. Play is unlimited, and you may be here for a while with the children enjoying themselves.
Adults touring alone should take a look at The Boneyard even if they do not plan to linger; the area is visually impressive.
Keep a water bottle handy to stay hydrated in the Florida sun.
Take some photographs.