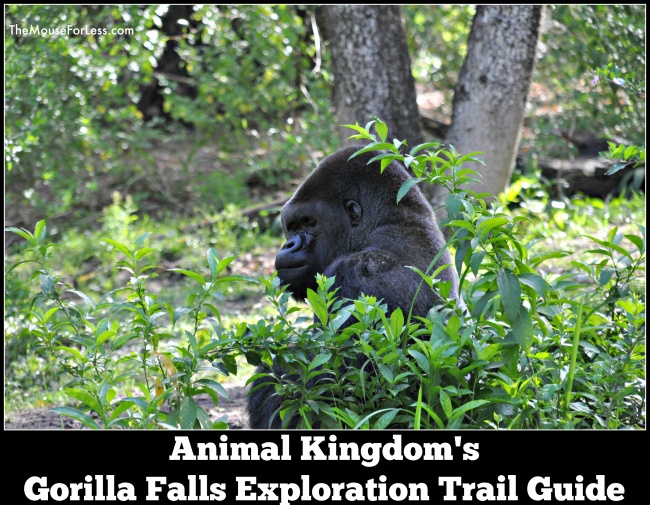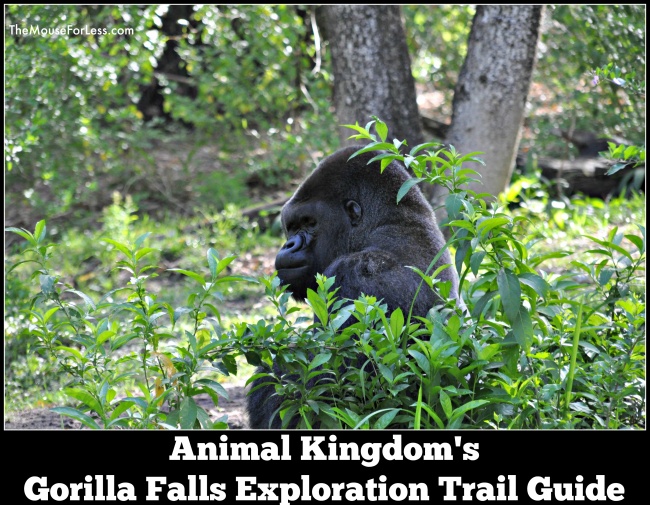 View African wildlife at your own pace on this nature trail adjacent to Kilimanjaro Safaris.
Ride Information  Restrictions  Accessibility  Location  Fun Facts  Top 5 Tips
Ride Information
Opening Day: April 22, 1998
Type of Ride: Nature trail
Age Recommendation: All ages
Duration of Ride: Unlimited
Typical Queue Time: None
Single Rider Line: No
Chicken Exit Available: Yes
Baby Swap Available: No
Type of Vehicle: None
Type of Restraint: None
Attraction Open During Early Theme Park Entry: Yes. See our Early Theme Park Entry page for more information.
Ride Photo Available For Purchase: No

Planning a Walt Disney World Vacation?
For a Free no-obligation quote, contact our sponsor
The Magic For Less Travel
. Services are provided free of charge and their expert planning advice will help you make the most of your vacation time and money.
Ride Restrictions
Height Requirements: None
Flash Photography or Video Allowed: Yes
Safety, Accessibility, and Guest Policies
Accessibility: 
Guest may remain in wheelchairs
Audio Description available
Service animals are permitted with caution
Location
Shopping: Near Gorilla Falls Exploration Trail in the Animal Kingdom's Africa section, guests can purchase apparel, plush dolls, and collectible ostrich eggs at "Ziwani Traders"; and African wines, art, crafts, and instruments at "Mombasa Marketplace."
Dining/Refreshment: Numerous eateries are situated near Gorilla Falls Exploration Trail. Guests wanting a counter service lunch or dinner can choose among chicken skewers, vegetable stacks, gyros, fried sausages, and ribs at Harambe Market; and the Kusafiri Coffee Shop and Bakery offers assorted sandwiches and pastries. Meanwhile, those preferring a sit down meal can make ADRs for breakfast, lunch, or dinner, all buffet style, at Tusker House. Guests can enjoy a variety of American and African dishes served amidst appearances from Donald Duck.
Restroom: Facilities convenient to Gorilla Falls Exploration Trail are located at Mombasa Marketplace.
Smoking Location: Smoking is permitted in designated smoking areas only. Disney parks are smoke free.
Gorilla Falls Exploration Trail Fun Facts
Did you know?
Find Gorilla Falls Exploration Trail situated at the exit to Kilimanjaro Safaris.
After debuting with its current name, Gorilla Falls Exploration Trail, on the Animal Kingdom's opening day, April 22, 1998, the exploration trail was termed "Pangani Forest Exploration Trail" from August 1998 to May 2016.
Gorilla Falls Exploration Trail features a backstory that has the trail situated within the "Pangani Forest Conservation School and Wildlife Sanctuary." This fictitious venture between the residents of Harambe and international animal preservation groups is overseen by a Dr. Kulunda and research students, the latter actually well-informed Disney Cast Members, who will answer any questions you may entertain about the animals. "Pangani" means "place of enchantment" in Swahili.
Guests encounter many animals along this trail. Guests interested in birds should make sure to stop by the aviary on this trail to experience many feathered friends. Meerkats (the species of Timon from Disney's 1994 film The Lion King) are also very visible from this location. Of course, many gorillas reside here. Silence is required on the gorilla portion of the trail because these creatures deem loud noises a threat.
A similar trail with Asian animals, Maharajah Jungle Trek, is located in the Animal Kingdom's Asia section.
The Wilderness Must Be Explored!
Guests participating in the Animal Kingdom's free interactive game, Wilderness Explorers, can earn five of 31 possible badges (stickers) on the Gorilla Falls Exploration Trail. Guests can register for the game, which is based on Disney and Pixar's Up (2009), at a kiosk on the bridge between the Oasis and Discovery Island near the front of the Animal Kingdom.
Earn the Ham Radio Badge by listening to a radio and recording requested information into the Wilderness Explorers Handbook.
Earn the Hiking Badge by recording requested information along the trail into the Wilderness Explorers Handbook.
Earn the Birding Badge by viewing the birds in the trail's aviary.
Earn the Tracking Badge by identifying animal tracks, such as footprints and scratch marks.
Earn the Gorilla Badge by walking the trail and imitating a gorilla's behavior to a Cast Member.
Hidden Mickeys:
Find the head of Jafar from Aladdin (1992) carved into a rock near the suspension bridge past the gorilla viewing area.
Sponsored Ad: Learn more about Hidden Mickey details and location throughout Walt Disney World in A Field Guide to Walt Disney World's Best Kept Secrets
.
Top 5 Tips for Gorilla Falls Exploration Trail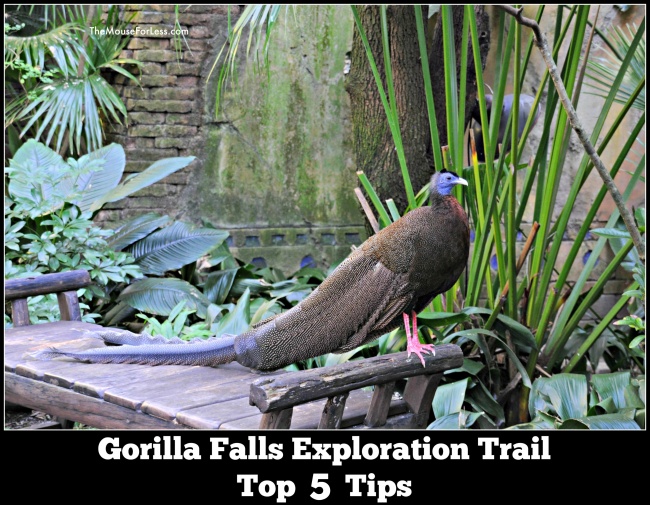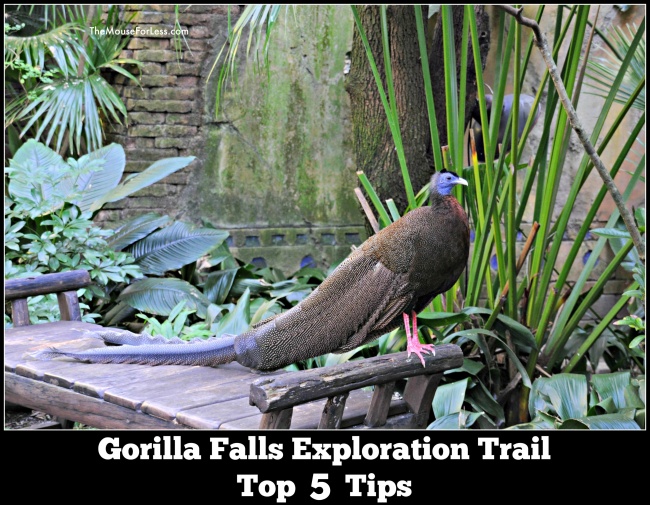 There is no time limit for exploring the Gorilla Falls Exploration Trail, so view the exhibits as quickly or as slowly as you want.
Upon entering the aviary, pick up a bird spotting guide such as to better locate the creatures.
The hippos are easier to spot in the late afternoon, after 4:00 or so. If you arrive at the exhibit earlier, look towards the back portion of the wading pool, where the hippos often sleep.
Ask the Cast Members any questions you may have.
Consider participating in the Wilderness Explorers game, especially if there are children in your party.