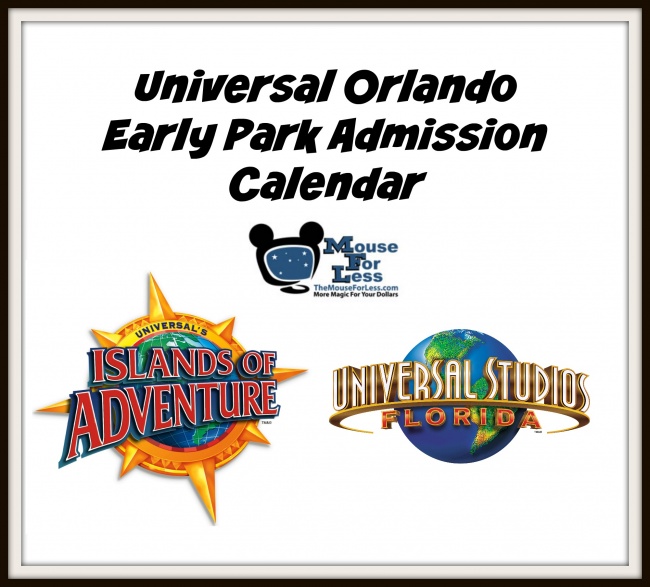 Attractions April 2018 May 2018
Early Park Admission
Guests staying at Universal Orlando hotels can enjoy more time in the theme parks with the Universal Orlando Resort Early Park Admission benefit.  This benefit offers guests more time to enjoy shorter lines during these extended theme park hours. There is no charge for this Universal Resort guest benefit. The following is a list of the different attractions in each theme park that is available during Early Park Admission:
Universal Studios Florida
Harry Potter and the Escape from Gringotts
Revenge of the Mummy
Islands of Adventure
Harry Potter and the Forbidden Journey
Volcano Bay
Kala & Tai Nui Serpentine Body Slides
Puihi of the Maku Puihi Round Raft Rides
Ohyah & Ohno Drop Slides
Honu of the Honu Ika Moana
Krakatau Aqua Coaster
Ko'okiri Body Plunge
ika Moana of the Honu ika Moana
Early Park Admission Schedule
April 2018
Universal Studios Florida
April 1-12, April 14-19, April 21-26, & April 29-30 | 8:00 a.m.
April 13, April 20, April 27-28 | 7:00 a.m.
Islands of Adventure
April 1-7, 2018 | 8:00 a.m.
Volcano Bay
April 1 – 30, 2018 – 9:00 a.m.
May 2018
Universal Studios Florida
May 1-3, May 5-10, May 12-17, & May 31 | 8am
May 4, May 11, & May 18 | 7am
Islands of Adventure
Early Park Admission Not Valid During May
Volcano Bay
May 1-25 | 9am
May 26-31 | 8am
**The Universal Orlando Resort Early Park Admission schedule is subject to change.**