Islands of Adventure | Seuss Landing
The Cat in the Hat Overview                Fun Facts                General Info
The Cat in Hat Overview
The Cat in the Hat is a slow moving, indoor, dark ride located in Islands of Adventure's Seuss Landing. The ride transports guests into the world of this well-known children's story created by the infamous Dr Seuss.
Guests will board "couches" as they depart through 18 different sets showcasing the animatronic characters of The Cat in the Hat. Sights along the journey include familiar faces such as, The Cat himself, the well-meaning Goldfish, and of course causing their usual trouble, Thing 1 and Thing 2.
This ride will primarily be entertaining for younger guests. However, older guests who have grown up reading the works of Dr. Seuss will also enjoy the nostalgic feeling this ride unearths.
The Cat in the Hat Fun Facts
Dr Seuss books have been translated into 27 different languages.
Dr Seuss never drew straight lines in his illustrations. Likewise, you will not find any straight lines in Universal's Seuss Landing.
This ride uses the same vehicles as Men in Black Alien Attack at Universal Studios Florida.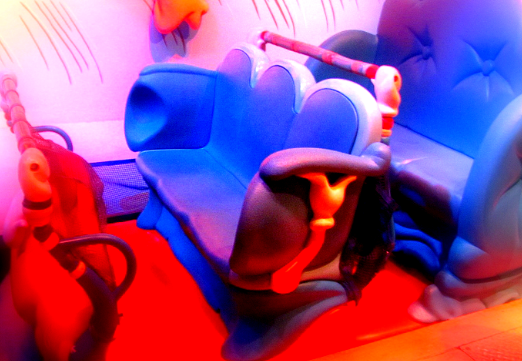 The Cat in the Hat General Info
Height restrictions
36 inches, however children between 36-48 inches must be accompanied by an adult.
Scare factor
1 out of 5
Nearby Dining
Circus McGurkus Cafe Stoo-pendous
Green Eggs and Ham Café
Hop On Pop Ice Cream Shop
Moose Juice, Goose Juice
Nearby Shopping
Cats, Hats, and Things
All the Books You Can Read
Snookers and Snookers Sweet Candy Cookers
Mulberry Street Store
Ride photo
None provided