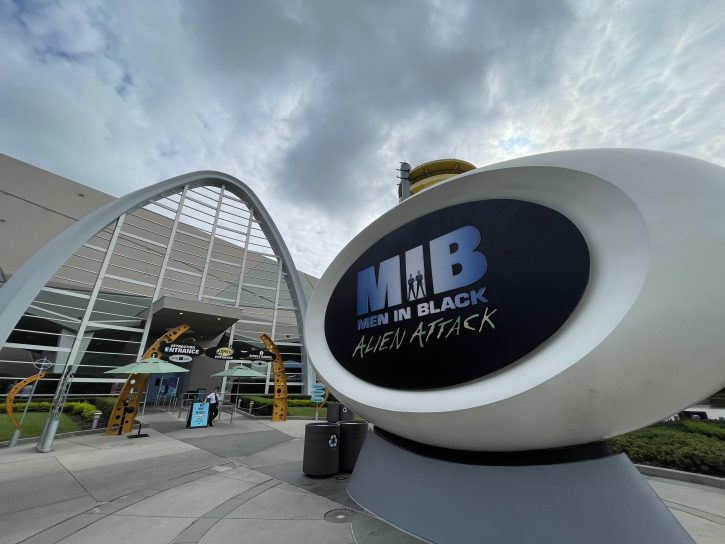 As a Men in Black agent in training, you will go through rigorous test rooms to see what you can do. Then its time to put your skills to the test as aliens try to take over New York, can you save everyone? Men in Black: Alien Attack at Universal Studios Florida in Universal Orlando Resort is a point-based ride where the more aliens you shoot, the more points you can get. Try to max out your score at 999,999 if you dare! Careful though….these aliens shoot back and when they do….you might spin out of control!
Ride Information  Ride Restrictions  Location  Fun Facts  Tips

Planning a Universal Vacation?
Ride Information
Opening Day: April 18, 2000
Type of Ride: Motion Simulation
Age Recommendation: Any Age (per height requirement)
Duration of Ride: 4 Minutes
Typical Wait Time: 10-50 Minutes
Single Rider Line: Yes
Express Pass: Yes
Child Swap: Yes
Wheelchair Accessible: Yes
Ride Photo: No
Ride Restrictions
Loose Items: Any loose items must be stored in the locker area, free of charge. Belongings an get left, damaged, or lost on this ride.
Wheelchair Requirements: Guests in an electric powered scooter/wheelchair will need to transfer to a standard wheelchair.
Height Requirements: Minimum 42″ (106.7cm). Any rider under 48″ (121.9cm) should be accompanied by a supervising companion.
Location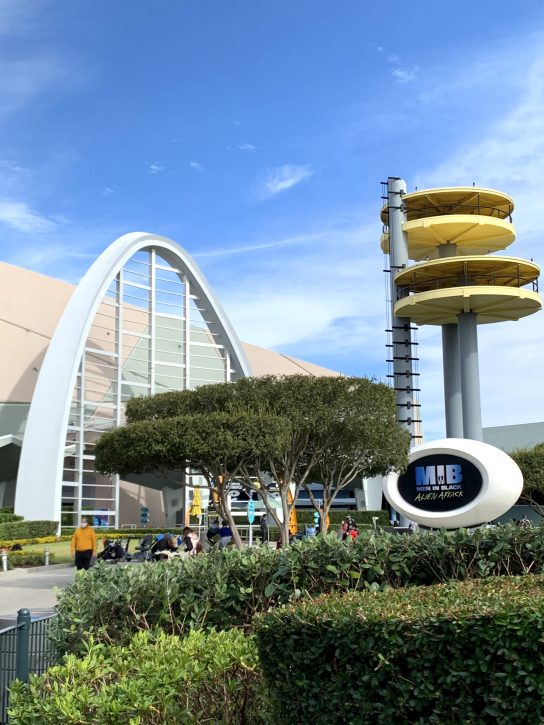 Nearby Attractions: The Simpsons Ride & Kang & Kodos' Twirl 'n' Hurl
Dining: Duff Brewery
Shopping: MIB Gear Shop
Did You Know?
There are 120 different alien species encountered on this ride. How many can you count?
Each alien was a new creation specifically thought up for the Men in Black: Alien Attack ride.
Men in Black: Alien Attack uses the same type of ride vehicle as The Cat in The Hat in Islands of Adventure.
The Mouse For Less Tips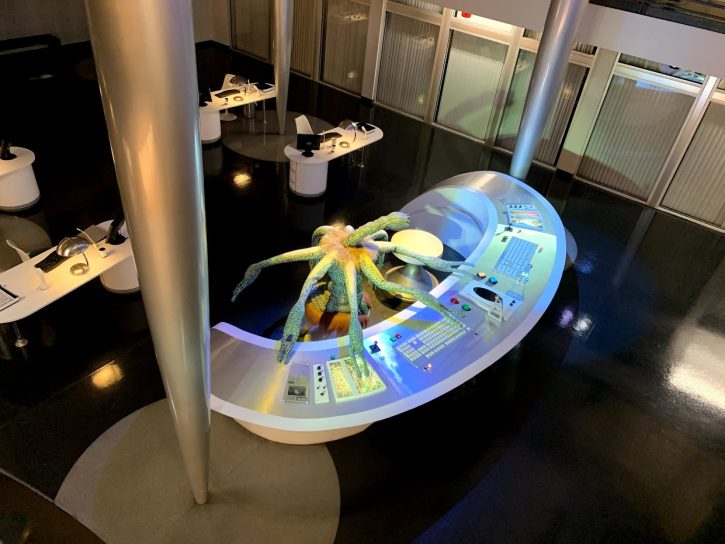 Be sure to ride this ride as many times as you can! Since its based on points every outcome is different. You will simply never tire of Men in Black: Alien Attack.
To maximize your points never let go of that trigger! Your weapon will always reload and be hitting something.
Another great way to accumulate a larger amount of  points is at the end of the ride. In the very last seconds you will see a massive alien ahead, blast him as much as you can!
Sometimes, if the attraction isn't too busy, you can request a tour of the "offices."