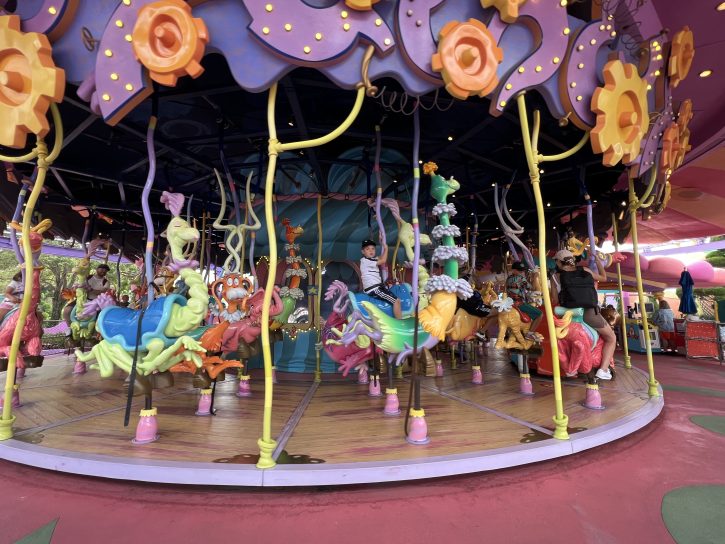 The Caro-Seuss-el attraction at Universal's Islands of Adventure is a carousel like no other. Although it appears to be the traditional carousel ride, the Caro-Seuss-el is unique in its very own way. Instead of the typical horses on a carousel this ride lets you choose from a wide range of Dr. Seuss's beloved characters. Then to make it even more exciting for your little ones they have the power to make the character blink it's eyes, wiggle it's ears, and even turn it's head!
Ride Information  Ride Restrictions  Location  Fun Facts  Tips
Ride Information
Opening Day: May 28, 1999
Type of Ride: Merry-Go-Round
Age Recommendation: All Ages
Duration of Ride: 2 Minutes
Typical Wait Time: 10 Minutes
Single Rider Line: No
Express Pass: Yes
Child Swap: Yes
Wheelchair Accessible: Yes
Ride Photo: No
Ride Restrictions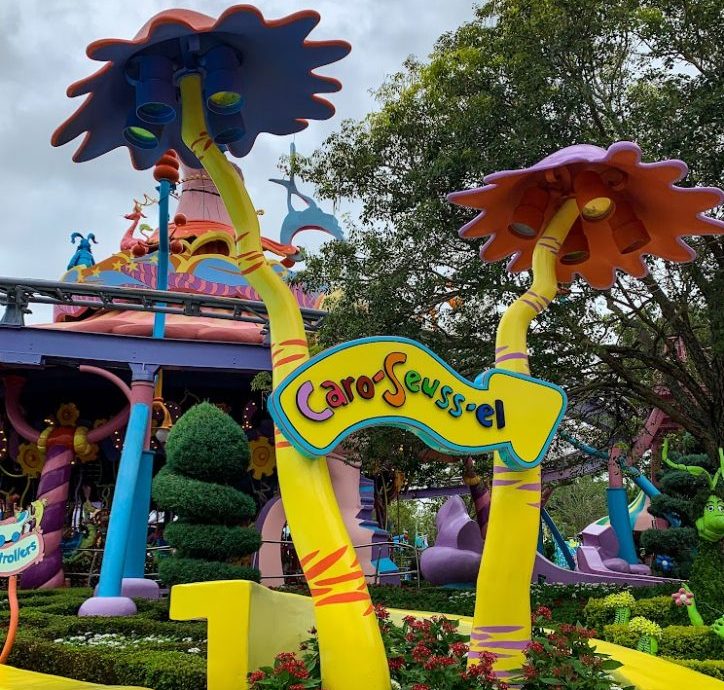 Wheelchair Restrictions: Guests using an electric powered wheelchair will need to transfer to a manual wheelchair for the duration of the ride.
Height Restrictions: 48″(121.9cm) or under must be accompanied by a supervising companion.
Infant Riders: Infants are welcome to join the fun however, a parent must hold them while sitting in chariots only. 
Location
Nearby Attractions: The High in the Sky Seuss Trolley Train Ride! & The Cat In The Hat
Dining: Circus McGurkus Café Stoo-pendus
Shopping: Mulberry Street Store & Snook
ers & Snookers Sweet Candy Cookers
Did You Know?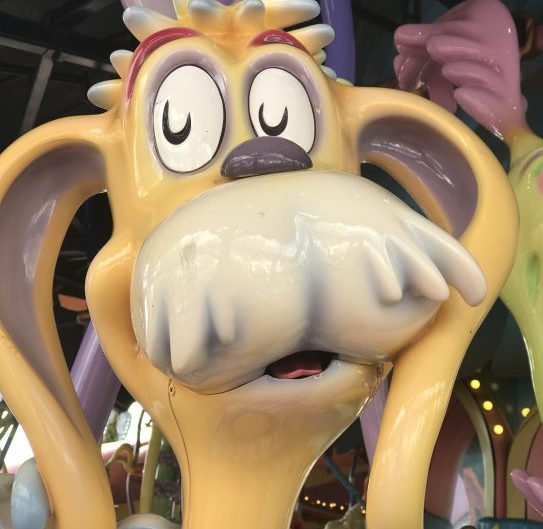 Caro-Seuss-el was the first carousel to allow guests to control some of what their character can do.
On the Caro-Seuss-el guests can ride elephant birds (Horton Hatches the Egg), cowfish (McElligot's Pool), and so much more.
Caro-Seuss-el has been a part of Seuss Landing since the beginning. In fact, when Islands of Adventure first opened Caro-Seuss-el did so along with it.
The Mouse For Less Tips
The only attraction in all of Universal Orlando Resort that allows ECV (electric convenience vehicles) on the ride itself is Hogwarts Express.
If you prefer your ECV, don't fret. Manual wheelchairs can be provided at the attraction location in which the rider is interested. Guests will remain in the manual wheelchair for the duration of the ride, then return it at the end. For all information on disability assistance of any kind at Universal click here.
 If you are planning to bring toddler-age children or younger to ride one of the Seuss characters, you will want to make sure they can fully support their neck, torso, and head while maintaining an upright position.