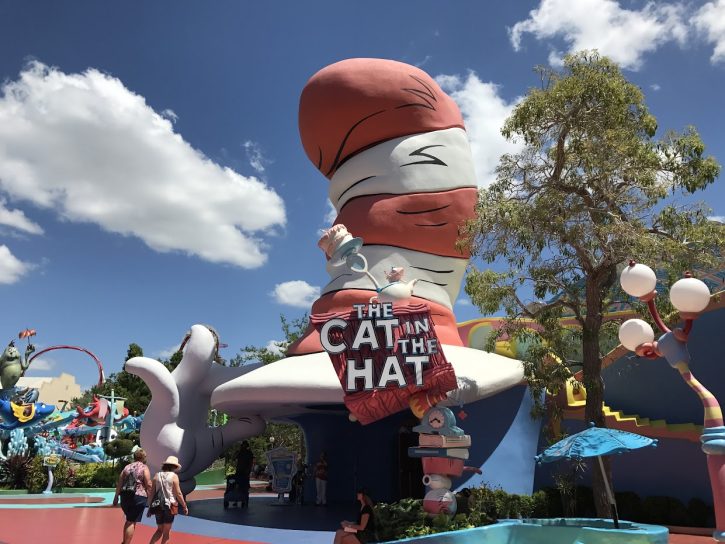 The Cat In The Hat at Universal Orlando Resort is a slow moving, indoor, dark ride located in Islands of Adventure's Seuss Landing. The ride transports guests into the world of this well-known children's story created by the infamous Dr Seuss.
Guests will board "couches" as they depart through 18 different sets showcasing the animatronic characters of The Cat In The Hat. Sights along the journey include familiar faces such as, The Cat himself, the well-meaning Goldfish, and of course causing their usual trouble, Thing 1 and Thing 2.
This ride will primarily be entertaining for younger guests. However, older guests who have grown up reading the works of Dr. Seuss will also enjoy the nostalgic feeling this ride unearths.
Ride Information  Ride Restrictions  Location  Fun Facts  Tips
Ride Information
Opening Day: May 28, 1999
Type of Ride: Kid-Friendly Motion Simulation
Age Recommendation: All Ages (per height requirement)
Duration of Ride: 6 Minutes
Typical Wait Time: 30-35 Minutes
Single Rider Line: No
Express Pass: Yes
Child Swap: Yes
Wheelchair Accessible: Yes
Ride Photo: No
Ride Restrictions
Wheelchair Restrictions: Guests will need to transfer to a manual wheelchair to ride The Cat In The Hat. ECV (electric convenience vehicles) wheelchairs are not permitted.
Height Requirements: 36″(91cm) Minimum. Any riders between 36″ and 48″(121.9cm) must have a supervising companion.
Location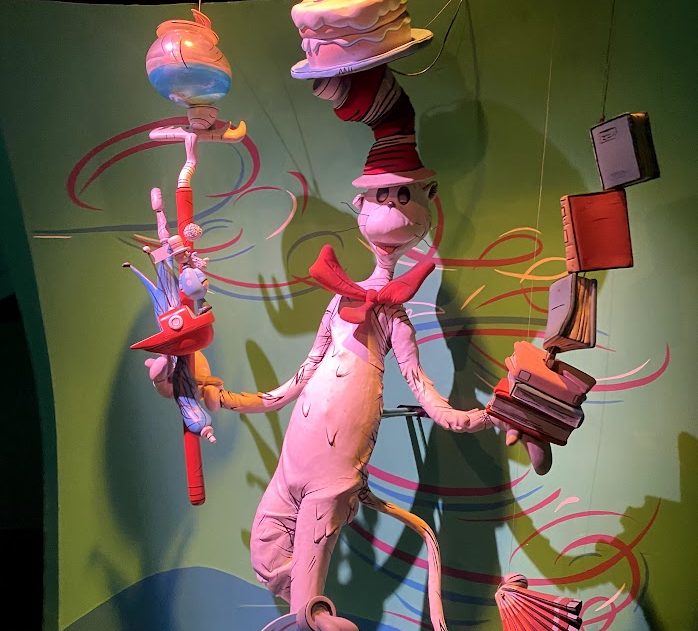 Nearby Attractions: Caro-Seuss-el & One Fish, Two Fish, Red Fish, Blue Fish
Dining: Circus McGurkus Café Stoo-pendus
Shopping: Cats, Hats, & Things
Did You Know?
Although The Cat In The Hat has been around for many years, it wasn't until 2014 that a minimum height requirement was introduced for the ride.
Also in 2014, the ride's amount of spinning dramatically decreased.
Dr Seuss never drew straight lines in his illustrations. Likewise, you will not find any straight lines in Universal's Seuss Landing.
This ride uses the same vehicles as Men in Black: Alien Attack at Universal Studios Florida.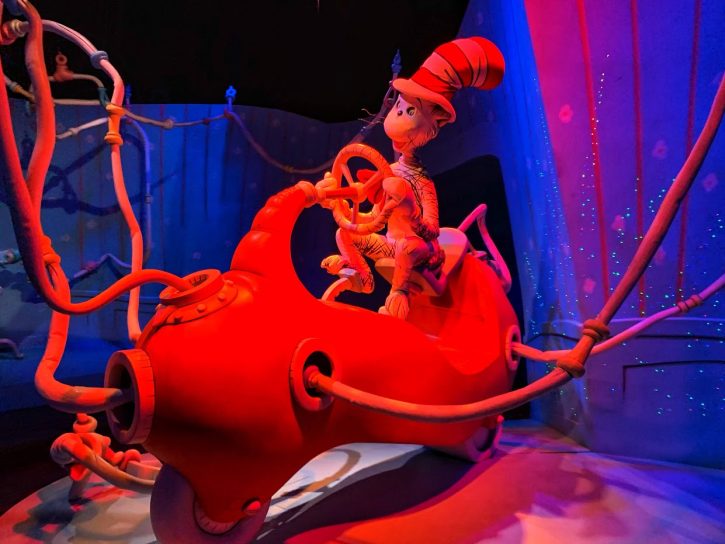 The Mouse For Less Tips
The closest restaurant to The Cat In The Hat in Seuss Landing is Circus McGurkus Café Stoo-pendus. But Confisco Grille (Port of Entry – Islands of Adventure) is about the same distance from The Cat In The Hat if mom and dad need a change of scenery.
This ride can be very popular, especially during peak season and when families with young children visit. If you're hoping to beat the long lines try visiting this attraction early on in the day, or towards the later part of the day.
For average wait times of The Cat In The Hat or any of Universal Orlando Resort's attractions you can visit our Average Attraction Wait Times page. If you are in the park, you can always download the official Universal Orlando Resort app to get current wait times.
While the amount of spinning this ride does was recently reduced, it can still make some Guests a little nauseous.