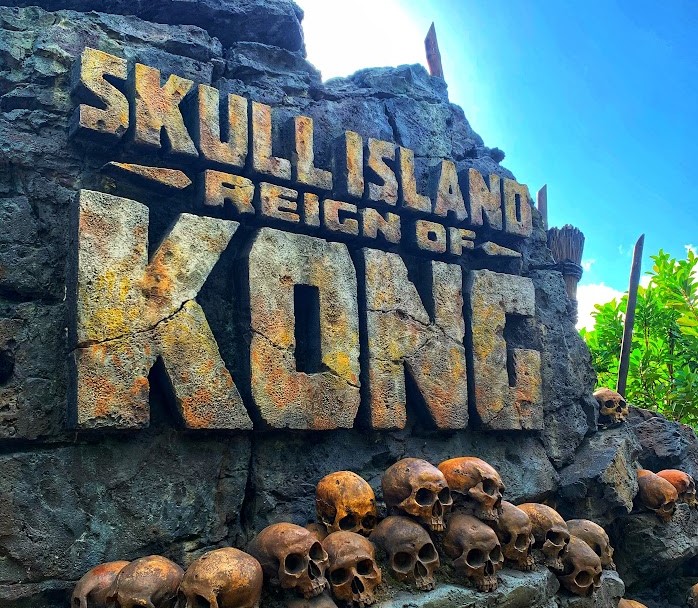 Skull Island: Reign of Kong is one attraction you won't want to miss. This ride is essentially a guided tour through the jungles of Skull Island. You will encounter the native people who worship King Kong, creepy cave animals (bats, bugs & more), and of course King Kong himself. In the queue area watch out for King Kong's worshipers as they sneak up on you to inspect the new strange creatures entering their home. When you board your expedition vehicle your tour guide will take you around the jungle, then into a number of caves. Just when the tour is getting interesting the vehicle becomes under attack by the indigenous. When the guide fails to defend you all seems lost. Here comes King Kong! Is he here to save the day, or is he here to join the attack?
Ride Information  Ride Restrictions  Location  Fun Facts  Tips
Ride Information
Opening Date: July 13, 2016
Type of Ride: Outdoor 3D Safari
Age Recommendation: All Ages (meeting height requirements)
Duration of Ride: 6 Minutes
Typical Wait Time: 45 Minutes
Single Rider Line: Yes
Express Pass: Yes
Child Swap: Yes
Wheelchair Accessible: Yes
Ride Photo: No
Ride Restrictions
Height Requirements: Minimum 36″ | Guests under 48″ must ride with a supervising companion.
Wheelchair Restrictions: Guests will need to transfer to a manual wheelchair for the duration of the ride.
Location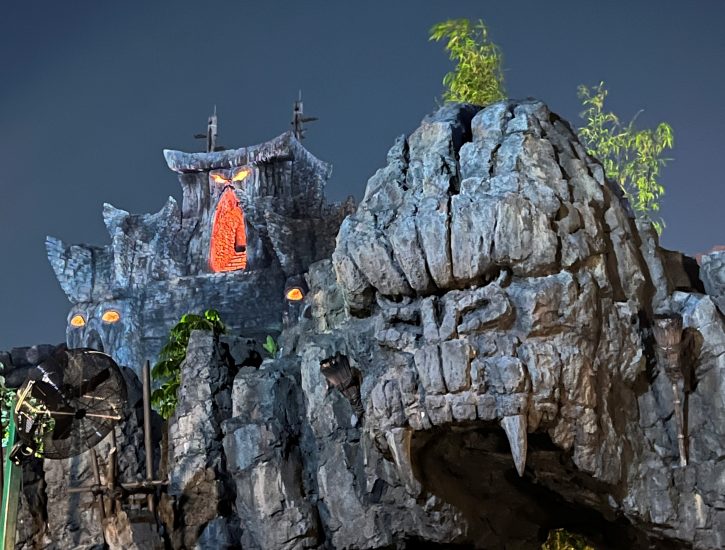 Nearby Attractions: Jurassic Park River Adventure | Pteranodon Flyers | Dudley Do-Right's Ripsaw Falls
Dining: Thunder Falls Terrace
Shopping: Betty Boop Store
Located just on the other side of the river of Dudley Do-Right's Ripsaw Falls.
Did You Know?
King Kong's species was once a alive and well, answering to the name of Megaprimatus.
The massive ape is actually about 3 stories tall and 18 feet wide (shoulder to shoulder)! If that doesn't give you some perspective imagine this, King Kong's head is the size of an automobile.
There are 887 skulls set into the attraction. Can you find them all?
Did you know Skull Island: Reign of Kong is actually the second King Kong themed attraction to be built at Universal Orlando Resort. The first being Kongfrontation (1990 – 2002), which was located in Universal Studios Florida where Revenge of the Mummy is now.
The Mouse For Less Tips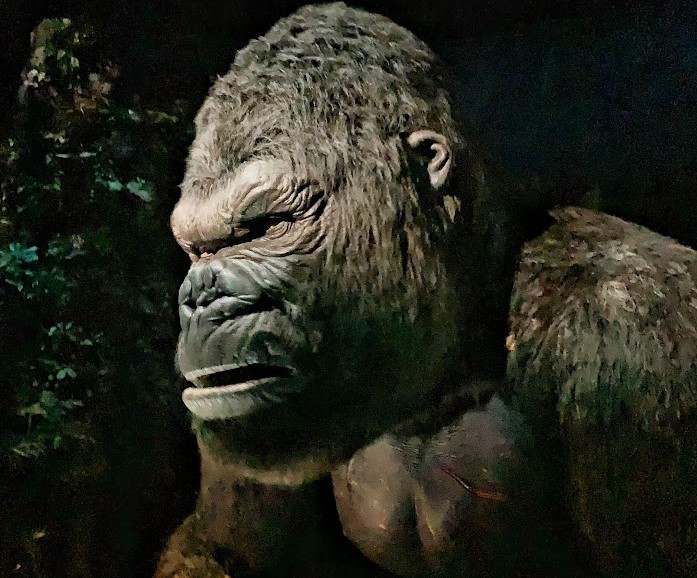 Guests visiting the park using an electric wheelchair or ECV can ask an attraction attendant about using one of the park's manual wheelchairs for the duration of the ride. Rentals are also available, for more information on the accessibility in the parks, click here.
This Universal Orlando Resort attraction can be scary for some young children. Although the height requirement is the lowest the parks offer, be sure your little one is prepared for the spooky caves and the initial "attack" that really gets the ride going.
If you're unsure about your child riding, try walking through the queue area for a bit. The indigenous people sneaking around and popping up without notice should be enough to tell if the ride itself is too scary.
Skull Island: Reign of Kong lines can get especially long with waits up to 75 minutes. This is a great opportunity to use your Express Pass! If you are visiting during Early Park Admission stop here right after The Wizarding World of Harry Potter when the rest of the park opens. Guests entering will be coming from the gates so you should be able to ride sooner!