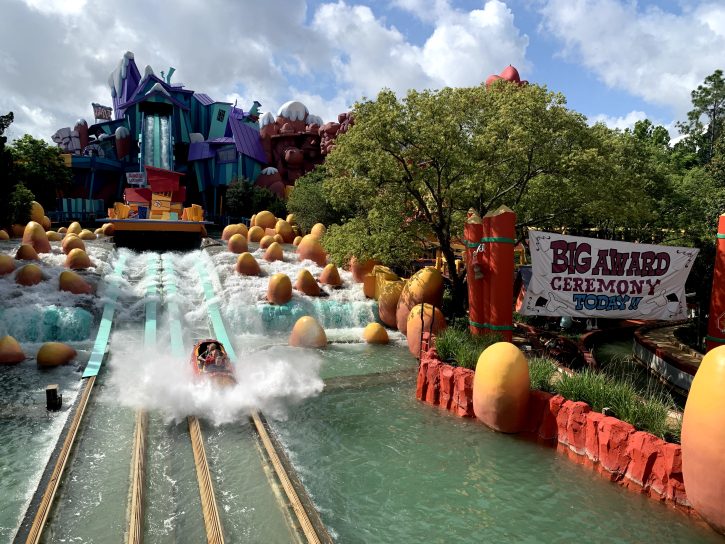 In this thrilling water attraction you will course through the rapid rivers of Ripsaw Falls while Dudley Do-Right attempts to rescue Nell Fenwick from Snidely Whiplash. Fans of the classic cartoon will love the numerous puns referencing the show and all visitors will love the thrilling 75 foot drop down the Ripsaw Falls.
Ride Information  Ride Restrictions  Location  Fun Facts  Tips
Ride Information
Opening Date: May 28, 1999
Type of Ride: Water Ride
Age Recommendation: All Ages
Duration of Ride: 7 Minutes
Typical Wait Time: 50 – 70 Minutes
Single Rider Line: No
Express Pass: Yes
Child Swap: Yes
Wheelchair Accessible: No
Ride Photo: Yes
Ride Restrictions
Height Requirement: 44″ (111.8cm) Minimum. Guests under 48″ (121.9cm) must be accompanied by a supervising companion.
Wheelchair Restrictions: Guests will need to transfer from manual wheelchair (ECV's) to ride vehicle.
Safety Restraints: All attractions at Universal Orlando Resort will have safety restraints that may include a lap bar, shoulder harness, or seat belt. Any and all restraints must properly be fastened around the passenger or the rider will not be able to board the attraction.
Location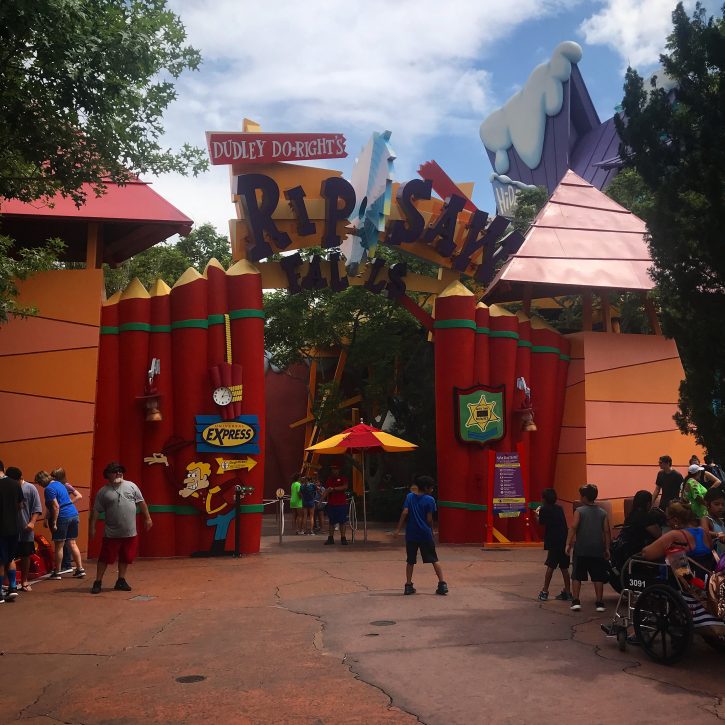 Nearby Attractions: Popeye & Bluto's Bilge-Rat Barges | Me Ship, The Olive
Dining: Comic Strip Café | Blondie's
Shopping: Betty Boop Store | Toon Extra |  Gasoline Alley
Did You Know?
Dudley Do-Right's Ripsaw Falls has water cannons across the bridge overlooking the falls. For one quarter, onlookers can blast the attraction riders while they are passing by.
In the final moments of Dudley Do-Right's Ripsaw Falls the awful Snidely Whiplash is seen behind bars trying to entice a beaver to give him the cell keys. This is a sly nod (a spoof if you will) to the Walt Disney World attraction Pirates of the Caribbean.
Did you know that in Toon Lagoon near Dudley Do-Right's Ripsaw Falls there are "human-sized drying machines" for guests riding the water rides to dry off with quickly. There is a small fee.
The Mouse For Less Tips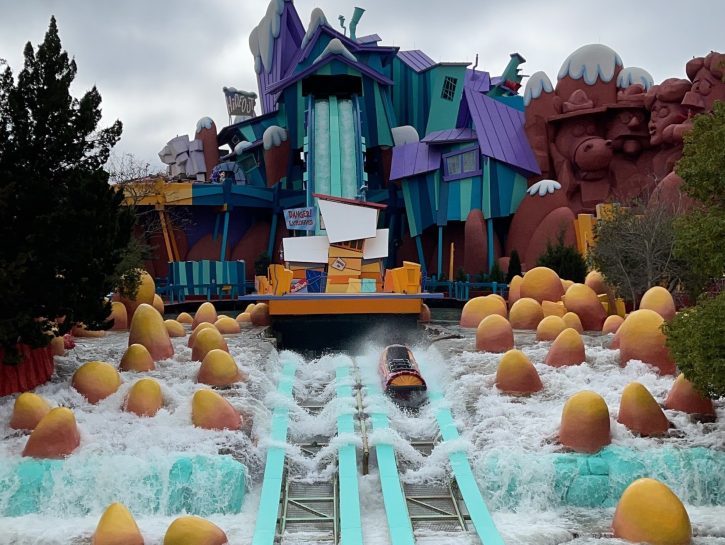 While This attraction usually does not participate in the single rider lines, on occasion it will. Be sure to check with a ride attendant to see if it is available the day of your visit!
Budgeting on vacation can be difficult for many travelers. If you do not want to spend money on ponchos, dryers, or even changes of clothes it can be very beneficial to ride this attraction early on (if it is sunny and warm) so you dry off before the end of the day.
Dudley Do-Right's Ripsaw Falls will soak you and any belongings you may have with you. Riders are not required to store loose items, however there are no storage areas on the ride itself. You can either rent a locker nearby for a small fee or have someone in your party who doesn't mind staying behind to look after valuables.
For anyone who has visited Walt Disney World, this attraction may seem similar because of the winding river and 75 foot plunge. These thrilling features are very popular, therefore Dudley Do-Right's Ripsaw Falls average wait times can be an hour or longer.