Jurassic Park River Adventure is one of Islands of Adventure's most thrilling rides. To start you and other riders will take a scenic tour down the river when suddenly you find yourself off track and in restricted Jurassic Park areas. To spice things up you are also on the run from a terrifying T-Rex and your options are slim. Let the dinosaur catch you, or take the 85-foot plunge to escape!
Ride Information  Ride Restrictions  Location  Fun Facts  Tips
Ride Information
Opening Date: May 28, 1999
Type of Ride: Water Ride
Age Recommendation: Teens & Adults
Duration of Ride: 9 Minutes
Typical Wait Time: 45 Minutes
Express Pass: Yes
Child Swap: Yes
Wheelchair Accessible: No
Ride Photo: Yes
Ride Restrictions
Height Restrictions: 42″(106.7cm) Minimum. Riders under 48″(121.9cm) must be accompanied by a supervising companion.
Wheelchair Restrictions: Riders must transfer from wheelchair into ride vehicle.
Location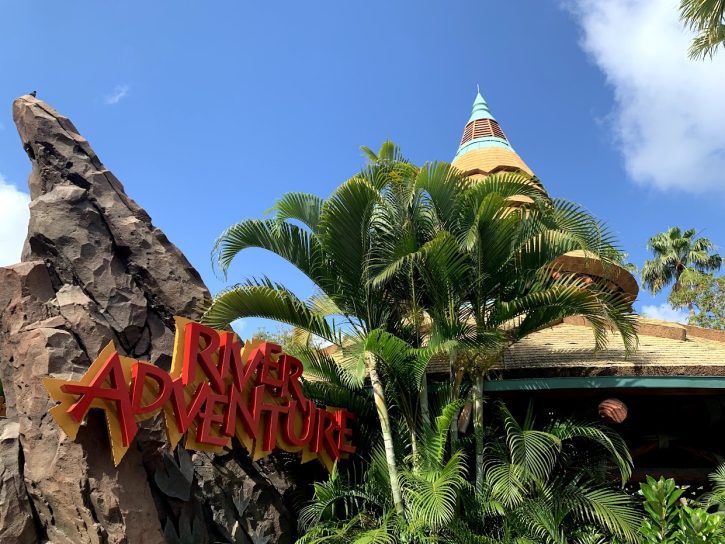 Nearby Attractions: Harry Potter and the Forbidden Journey | Jurassic World VelociCoaster
Dining: The Burger Digs
Shopping: Jurassic Outfitters | Dinostore
Did You Know?
The 85-foot drop in Jurassic Park River Adventure was once the largest theme park water descents ever made.
There are 1.5 million gallons of water used for Jurassic Park River Adventure.
The Mouse For Less Tips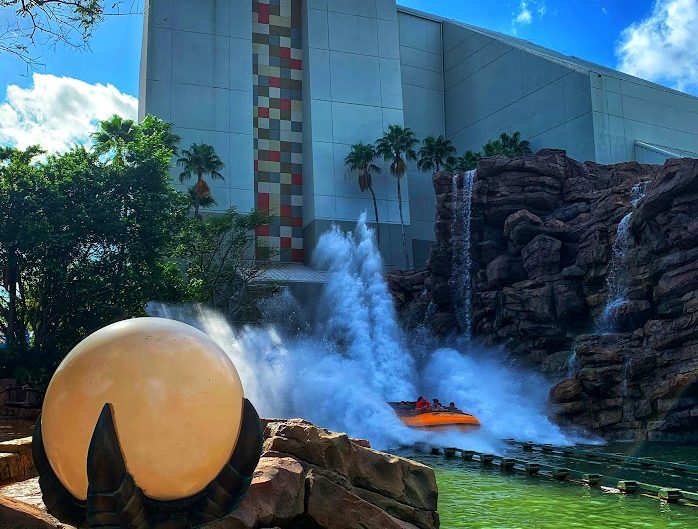 Where you are seated on your raft will determine how wet you may get in the 85-foot plunge. Riders in the first row or two should expect a full soaking. If you don't want to get too wet, your best option is to sit in the fourth row or further back.
Since Jurassic Park River Adventure is a water attraction you may want to consider riding it earlier in the day so that your clothes have time to dry out. Especially those traveling a longer distance home at the end of the day.
There are storage lockers (small fee) for any loose items you may be carrying. If you choose not to use them, be sure to hold on tight to your belongings, as there is no storage compartments in the ride vehicle.