What is FASTPASS exactly?
FASTPASS is a great system that lets you "eliminate the wait" at the most popular attractions. The FASTPASS essentially saves your place in line, while you are then able to do other things.
So how does FASTPASS work?
Let's say you want to go on an attraction, there's a clock showing wait of 45 minutes, and another stating the return time for FASTPASS in 90 minutes, you're thirsty, don't want to wait in line, but desperately want to go on. You notice by the attraction sign a board stating "FASTPASS DISTRIBUTION". This is your chance to "eliminate the wait". Simply take your park pass, insert it into the FASTPASS Machine, and out pops your FASTPASS. Take a look at the pass, it will give you a time window to return to the attraction (this is usually an hour ie: 11:15-12:15 although can be less for certain attractions, most typically shows). Bring this back to the ride at the allotted time and "eliminate the wait", jump past the crowds and hit the attraction. Make sure that you get a FASTPASS ticket for everyone in your party, you don't want to have to leave them behind while you enjoy the fun.
How much do I have to pay for FASTPASS?
Nothing…nada…zip…it's one of the ways that Disney goes out of their way to improve the guest experience.
How many FASTPASS tickets can I get in a day?
It's limited only by how busy the park and attractions get. FASTPASS is an ingenious system that removes the physical person from the line and puts a virtual person in their place. As the park gets more crowded, obviously the lines get longer, which means you'll wait longer, this in turn affects the return time on the FASTPASS ticket. When you pick up your FASTPASS you'll see a time stamped upon it stating the time that you will be able to get your next FASTPASS. This prevents you (or anyone else) from running around the park and joining a whole bunch of virtual lines at once (after all, when was the last time that you were able to split yourself in two) preventing other guests from enjoying their attractions. FASTPASS is available on a first-come, first-served basis and can only be used the same day you pick it up.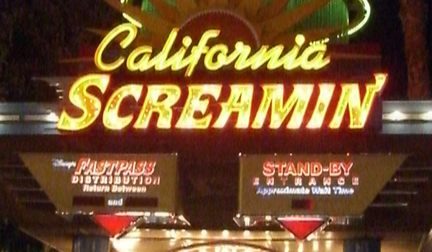 Is FASTPASS on all attractions?
FASTPASS is limited to the busiest attractions, so don't go looking for the machines at "Tarzan's Tree House".
Attractions that offer FASTPASS
Big Thunder Mountain Railroad
Buzz Lightyear Astro Blasters
Fantasmic!
Haunted Mansion
Hyperspace Mountain
Indiana Jones Adventure
Matterhorn Bobsleds
Roger Rabbit's Car Toon Spin
Splash Mountain
Star Tours: The Adventures Continue
"it's a small world" (seasonal)
California Screamin'
Goofy's Sky School
Grizzly River Run
Radiator Springs Racers (Available near It's Tough To Be A Bug)
Soarin' Around the World
Toy Story Midway Mania!
World of Color (Available at Grizzly River Run)

MouseForLess Tips:

You will not be able to get a FASTPASS for another attraction until the time indicated on the FASTPASS.

The evening spectaculars (like World of Color) and occasionally some other attractions (like Buzz Lightyear Astro Blasters) will not count against your ability to get another FASTPASS.

Each person in your party needs their own FASTPASS to ride the ride.

The Clocks in the FASTPASS will tell you the time you will be required to return to use your FASTPASS before you get your FASTPASS. The time will also be noted on your pass.

The FASTPASSES for some attractions are gone before the end of the day. Make sure you get your FASTPASS early in the day for popular attractions.

You can hold a FASTPASS for an attraction at Disneyland and Disney's California Adventure at the same time.