Imagined by Lori Wagner
Introducing…..The TheMouseForLess Pin Pixies!
How would you like to share the magic on your next trip to Walt Disney World (or Disneyland)? Become a MFL Pin Pixie!
Some of you may have collected lots of pins to trade, but not enough time to trade them all. Would you be able to spare one pin to give a child to trade or to keep? Here's how this works:
1. While you're at pin trading locations, in a queue, or spot a family with a child wearing a pin trading lanyard, approach the parents to ask permission to give their child a pin.
2. Present the pin with one of the MFL Pin Pixie cards and tell the child that he/she may keep the pin or use it to trade for a pin he/she wants!
3. Post your Pin Pixie story to TheMouseForLess! We all want to hear how you spread some pixie dust on vacation!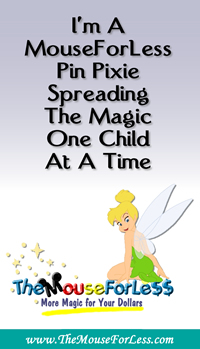 See below for saving & printing instructions
Click on the thumbnail above to download a file for printing a business size Pin Pixie card (card will be displayed larger than actual printed size). Do not print from the website or the card will take up a full page. For the image to print correctly as a business card size, save the large JPG file to the hard drive and IMPORT or PLACE as clipart into the program of your choice such as WORD or PUBLISHER.
Place the picture in Word or a similar program to print it. The certificates should be printed on thicker card quality paper.