DIY Disney Vacation Countdown Chain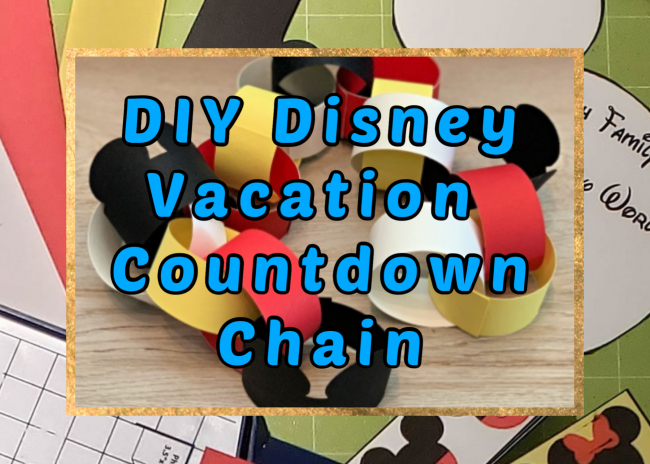 Vacation countdown chains are easy to make and fun to do as a family.  Below are two different versions of DIY Disney countdown chains for you.  Choose the version you like, download these free template for making a colorful Disney themed chain and have fun! Just print and cut however many strips are needed and glue, paste or staple them to form a linked chain.  Find a fun place to hang it so you can watch the countdown chain getting shorter and shorter day by day as you or your child remove one link per day until your Disney vacation. It's a great way to help your family deal with the anticipation.

Disney Vacation Mickey Countdown Chain Tutorial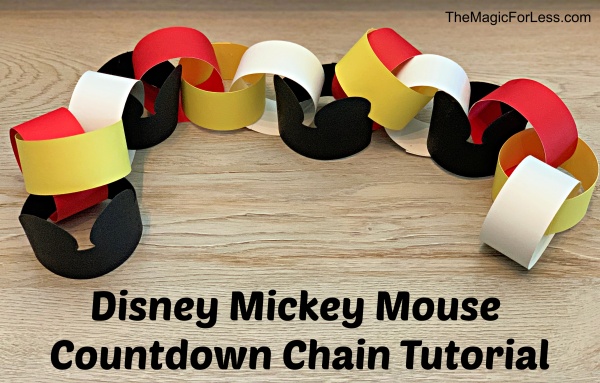 Our Friends at The Magic For Less Travel brings you a step-by-step tutorial with a video on how to make this beautiful Mickey Mouse Chain.  Click here to see details.  Materials needed:
Cricut, Silhouette, other die cutting machine, OR Scissors
Glue
Red Paper
White Paper
Yellow Paper
Black Paper
Download the Mickey Head Chain strips
Download the Chain Link Strips
Print Your Own Disney Vacation Chain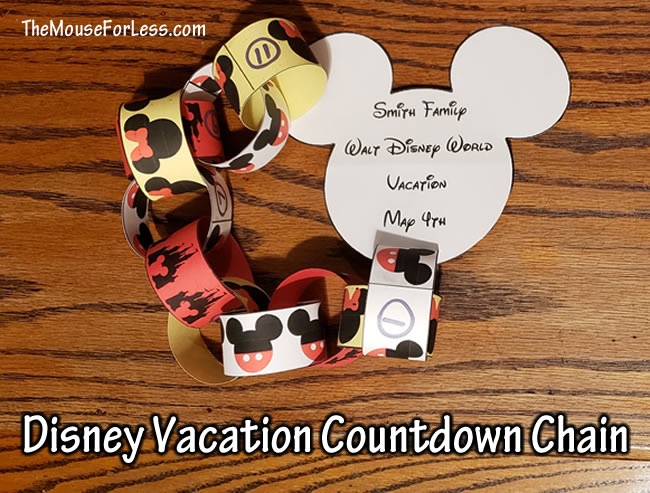 Download and print out the Mickey head and strips, use one design or mix and match the chains.  Print them all on white paper or alternate your favorite colored papers.  Materials needed:
Printer
Scissors or paper cutter
Glue or staple
Paper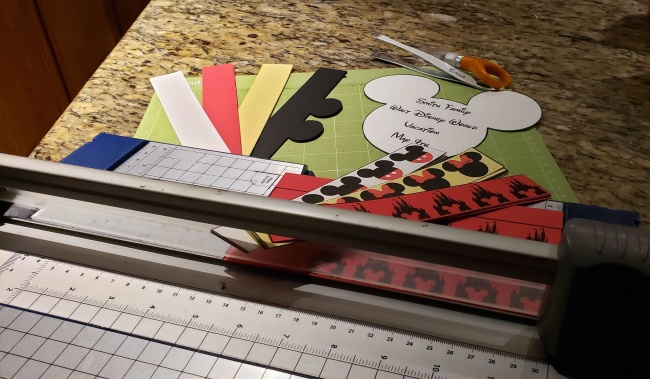 Download the Mickey Head silhouette
Download the Mickey Mouse Strips
Download the Minnie Mouse Strips
You will need to have Adobe Acrobat Reader to print the pages.
TheMouseForLess Tip:  Do you have something important to do before your vacation?  Write a note on the back of the link on the date that you need have the tasks done as a reminder before securing the link!
Enjoy making your own vacation countdown chain!  If you would like to see different designs added for the strips, or have a DYI suggestion, submit a request through our contact form.