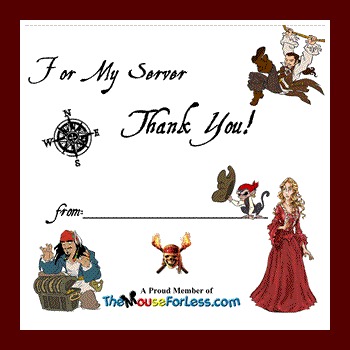 Prepare your gratuity before you leave home and show your appreciation for your restaurant servers by customizing and printing out special TheMouseForLess DisneyGratuity envelopes for tipping the servers at the restaurants. Have an ADR at Chef Mickey's? May we suggest either Mickey Mouse or Disney Cuties? Going to Cinderella's Royal Table, Princess Storybook or 1900 Park Fare? How about a Cinderella or Princess envelope? Going to Crystal Palace? How about Pooh Cuties or Classic Winnie the Pooh? Going to Disneyland instead of Walt Disney World? How about Pirates envelope for Blue Bayou? Or just use any envelope that you prefer for any restaurant. The choice is yours!
You will need to have either Microsoft Word or the free program Adobe Acrobat Reader to print the pages.
There are two styles available, the "standard envelope" is only available in Word and prints out on an A10 envelope. The "envelope project" is available in both Word and Adobe and prints out on a 8-1/2 X 11 letter size paper and has you do some folding after.
Special thanks to Rama for suggesting that we create Disney Gratuity Envelopes
Enjoy making your Disney Gratuity Envelopes
Visit our Mouse for Less Mousekeeping Envelopes page for envelopes for your mousekeepers