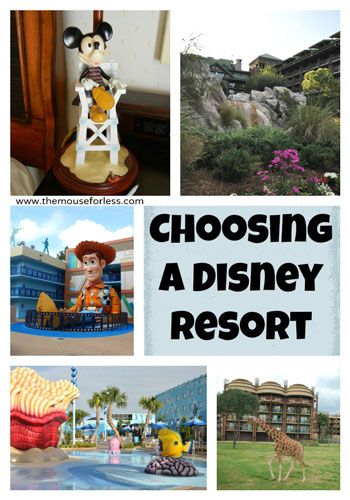 Tips on Choosing a Disney Resort
With 25 + resorts on Disney property, just wading through all of the choices can be a bit of a daunting task. There are no bad choices in the bunch. However some will meet your needs better than others. So how do you go about choosing? Let's start from the beginning.
Here is a handy chart listing some key features of each resort. For more detailed information, continue to the details below.
Resort Categories
Walt Disney World groups the resorts into four distinct categories: Value, Moderate, and Deluxe. There are also Deluxe Villas, which are Disney Vacation Club Properties. Plus, there is a campground, which is often grouped in with the moderate category. From the list below, click on any resort to find details pertaining to that individual property. Here are how each resort fits into each category:
Disney's Value Resorts:

Disney's Moderate Resorts:

Disney's Deluxe Resorts:

Disney's Deluxe Villas:

So based on all of those choices, how does one go about selecting the resort right for their traveling party?  Here are tips on choosing a Disney Resort for your vacation.  It usually comes down to two things: budget and amenities. As you might expect, as the number of amenities goes up, so does the cost of the room.
Finding a balance between what your family will use and what the budget can bear is key to making the decision. Some things to ask yourself (and those traveling with you):
Will I spend much time there beyond sleeping at the resort? If the answer is yes, then take a look at moderate or deluxe resorts with more amenities. If the answer is no, then a value resort might be right for you.
Are food choices important at my resort? All resorts have quick-service food options. Value and Moderate resorts have a food court model, where Deluxe and Villa accommodations offer a smaller quick-service location with one counter offering several varied selections. Deluxe and Moderate resorts will offer at least one table-service restaurant (and most of the Deluxe resorts offer more than one), while Value Resorts stick to the food-court-only format.
What recreational activities are important? All Walt Disney World resorts offer beautiful pools. Deluxe pools are a little more themed and have slides, while Value pools are more basic, but still quite fun. Some resorts offer things like surrey bikes, a marina, health club, a spa, or kids programs. In-room child care is available at all resorts.
Remember, though, that many activities are available for guests staying at other Disney accommodations. So, for example, a guest staying at Pop Century can enjoy a boat rental at the Polynesian Resort. Going to another resort to use the pool is a definite exception. Guests are not allowed to pool hop with two exceptions: All-Star guests may use pools at any of the three All-Star resorts and Port Orleans guests may use pools at either Riverside or French Quarter.
Are all of these amenities within my budget? Take an honest look at the budget before deciding on a resort category. Don't forget that things like transportation to and from Central Florida, food, tickets, and souvenirs will factor in to the budget equation, too.
In order to choose your room category, there are some key features to explore. Keep in mind that these are general rules of thumb. Specifics about each resort can be found at the link above for each individual resort.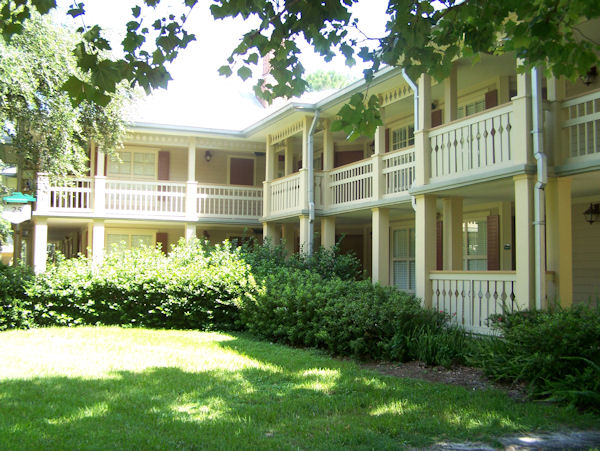 Disney Resort Room Features
As Disney is working on refurbishing many of their resorts, the beds in the value rooms sleep up to four guests (plus one under 3 in a crib).  The configuration of the bedding can vary greatly from resort to resort in the standard rooms.   It could be 2 queens, 1 queen and 1 pull down table bed (queen), 2 doubles, or 1 king in approximately 260 square feet. The king beds are typically request only and will only allow for 2 guests (plus one under 3 in a crib).   All-Star Music and Art of Animation offer suites that sleep six in approximately 565 square feet. The resorts have exterior hallways.
Moderate resort rooms sleep up to four guests (plus a crib) on two queen beds and approximately 300 square feet. Some rooms at Port Orleans Riverside and Caribbean Beach Resort can accommodate five people, with the fifth person on a small child size pull down bed. There are again a limited number of king rooms available that will accept 2 guests, or 2 guests and one under 3 in a crib.   Coronado Springs has a few suites available but they are more suited to business travellers.   The resorts have exterior hallways.
Deluxe resorts offer a variety of selections. A typical room at Wilderness Lodge or Animal Kingdom Lodge sleeps four (plus a crib) in approximately 340 square feet. The remainder of the Deluxe resorts sleep five, with the fifth guest sleeping on a day bed, in approximately 400-437 square feet. Of course these resorts offer a selection of suites to suit your needs. The resorts have interior hallways.
Deluxe Villa resorts offer a variety of room types and sizes. Typically, all offer studio, one-bedroom, and two-bedroom accommodations. Most offer a few grand villa (three-bedroom) rooms. All except Saratoga Springs Resort and Old Key West are situated with a hotel resort and share various amenities with the hotel. Studio rooms feature a kitchenette. The other room types feature a full kitchen stocked with appliances and kitchenware, plus in-room laundry.
Dining Options at the Disney Resorts
Value resorts all offer extensive selections in a food court setting. Three meals a day are available, plus snacks. Refillable mugs can be purchased and filled in the food courts. In the evening, in-room pizza delivery is available. Each resort also has a poolside bar featuring adult beverage selections.
Moderate resorts also offer a food court setting for counter-service meals, a poolside bar, and evening pizza delivery. They each offer one table-service location as well.
Deluxe resorts feature multiple table-service restaurants in addition to a quick-service location. The quick-service offerings are less extensive than those at the moderate or value resorts, but all offer a variety of hot meals and cold items. Some Deluxe resorts have character dining locations as well. All offer room service menus throughout the day.
Deluxe Villa resorts are connected to hotel resorts with two exceptions: Old Key West and Saratoga Springs. Those connected to a hotel share food options with the hotel. The other two feature all of the same food options as a Deluxe resort, with one table-service location. Both Old Key West and Saratoga Springs are location near Downtown Disney and all of the restaurants at that venue as well.
Transportation Options at the Disney Resorts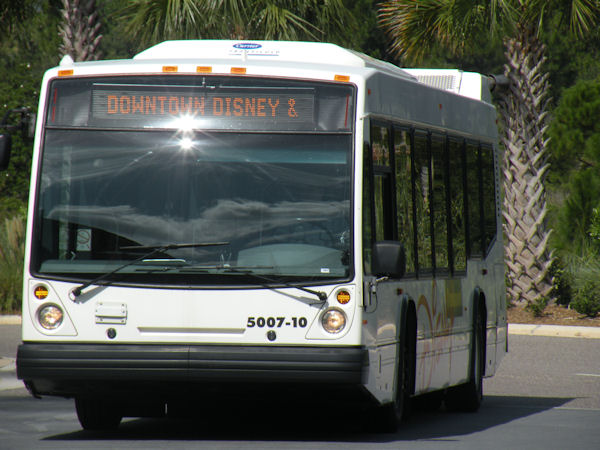 Regarding transportation to the theme and water parks, resorts may share buses with either sister resorts (Port Orleans Riverside and French Quarter or all three All-Stars) or with resorts in close proximity of each other. Buses are expected to run on a 20-minute schedule, meaning a bus to each destination should arrive at the stops approximately every 20-minutes. Larger resorts may also have internal busses offering transportation from various buildings to the main section of the resort.
Value resorts offer transportation to all four theme parks, two water parks, and Downtown Disney via Disney bus.
Moderate resorts offer transportation to all four theme parks, two water parks, and Downtown Disney via Disney bus. Port Orleans Riverside and French Quarter also offer transportation to Downtown Disney via boat.
Deluxe resorts offer transportation in various ways.
Animal Kingdom Lodge offers transportation to all four theme parks, two water parks, and Downtown Disney via Disney bus. This includes Animal Kingdom Park. Guests cannot walk to the park from the resort.
Disney's Beach Club Resort, Disney's Yacht Club, and Disney's Boardwalk Inn are within walking distance to Epcot and entrance is available via the International Gateway entrance (between the UK pavilion and France pavilion of World Showcase.) There is a walking path to Disney's Hollywood Studios, although the walk can be a little long, especially from Beach Club. Guests can also take a boat to Epcot or to Disney's Hollywood Studios. Transportation to Magic Kingdom, Animal Kingdom, water parks and Downtown Disney is available via Disney bus.
Disney's Contemporary Resort is within walking distance of Magic Kingdom, and is the only resort from which guests can walk to that park. Guests may also take the monorail to Magic Kingdom. Transportation to Epcot is via monorail (requires a monorail transfer at the Ticket and Transportation Center). Transportation to Hollywood Studios, Animal Kingdom, the two water parks or Downtown Disney is available via Disney bus.
Disney's Polynesian Resort and Disney's Grand Floridian Resort & Spa offers monorail service to Magic Kingdom. There is also boat transportation to the Magic Kingdom. Monorail service is also available to Epcot (requires a monorail transfer at the Ticket and Transportation Center.) Disney busses transport guests to Disney's Hollywood Studios, Animal Kingdom park, both water parks and Downtown Disney.
Disney's Wilderness Lodge offers transportation to Magic Kingdom via boat or Disney bus. Boat transportation is also available between the Contemporary Resort, Wilderness Lodge and Fort Wilderness. Transportation to the other three theme parks, two water parks and Downtown Disney is available via Disney bus.
Amenities Offered at the Disney Resorts
Value resorts have a fun feature pool which is centrally located and smaller pools throughout the larger resorts. The main building has check-in, food, and a gift shop.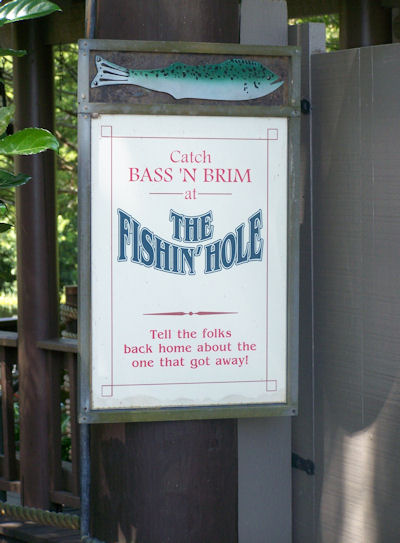 Buildings housing guest rooms closest to this area are often premium locations. All resorts have free transportation to the Disney Parks. Value resorts focus on fun, pop architecture and have informal food court dining. These resorts are best for guests wanting to stay inside the magic at an economical price. Guests will spend much time at the parks and don't require additional resort amenities.
Moderate resorts have a feature pool with a fun slide which is centrally located. The larger resorts also have smaller pools close to the guest room buildings. There is on-site recreation that may include a marina, surrey bikes, or special guest activities. There is a table-service restaurant in addition to a food court. Moderate resorts are priced for guests who want a few more amenities and enjoy great themes in the resorts.
Deluxe resorts transport guests with their detailed theming. There are more services, extended recreational activities, and beach access (though swimming at the beaches isn't allowed at any Disney resort properties. Deluxe resorts are perfect for guests who want a full resort experience and will take advantage of the activities offered at the resort, in addition to time at the theme parks.
Deluxe Villa resorts are truly a home-away-from-home. They offer living room areas and kitchenettes (in studio accommodations) or full kitchens. Rooms can accommodate up to 12 guests in rooms ranging from a studio to a three-bedroom villa. The amenities are on par with those of a Deluxe resort. These resorts are ideal for groups planning to spend time at the resorts. These are Disney Vacation Club properties.
Tips on Choosing a Disney Resort for you!
Have you narrowed down your selection to a particular resort category? Great! Now how do you select a resort within each category? The most important factor is theming at this point. Take a look at photos of each resort. Read about the size of each. Which one appeals to you? Take into account all of the members of your party as well.
All resorts on Disney property incorporate theming. From Value to Deluxe, you will be immersed in the theme of the resort. All-Star Movies, for example, has giant movies icons throughout the resort. Think larger-than-life Woody or Buzz from Toy Story and movie references throughout the resort. Deluxe theming will be different, like the lush beauty or the Polynesian Resort or the charm of the Grand Floridian Resort. All of them wonderful in their own right.