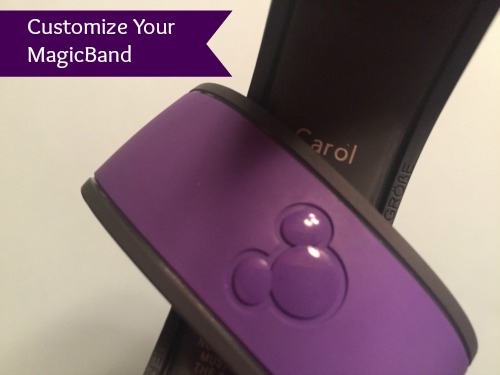 Guests staying at a Walt Disney World resort will receive a set of complementary MagicBands. The MagicBands ship directly to your home (to the address specified in your My Disney Experience account). At least 30 days prior to your trip, make sure to personalize your MagicBands. Customizing your MagicBands is a simple process.
Customizing Your MagicBands
Customizing your MagicBands is not a complicated process. There are simply two choices to make when personalizing and ordering MagicBands.
First, you will need to select the color of your MagicBand. Possible colors include pink, red, blue, green, yellow, purple, orange or grey. Grey is also the default color for a band that has not been personalized.
NEW! Guests can now choose from the complimentary solid color MagicBand, or they can choose to order a Premium MagicBand. These Premium options include special printed artwork that include one of the following themes: Mickey and Friends, Disney Princesses, Frozen, Disney Villains, Marvel, Star Wars, Pixar, Walt Disney Pictures, or the Disney Parks. These MagicBands cost around $10 (that's a savings of $14.95).
Next you will need to select the name for your band. The name comes printed on the back of the band, and not visible while the band is worn. It helps, though, to tell which band belongs to which family member, especially if more than one person in the room has chosen the same color.
Once the bands have been personalized, they are ready for shipment. As long as you customize your MagicBands more than 11 days prior to your arrival, they ship to your home. If you customize between 10 and 6 days prior to your trip, you will receive your bands at your Disney hotel. If you don't customize your MagicBands within 6 days of your visit, you will receive non-customized MagicBands at your resort hotel upon check-in.
Disney advises that it can take 11 days for your customized MagicBands to arrive. This number can vary by a few days, so don't be alarmed if it takes a little more time (or less) to arrive. The MagicBands arrive in a brown cardboard box, so if there are little ones in your home who are not aware of travel plans, they won't notice the box. In fact, the box doesn't have any Disney markings on it at all.
Once it is opened, though, expect to see a bright box decorated with The Incredibles images. Also, be sure to take the bands out. There should be luggage tags that coordinate with the bands under the bands. Also, if you qualify for any "sliders" such as DVC or Passholder, those may be under the bands as well.
There is no need to do anything further once the bands arrive at your house, other than make sure to back them! The MagicBands come already linked to your My Disney Experience account. Also, make sure to pack them in your carry-on luggage. It will make checking in for Disney's Magical Express a little easier. Even if you are arriving by car, it's helpful to have your MagicBands available upon arrival at your Disney resort.
Personalizing Your MagicBands
You can further customize your MagicBands by personalizing it with decals and accessories.  Specially designed MagicBands and accessories can be purchased at DisneyStore.com. You can also decorate your MagicBands with decals from MagicYourBand.com. You can easily create a custom MagicBands skin to personalize and providing extra protection for your MagicBands. Magic Your Band's decals are the perfect accessory for any Disney MagicBand. Their skins are available in two styles; 1-piece, which covers the entire colored portion of the band or 2-piece which leaves the logo exposed.
Split Stays and Frequent Visits
Some guests have more than one reservation during their stay (sometimes because of changing hotels, adding a room-only stay, etc.). You are offered the option of customizing your MagicBands for each reservation. So if a family of four has two reservations, it's possible to get 8 bands (two for each member of the party).
Each Disney Resort reservation offers the opportunity for a new set of MagicBands – one for each guest on the reservation. So if you travel to Walt Disney World multiple times a year, you can have a new band for each stay.
But what if you don't want all of those bands? There is an option to decline the bands. Many people prefer just one set and decline multiple bands. The batteries in the bands should last approximately 2 years. The same set of bands can easily cover multiple reservations in one year. Remember, the bands are just the link between you and your MyDisneyExperience account. They access the reservations in that account and do not tie tie to a particular reservation, credit card, etc.
Sizing Your MagicBand
Once you get the MagicBand, you may find that it's too big. For those who have small wrists (including children), there is good news. The band is actually two bands in one. For smaller wrists, remove the outer section to make the band smaller. This doesn't change the way the bands function at all. The process cannot be reversed, so make sure you want to make it smaller before tearing apart the sections.