This post may contains affiliate links for your convenience. If you make a purchase after clicking a link we may earn a small commission but it won't cost you a penny more! Read our full disclosure policy here.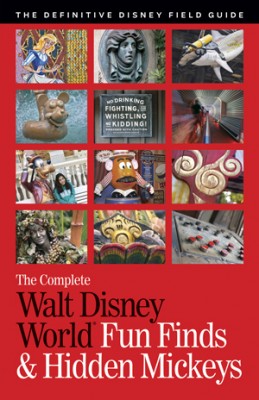 Are you looking for a great book to share lots of little Walt Disney World tidbits and hidden facts to take around the parks? Then have I got the perfect book for you–"The Complete Walt Disney World Fun Finds and Hidden Mickeys." This definitive Disney field guide is written by Julie and Mike Neal.
As the book claims, if you think you know everything at Walt Disney World, you need to think again. Matter of fact, with the number of times I've been in the parks, you'd think I knew everything, however, even I learned a thing or two that I never knew before while perusing through this incredibly detailed guide!
"The Complete Walt Disney World Fun Facts and Hidden Mickeys" a unique guidebook that features over 250 pages filled with great information.  It is extremely thorough, discussing all the little things that help up to make up the four theme parks and two water parks. You know, the things that make the parks special.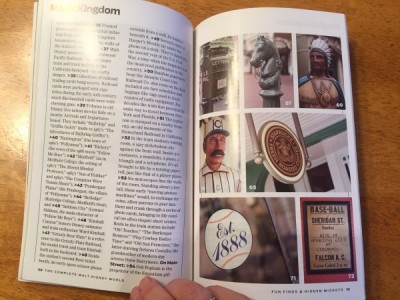 The first thing that I noticed when I picked up this book was that it is extremely high quality. The pages are thick and glossy and there are tons of photos…which are all in color.  The photos will come in handy in helping you discover a few of the great details included inside, though I do have one little issue with the photo layout. Some of the pictures don't match up with the page where the fun fact is being talked about; it's nearby, but not on the same page, which can be a bit of a challenge when reading at home and not touring with the book in the park.
However, that aside, this book really isn't necessarily one you sit down to read while you're sitting at home, but instead, it's genius comes from the fact that this guide is your best tool to take into the parks with you.  It's the perfect choice for families who are looking to add a little extra magic to their touring or to their waits in line.
There are five major sections, one for each park and one for the water parks, then there are special sub-sections highlighting Jungle Cruise, Haunted Mansion, Big Thunder Mountain Railroad, Pirates of the Caribbean, and Star Tours.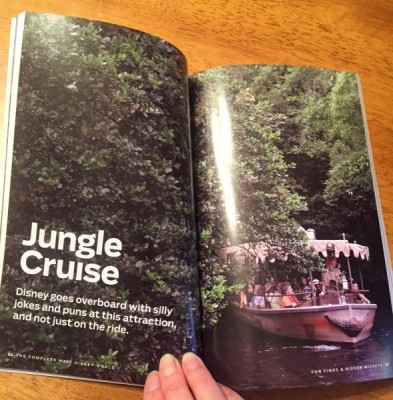 The Magic Kingdom section was clearly the largest, and due to the great information I was receiving from the book, I did wish as I was going through that the other three parks were as extensively covered. It would have been great to find out even more great nuggets from those parks. (That's not to say there wasn't great information about Epcot, Disney's Hollywood Studios, and Disney's Animal Kingdom, those sections just weren't as voluminous as the Magic Kingdom one was. )
I can't even express how many interesting facts were relayed throughout the book. Each chapter was chock full of them, such as "in the queue's gem-sorting trough [for Seven Dwarfs Mine Train] an errant bar of soap shoots off screen when you touch it – a reference to the segment in the 1939 film Snow White and the Seven Dwarfs when Grumpy displays his aversion to soap."  Other great facts include that "lamposts [in Disney's Animal Kingdom] bear the phrase Harambe 1961, honoring the year the village gained independence from Great Britain" and that in Epcot's Spaceship Earth, "the radio station's call letters are WDW–as in Walt Disney Imagineering."  These are just some of the many facts you can learn from this fun-filled guide.
Who is "The Complete Walt Disney World Fun Finds & Hidden Mickeys" book good for? Really, it's a great resource for anyone, whether you are a new Disney fan or a Disney veteran. I strongly suggest you pick up a copy today!
Do you want to win your own copy of "The Complete Walt Disney World Fun Finds & Hidden Mickey's"? Well, guess what, you can! Thanks to Keen Communications we're giving away a copy of this invaluable resource! Yay!  Just enter on the Rafflecopter link below, and remember that if you don't win, you can still purchase a copy of "The Complete Walt Disney World Fun Finds & Hidden Mickey's," which will help to support The Mouse For Less website!
Rules: Giveaway starts at 12:00 a.m. Eastern on July 15, 2015 and ends at 12:00 a.m. Eastern on July 22, 2015. Open to U.S. residents 18 years old and older.  No purchase is necessary to win. Void where prohibited. Odds of winning depend on the number of entries collected. The winner will be chosen by Random.org via Rafflecopter and will have 5 days to respond after being contacted by email.  Please make sure to use a valid email address. Facebook, Twitter, and Pinterest do not endorse this, nor sponsor this giveaway. Nor are Facebook, Twitter, or Pinterest affiliated with this giveaway in any way.
Disclaimer:  I received a free copy of "The Complete Walt Disney World Fun Finds and Hidden Mickeys" for the purpose of this review.  The opinion stated above is my own.
Incoming search terms:
https://www themouseforless com/blog_world/book-review-the-complete-walt-disney-world-fun-finds-and-hidden-mickeys/