Meet Santa Christmas Tree Trail Stitch's Holiday Gift Hunt Marketplace Holiday Offerings The Landing Holiday Offerings West Side Holiday Offerings Special Dining Options MFL Tips
Enjoy the hustle, bustle and good cheer of the holiday season in the Disney Springs area at the Walt Disney World Resort. Great shopping, live entertainment and a fantastic photo op with Santa himself make this the perfect one-stop, holiday shopping location. Check out the dazzling displays of holiday trees, lights and the special holiday window dressings that adorn the shops and restaurants. Feast your eyes and ears on the seasonal carolers, musical acts and holiday variety performers, including Toy Solider stilt walkers, Snowflake performers, a Kwanza Celebration, and Hanukkah medleys throughout the streets.
The Disney Springs area is truly a winter wonderland from November 8 through January 6.
Santa at Disney Springs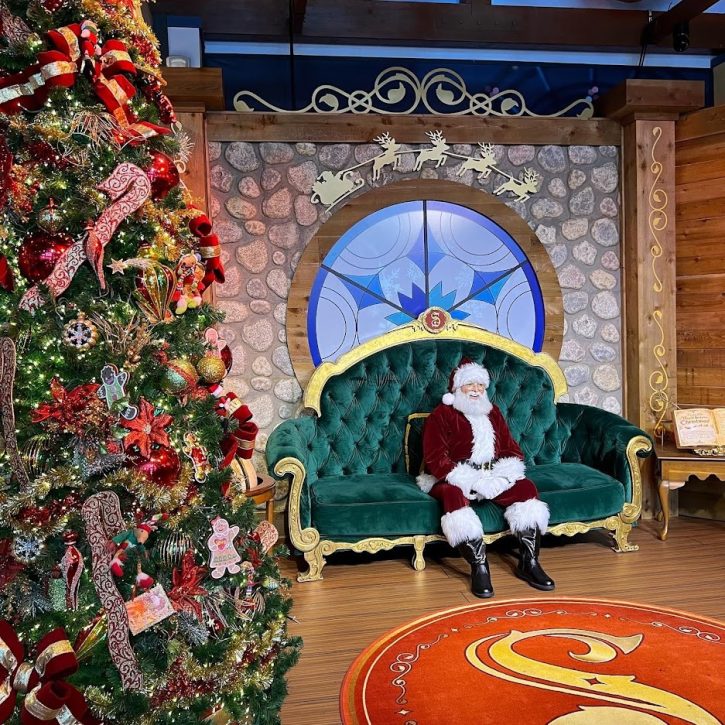 Santa appears at Santa's Chalet, located near the Christmas Tree Trail in the Marketplace section, daily through Christmas Eve. There is no charge to see Santa in this location.
Guests who wish to meet Santa will be able to pick up a pager upon check-in to secure their place in a virtual queue line. Upon arrival, you'll receive a pager from one of Santa's Helpers; when it's time to take your place in line, you'll be notified. Simply return to the podium within 10 minutes. In the meantime, you can shop, dine and enjoy holiday décor and festivities throughout Disney Springs!  When it's your turn to meet jolly old Saint Nick, you can use PhotoPass services or your own camera to capture photos with Santa.
Santa will be greeting guests November 11 through December 24 from 11:00 a.m. until 11:00 p.m.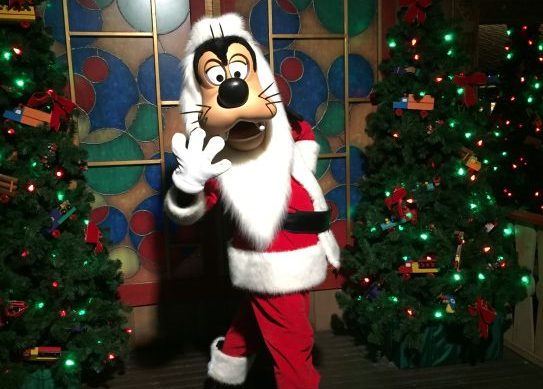 Once Santa has headed back to the North Pole, Santa Goofy will then meet with Guests from December 25-30 during the same hours.
Disney Springs Christmas Tree Stroll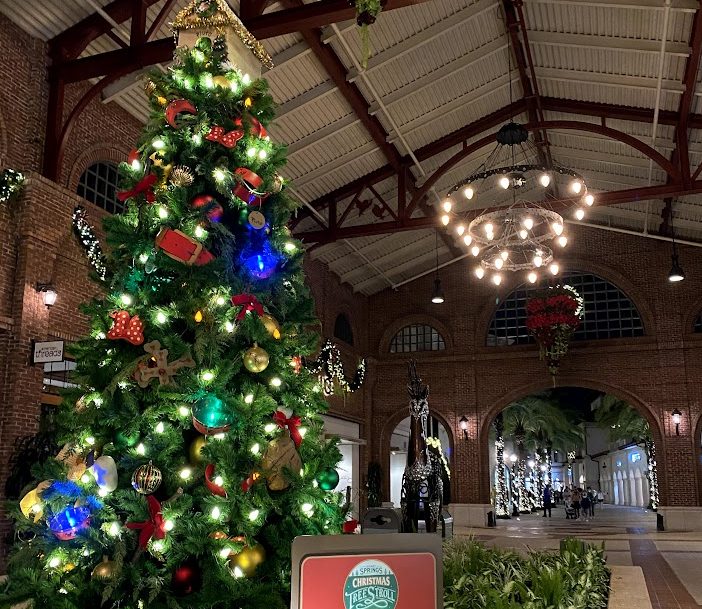 This  offering will put the spotlight on distinctly decorated trees, each themed to a beloved Disney character or story. Many of them larger than before. Trees include the following themes:
Walt Disney World Theme Parks
Mickey & Minnie Mouse
Beauty & the Beast
Sleeping Beauty
Aladdin
Frozen
The Princess & The Frog
The Little Mermaid
Mulan
Haunted Mansion
Snow White
Pinocchio
Toy Story
Disney Villains
Dumbo
Cinderella
Robin Hood
Star Wars
Peter Pan
Tangled
The Lion King
Mary Poppins
Fantasia
Stitch's Holiday Gift Hunt
Stitch's Holiday Gift Hunt is a fun-for-the-whole-family scavenger hunt-style activity will send you through all four neighborhoods of Disney Springs.  Once complete, Guests should visit participating locations for a limited-edition completer button.
Marketplace
Every evening at 6:00 p.m., Guests will be able to experience a festive tree lighting ceremony where a family of the day will be chosen to illuminate the Marketplace signature tree in front of the Once Upon a Toy fountain play area. Guests will also be able to enjoy a holiday-themed DJ dance party, games and activities.
At Disney Springs, you may cross paths with larger-than-life Toy Soldier Stilt Walkers—or find yourself in the midst of traditional carolers.
The Landing
Waterview Park gives guests the chance to learn about and experience the story of Hanukkah through music.
West Side
Guests will be transported to a magical winter wonderland as they visit the West Side. The vibrant blue ornaments, beautiful white holiday lights, and contemporary Christmas trees will bring holiday cheer to all ages.
Disney Springs Christmas Seasonal Dining Options
At Disney Springs, you will be able to indulge in a quick seasonal treat or enjoy a nice meal.
TheMouseForLess Tips

Disney Springs features holiday shopping adventures for every age and budget, including Once Upon a Toy, filled with exclusive playthings from Disney and Hasbro; World of Disney, the world's largest character emporium, plus LEGO Imagination Center and Disney's Days of Christmas holiday shop.

 Guests can meet the Coca-Cola Polar Bear found the on the second floor of The Coca-Cola Store.

To top off your Disney Springs holiday shopping trip, be sure to stop by Ghirardelli for Sea Salt Caramel Hot Cocoa – it just doesn't get any better!
Click if you are curious about holiday events at the Magic Kingdom, Epcot, Disney's Hollywood Studios, Disney's Animal Kingdom, and the Disney Resort Hotels.