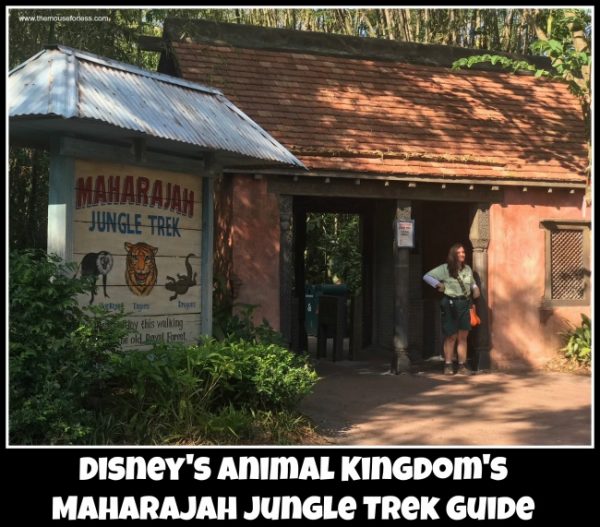 At Maharajah Jungle Trek, guests can view a plethora of Asian animals and inspiring architecture on this elaborate nature trail.
Ride Information  Restrictions  Accessibility  Location  Fun Facts  Top 5 Tips
Ride Information
Opening Day: March 1, 1999
Type of Ride: Nature trail
Age Recommendation: All ages
Duration of Ride: Unlimited
Typical Queue Time: None
Single Rider Line: No
Chicken Exit Available: Yes
Baby Swap Available: No
Type of Vehicle: None
Type of Restraint: None
Attraction Open During Early Theme Park Entry: No. See our Early Theme Park Entry page for more information.
Ride Photo Available For Purchase: No

Planning a Walt Disney World Vacation?
For a Free no-obligation quote, contact our sponsor
The Magic For Less Travel
. Services are provided free of charge and their expert planning advice will help you make the most of your vacation time and money.
Ride Restrictions
Height Requirements: None
Flash Photography or Video Allowed: Yes
Safety, Accessibility, and Guest Policies
Accessibility:
Guests may remain in wheelchairs
Audio description available
Service animals are not permitted in some of the exhibits, see a cast member for more information.
Location
Shopping: Purchase towels, footwear, and other assorted goods near the Maharajah Jungle Trek entrance at "Maharajah Cart."
Dining/Refreshment: Near Maharajah Jungle Trek in the Animal Kingdom's Asia section, guests can enjoy either a full service or a counter service lunch or dinner at the "Yak and Yeti" Restaurants. Options at the full service Yak and Yeti include egg rolls, pot stickers, shrimp, soups and salads, salmon, chicken, duck, curry, lo mein, beef, and rice; while options at the counter service Yak and Yeti include chicken, beef, burgers, hot dogs, couscous, and egg rolls. The counter service Yak and Yeti also serves an assortment of egg sandwiches during breakfast hours.
Restroom: Find facilities situated near the entrance to Maharajah Jungle Trek.
Smoking Location: Smoking is permitted in designated smoking areas only. Disney parks are smoke free.
Maharajah Jungle Trek Fun Facts
Did you know?
Maharajah Jungle Trek is set in the fictitious Anandapur Royal Forest, which has been converted from a royal hunting ground that was founded by King Bhima Disampati in 1544 to a public nature preserve.
Maharajah Jungle Trek incorporates a plethora of animals from Southeast Asia, including Malayan Tapirs, bats, White-lipped Tree Frogs, Blood Pythons, Asian Giant Centipedes, gibbons, Eld's deer, Komodo dragons, Malayan flying foxes, Banteng, water buffalo, Blackbuck antelope, Bengal tigers, and more than fifty species of birds housed in an aviary.
Maharajah Jungle Trek also features stunning ruins from the time when the trail belonged under the domain of the King. This includes signs from the town's colonial period under Great Britain, ancient medicinal gardens; watering holes, an old bridge topped by prayer flags from the villagers, a decaying fresco at the site where King Bhima Disampati was killed while hunting tigers, five carvings that portray the evolving relationship between the people of Anandapur and nature, and a temple that houses the remains of Ananta, Anandapur's founder.
guests can view African animals at Gorilla Falls Exploration Trail, a similar trail in the Animal Kingdom's Africa section.
Top 5 Tips for Maharajah Jungle Trek
Pick up a guide map and an animal description card at the attraction's entrance.
Ask questions of the guides stationed along the trail.
Take pictures of the animals.
Take your time on the trail such as to enjoy all the details.
Guests wanting to see the tigers should visit the trail early in the morning or late in the day, when they are more likely to be active.