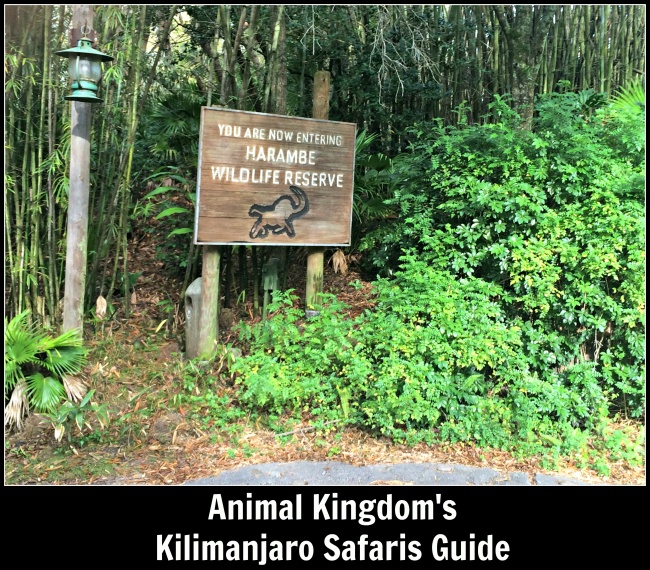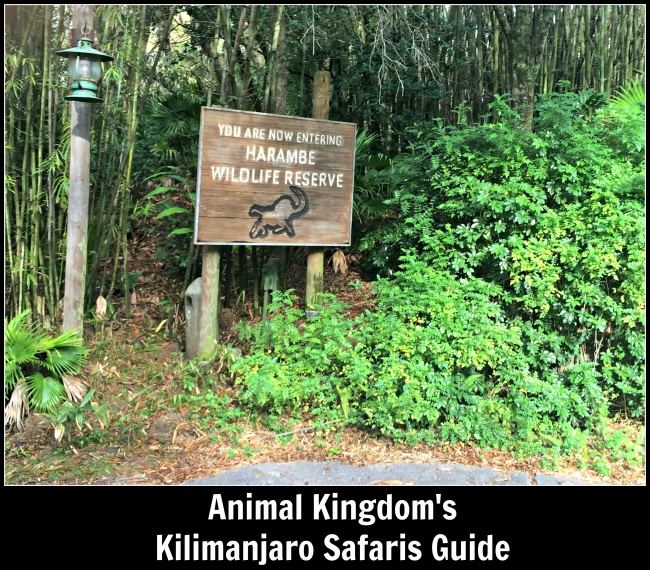 On Kilimanjaro Safaris, guests will embark on an African safari in one of the most ambitious attractions ever developed by Walt Disney Imagineering.
Ride Information  Restrictions  Accessibility  Location  Fun Facts  Top 5 Tips
Ride Information
Opening Day: April 22, 1998
Type of Ride: African safari
Age Recommendation: All ages
Duration of Ride: About 20 minutes
Typical Queue Time: Long; often peaks at over one hour
Single Rider Line: No
Chicken Exit Available: Yes
Baby Swap Available: No
Type of Vehicle: Safari truck
Type of Restraint: None
Attraction Open During Early Theme Park Entry: Yes. See our Early Theme Park Entry page for more information.
Ride Photo Available For Purchase: No

Planning a Walt Disney World Vacation?
For a Free no-obligation quote, contact our sponsor
The Magic For Less Travel
. Services are provided free of charge and their expert planning advice will help you make the most of your vacation time and money.
Ride Restrictions
Height Requirements: None
Flash Photography or Video Allowed: Yes
Safety, Accessibility, and Guest Policies
Accessibility: 
Guests must transfer from wheelchairs
Video Captioning
Assistive Listening
Handheld captioning
Service animals permitted with caution
Guest Policies: Children under age 7 years must be accompanied by a person age 14 years or older.
Location
Shopping: Near Kilimanjaro Safaris in the Animal Kingdom's Africa section, guests can purchase apparel, plush dolls, and collectible ostrich eggs at "Ziwani Traders"; and African wines, art, crafts, and instruments at "Mombasa Marketplace."
Dining/Refreshment: Dining options abound near Kilimanjaro Safaris. Guests wanting a counter service lunch or dinner can enjoy chicken skewers, vegetable stacks, gyros, fried sausages, and ribs at Harambe Market. Those preferring a sit down meal should make ADRs for a buffet breakfast, lunch, or dinner at Tusker House. At Tusker House guests can choose between a variety of American and African dishes served amidst entertainment from Donald Duck.
Restroom: Find facilities convenient to Kilimanjaro Safaris at Mombasa Marketplace.
Smoking Location: Smoking is permitted in designated smoking areas only. Disney parks are smoke free.
Kilimanjaro Safaris Fun Facts
Did you know?
Guests can encounter more than 34 African animal species on Kilimanjaro Safaris, including antelopes, baboons, cheetahs, crocodiles, elephants, flamingos, gazelles, giraffes, hippos, hyenas, impalas, lions, ostriches, rhinos, warthogs, wild dogs, and zebras. Pictorial guides of each animals feature in each safari vehicle.
The fictitious African village, Harambe, where Kilimanjaro Safaris is located is a homage to real African villages that sit adjacent to vast preserves. Harambe is Swahili for "working together."
Kilimanjaro Safaris' savannah encompasses 110 acres, rendering this single attraction larger than the entire Magic Kingdom park, which only occupies 105 acres.
Kilimanjaro Safaris' savannah is called "Harambe Wildlife Reserve."
As Kilimanjaro Safaris is located in a theme park, precautionary boundaries, including berms, moats, fences, wires, and chains, are overtly or covertly implanted throughout the savannah to keep the animals in their respective habitats.
Devices such as air conditioned rocks, cool breezes, salt licks, cooling or warming waters, and food help guid the animals towards the vehicle routes.
Guests experience Kilimanjaro Safaris in 10-ton, open-sided GMC trucks, with a camouflage exterior, and seats up to 32 passengers. Cast Members actually drive each vehicle and provide educational commentary throughout the safari.
The attraction's plants are replaced each morning to compensate for vegetation consumed by the animals the previous day.
Guests can experience two related tours, Wild Africa Trek and "Starlight Safari at Disney's Animal Kingdom Lodge," for an additional cost. The latter experience begins at Disney's Animal Kingdom Lodge, not the Animal Kingdom park.
History
Kilimanjaro Safaris' 1998 debut marked the realization of Walt Disney's idea to utilize live animals in an adventure attraction. Disneyland's Jungle Cruise originally intended to fill this role in the late 1950s. Animatronic animals replaced the live animals in the version of Jungle Cruise guests enjoy today.
Kilimanjaro Safaris' development entailed much research. In 1990, Imagineer Joe Rhode ventured to Kenya and Tanzania to view animals and experience authentic East African safari tours.
Kilimanjaro Safaris toned down and then eliminated an overt poaching plotline. First, during the Cast Member previews in 1998, complaints arose over the grotesque depiction of a fake elephant named "Big Red," who was killed by poachers. Imagineers immediately wrote Big Red out of the attraction. The attraction debuted with a tamer plotline, where poachers kidnap an animatronic baby elephant called "Little Red" and, subsequently, get apprehended. Then, in 2007, this version was altered to limit the dialogue related to poaching between the safari driver and a naturalist named Ms. Jobson. In 2012, the entire poacher storyline, including the related props, were eliminated from the attraction. A zebra habitat replaced the space that the props originally took up. In early 2013 the addax antelope replaced the zebra in this space to allow for better viewing.
Save for a trial during the 1998 holiday season, Kilimanjaro Safaris ended its tours at sunset, regardless of park closing time, until 2016 because of lighting and animal sleeping issues. Beginning in the summer of 2016, with the debut of nighttime entertainment at the Animal Kingdom, Kilimanjaro Safaris will commence extended hours.
Hidden Mickeys:
The Flamingo Island area of the savannah is a Hidden Mickey.
Sponsored Ad: Learn more about Hidden Mickey details and location throughout Walt Disney World in A Field Guide to Walt Disney World's Best Kept Secrets
.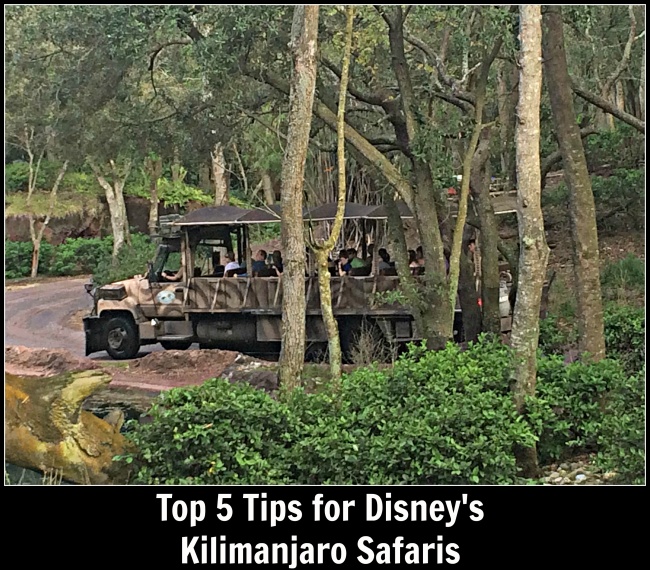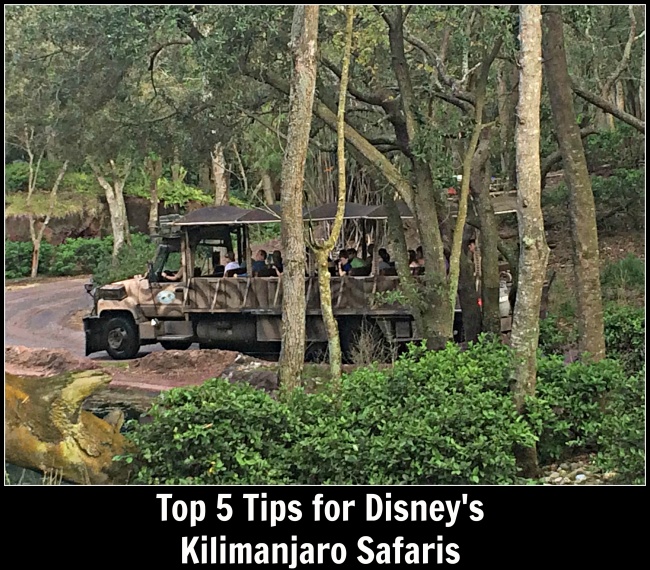 Top 5 Tips for Kilimanjaro Safaris
Consider experiencing Kilimanjaro Safaris multiple times as the live animals render each journey different.
Guests wanting to view the Lions should ride either in the morning or closer to park close when the sun is not as intense.
Take photos of the savannah and the animals.
Hang onto your belongings. Anything dropped from the vehicle cannot be retrieved.
Following Kilimanjaro Safaris, guests can view more African animals, such as gorillas, hippos, naked mole rats, and birds, by walking the Pangani Forest Exploration Trail.