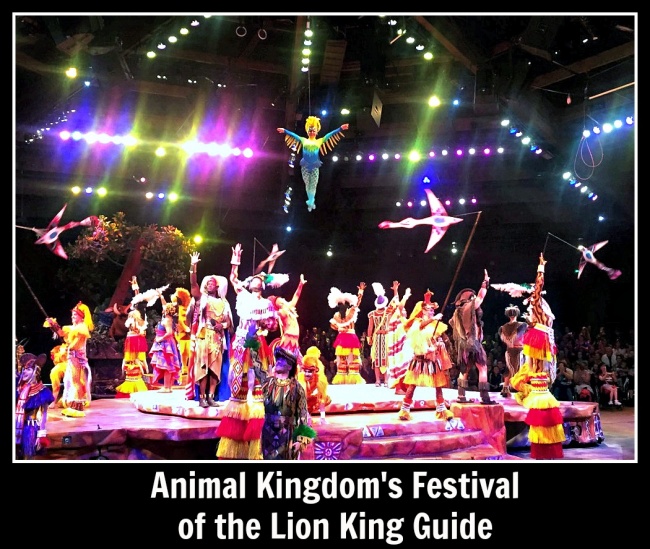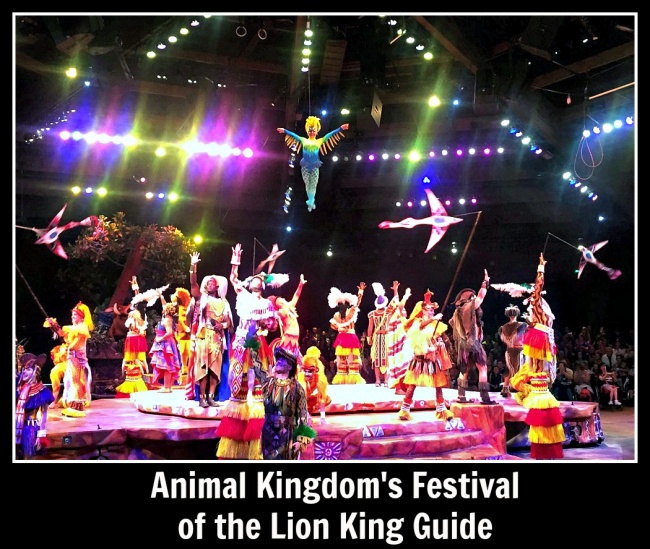 Festival of the Lion King is located in Africa at the Animal Kingdom.  Become immersed in this interactive, acrobatic show based on Disney's classic animated feature The Lion King (1994).
Ride Information  Restrictions  Accessibility  Location  Fun Facts  Top 5 Tips
Ride Information
Opening Day: April 22, 1998
Type of Ride: Show
Age Recommendation: All ages
Duration of Ride: About 30 minutes
Typical Queue Time: None; shows start at scheduled times
Single Rider Line: No
Chicken Exit Available: No
Baby Swap Available: No
Type of Vehicle: None; guests sit in bleachers
Type of Restraint: None
Attraction Open During Early Theme Park Entry: No. See our Early Theme Park Entry page for more information.
Ride Photo Available For Purchase: No

Planning a Walt Disney World Vacation?
For a Free no-obligation quote, contact our sponsor
The Magic For Less Travel
. Services are provided free of charge and their expert planning advice will help you make the most of your vacation time and money.
Ride Restrictions
Height Requirements: None
Flash Photography or Video Allowed: No
Safety, Accessibility, and Guest Policies
Accessibility: 
Guests may remain in their wheelchairs
Sign Language available
handheld captioning available
Assistant listening available
Location
Shopping: Purchase African wines, art, clothing, crafts, and other assorted goods at the nearby "Mombasa Marketplace."
Dining/Refreshment: Guests can enjoy a buffet-style breakfast, lunch, or dinner nearby at Tusker House. Here, assorted Disney characters, led by Donald Duck, interact with guests at all meals, which feature a variety of American and African dishes. Guests preferring a counter service meal can enjoy African-style chicken, sausage, ribs, and the like at Harambe Market.
There is now also a Festival of the Lion King Dining Package available with a meal at Tiffins.
Restroom: Find restrooms to the left of the theater entrance.
Smoking Location: Smoking is permitted in designated smoking areas only. Disney parks are smoke free.
Fun Facts
Did you know?
Festival of the Lion King presentes as a tribal celebration related to The Lion King, not as a play retelling the plot of the movie. Singing, lighting effects, dancing, stilt-walking, and acrobatic endeavors by performers dominate the show. Simba, Timon, and Pumbaa are included as large puppets, controlled by covert cast members.
Festival of the Lion King is hosted by Kiume (Swahili for "masculine and strong"), Nakawa (Swahili for "good-looking"), Kibibi (Swahili for "princess"), and Zawadi (Swahili for "the gift").
Guests sit in bleachers surrounding a central staging area. The bleachers split into four sections during the show: elephants, giraffes, lions, and warthogs. The performers encourage audience members to make the noises associated with the respective animals.
A group called the "Tumble Monkeys" performs wonders on a trampoline, a trapeze, and monkey bars.
Songs featured in Festival of the Lion King include "Circle of Life," "I Just Can't Wait to Be King," "Hakuna Matata," "Tumble Monkeys," "Be Prepared," "Can You Feel the Love Tonight," and "The Lion Sleeps Tonight."
History
The floats for Festival of the Lion King originally appeared in "The Lion King Celebration," a parade that ran at Disneyland from 1994 to 1997.
Festival of the Lion King debuted with Disney's Animal Kingdom on April 22, 1998. The show, from opening day until January 5, 2014, resided in the park's former "Camp Minnie-Mickey" section, which recently transformed into Pandora—The World of Avatar. Performances commenced in its current theater in the Animal Kingdom's Africa section on June 1, 2014.
Festival of the Lion King and Camp Minnie-Mickey originally acted as temporary stopgaps until construction began on the park's intended but eventually-cancelled "Beastly Kingdom" area, an area themed around mythical creatures. Festival of the Lion King proved so popular with guests that it became a permanent attraction.
The Festival of the Lion King theater originally exposed guests to the elements as an open theater. The theater was enclosed in 2003.
Festival of the Lion King was Walt Disney World's third Lion King-based attraction, after the now-defunct "The Legend of the Lion King" show at the Magic Kingdom and "Circle of Life" environmental film at Epcot.
A slightly-altered version of the show opened with Hong Kong Disneyland on September 12, 2005.
 
Top 5 Tips for Festival of the Lion King
Be prepared for an immersive performance. If you are seeking a relaxing show, Festival of the Lion King is not it.
Sit in the front rows if you are especially eager to participate. The hosts directly interact with some guests.
This is a good attraction to go visit during the middle of the day to get out of the Florida heat.
Consider watching The Lion King prior to your visit such as to better appreciate this attraction.
The catchy music will linger in your head after the show ends.