Disney's Magic Your Way packages let guests customize their vacation package and choose the recreation, ticket, and dining options to create a dream vacation. Guests can choose vacation options that will save time and money; creating a truly personalized vacation! In addition, when guests choose a Magic Your Way Package, they can add one of Disney's Dining Packages which offer guests the opportunity to save on Disney Dining. It also offers guests the opportunity to pay for their dining in advance and experience a more "all inclusive" vacation.
Dining Plans are available only as part of a Magic Your Way Vacation Package and must be purchased in advance. Minimum requirements are at least a 3 night stay at a Disney owned resort and at least a one-day MYW ticket for each person on the package. The Dining plan must also be purchased for everyone listed on the package, except for children under the age of three.
2015 Walt Disney World Packages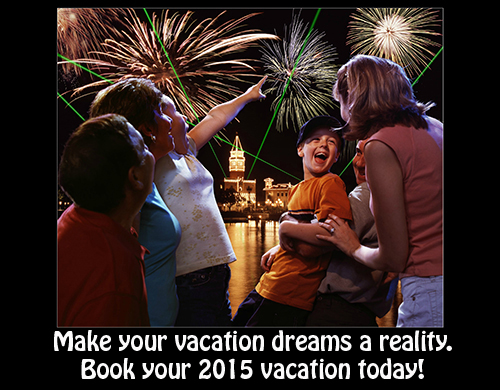 Request a no-obligation quote on a 2015 Walt Disney World vacation packages from The Magic for Less Travel. Remember that The Magic for Less Travel's services are always provided free of charge. They work to get you the best price and the best service for you vacation. Contact The Magic for Less Travel to request your 2015 vacation quote today!
3 Disney Dining Plans Available
Magic Your Way Quick Service Dining Plan – offers 2 Quick Service meals, 1 Snack (select dining locations) per person per night of the package stay, plus 1 Resort Refillable Drink Mug per person, per package.
Magic Your Way Standard Dining Plan – offers 1 Table Service Meal, 1 Quick Service Meal and 1 snack per person per night of the package stay, plus 1 Resort Refillable Drink Mug per person, per package.
Magic Your Way Deluxe Dining Plan – offers 3 meals (Table Service or Quick Service) and 2 snacks per person per night of the package stay, plus 1 Resort Refillable Drink Mug per person, per package. This package offers the most opportunity for savings and also includes the most food.
Disney's Dining Plans are Convenient to Use
Using one of Disney's dining plans is very convenient, as dining plan credits are loaded onto a guests' MagicBand. Guests simply present their band to the cast member to "pay" for the meals using the dining plan, and dining credits are subtracted from the available credits.
Meal usage will be tracked electronically and each time the dining plan is used, a receipt will indicate remaining meal credit balances. Guests can also visit a hotel lobby concierge at any time to check a meal plan balance.
Each member of your party has their own MagicBand, this makes the dining plan especially convenient for groups traveling together or parties with older children who may want to have some independence during the vacation. This allows each guest to have access to their meals simply using their MagicBand.
Disney's Dining Plans are Flexible
Choose the plan that works for you and choose how to use your dining credits. Guests can use meals and snacks credits in any combination until the total allotment of entitlements are depleted. Use 3 meal credits one day, 1 meal credit the next and all of your snacks the third day. You decide!

Most "single serve" food items at resort grab 'n' go markets, carts, kiosks, quick-service and select merchandise locations across property under $5 (sometimes slightly more) can be purchased with a snack credit. You can even find confections in merchandise shops, ice cream shops, bakeries and candy stores that will qualify. It never hurts to ask. Snack credits can also be used to purchase samples at international stands around World Showcase during the Epcot Food & Wine Festival. Look for the Disney Dining Plan Snack Symbol to identify snack items available with Disney's Dining Plan snack credit.
Note: Pre-bagged popcorn of any kind is not included in the Dining Plan.
Pay for Disney Dining Plans in Advance
Another advantage of Disney's Dining Plans is the fact that you pay for this option in advance. Many guests report that it is a huge advantage to arrive at their vacation destination with the majority of their vacation expenses paid in advance.
The cost of the dining package is included in the package price and the entire package is paid for before the guest arrives. Disney's Dining Plans must be purchased prior to arrival.
Save Money Using Disney's Dining Plans
Many guests ask if they can save money by using one of Disney's Dining Plans, and with a little planning, the potential for savings is great! Like with anything else, you need to do a little research to make the plan work for you. Dining can be one of the more expensive components of a vacation, and now you have the opportunity to save by using one of the dining plans.
Let us show you how you can save using Disney's Dining Plans. To help you decide if you can save, we have created some scenarios that show how visitors can save using one of Disney's Dining Plans.
Other Things You Should Know
Disney's Dining Plans are available to guests staying at a Disney Resort booking a Magic Your Way Package (a reservation including accommodations and tickets). Guests staying at The Dolphin, The Swan, Shades of Green and Downtown Disney resorts are not able to add one of Disney's dining plans to their reservation.
Special Magic Your Way packages without tickets that include Disney's Dining Packages are available to Walt Disney World Annual Passholders. Plus, Florida Residents have the option of purchasing a vacation package that includes discounted Florida Resident MYW tickets and the option to add one of Disney's Dining Plans. Disney Vacation Club members staying on points may also add a dining plan to their reservation through Member Services.
Advance Dining Reservations are highly recommended at many of the participating table service restaurants. To book Advance Dining Reservations, call 1-407-WDW-DINE.
The dining plan starts as soon as you check into your resort and get your MagicBand. Even if you can't check into your room right away, you can start using your dining credits immediately. Any credits that are not used by midnight on the day of check-out are lost.
While meals are nontransferable between party members who are not included in your reservation, they can be shared by those on the same reservation. If a member of your party isn't up for dinner several evenings, those credits don't have to go to waste. For example, use them to order a pizza from room service that everyone can share one evening. Do keep in mind that there is a difference, however, between a child's meal credit and an adult's meal credit. Meal entitlements cannot be shared between guests ages 10+ and guests ages 3-9. Meals may not under any circumstances be transferred to friends or family members who are not part of your resort reservation.
Substituting entitlements:
• Guests may use their table service (TSR) entitlements in a Quick Serve (QSR) location; however, Guests may not use their QSR entitlements in a TSR restaurant.
• Beginning May 31, 2015, guests may substitute one Meal entitlement for up to 3 eligible Snack plan items within the same transaction at Quick service restaurants and select merchandise locations
• TSR and QSR meals during lunch and dinner meal period include a dessert. This may not be substituted for an appetizer or salad. If Guest would like to order an appetizer or salad, the price of item ordered will be added to their bill.
• 2 Table-Service meals per person may be exchanged for one of the following: 1 Signature Dining Experience; 1 Disney Dinner Show (category 2 or 3 seating; category 1 at last show of the evening); 1 Cinderella's Royal Table Experience; or 1 In-Room Private Dining meal.
• Any leftover Snack entitlements can be used to purchase drinks and munchies for the trip home. Leftover meal entitlements may also be used with some restrictions.
At Table Service restaurants, 18% gratuity will be added automatically for parties of six or more dining at Disney's Table Service restaurants. A gratuity may also be added automatically on items you order that are not covered by your dining plan (e.g. alcoholic beverages). Automatic tips will be added to your resort bill for payment upon checkout. Parties of less than six can leave tips at the restaurant in percentages of their choosing.
Table-service restaurants may offer a separate prix-fixe menu that is available for a retail price. Disney Dining Plan guests can choose this option with payment of a surcharge in addition to the table-service entitlement redemption. Separate surcharges for Disney Dining Plan guests and Deluxe, Premium, and Platinum Dining Plan guests will be noted on menus.
For restaurants that offer only a prix-fixe menu (such as Cinderella's Royal Table) or have a prix-fixe menu included on their regular a la carte menu (such as Captain's Grille) the prix-fixe menu is fully covered by the required DDP meal entitlements.
Table-service restaurants may offer menu add-ons – the ability to add another protein component to an entrée selection (e.g., option to add sea scallops to entrée). This option will be listed on the menu and requires payment of a surcharge by guests who choose this option. Disney Dining Plan guests can choose the menu add-on with payment of the surcharge in addition to the table-service entitlement redemption.
Special dining events with special menus offered at certain table-service locations are not included in the Disney Dining Plan.
Disney Dining Plans are not available for children under three. Children (aged 3-9) must purchase the child's dining plan and order from the children's menu when available. Adults (age 10 and over) must purchase the adult plan and order from the adult menu.
Refillable mugs are valid only during package stay at Quick-Service locations at your Disney Resort hotel. Mugs are not refilled in theme parks.
Merchandise or photo imaging products that "may" be offered at select character meals are not included (except at Cinderella's Royal Table and Akershus Royal Banquet Hall). For 2015 Dining packages, Disney PhotoPass photos at Cinderella's Royal Table and Akershus Royal Banquet Hall Character Breakfasts will no longer be included. Merchandise such as special souvenir cups and glow cubes are not part of the dining plan.
TheMouseForLess Tip: Always check to see if a tip has been added to your bill and be sure not to tip twice. We've heard reports from guests who did not realize they were tipping twice or were surprised to see automatic gratuities show up on their final bill when checking out of their resorts.
If you have additional questions about Disney's Dining Plans, we suggest that you book your trip with an Authorized Disney Vacation Planner like The Magic for Less Travel, the official travel agency of The MouseForLess. The Magic for Less Travel has been named by Disney an Authorized Disney Planner. Their exclusive Magic Plus Concierge Service is provided free of charge. This service ensures that you will get the best service and the best pricing. Agents working with The Magic for Less Travel are happy to help you secure Advanced Dining Reservations and help you create the vacation of your dreams.
If you are looking for even more Magic Your Way Package options, explore the Premium and Platinum Packages which include both dining and recreational experiences. Click on the links below for brochures with details.
Click here for more information on the Premium Plan and the Platinum Plan.
FREE Dining is available for arrivals most nights from August 28 - December 21, 2015 at select Disney resorts! Visit our
current code page
to learn more. We recommend The Magic for Less Travel for a
free no-obligation quote
. Take advantage of this great offer for your fall 2015 Walt Disney World vacation.