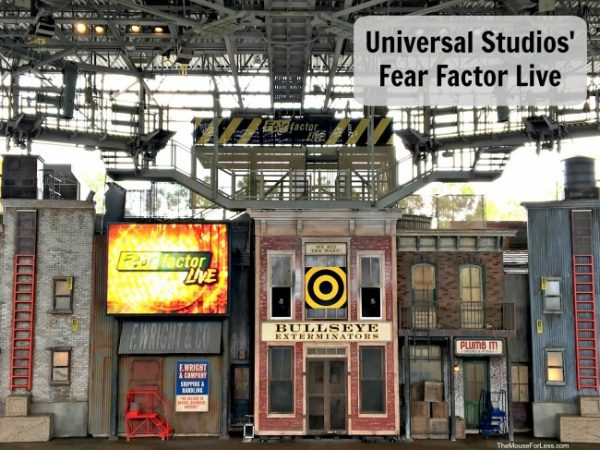 This attraction has officially been retired by Universal Orlando Resort.
When you visit Universal Orlando Resort, Fear Factor Live is a show no one wants to miss! Fear Factor Live will leave you stunned and in awe of how every day people just conquered their biggest fear. Watch as guests from the park (sign up prior to show) are challenged to land physically exhausting stunts as well as eating and/or encountering those creepy crawlers of the night. Fear Factor Live is really a great show for everyone. Guests wanting to participate can do so be auditioning ahead of time (details below) or volunteer for smaller tasks during the show. However watching this unforgettable show is also very worth the wait! Sit back, relax, and enjoy the shocking shenanigans unfolding in front of you.
Location  Casting  Safety Requirements  Tips

Planning a Universal Vacation?
Location & Show Times
Nearby Attractions: Men in Black: Alien Attack
Nearby Dining: Duff Brewery | Moe's Tavern | Fast Food Boulevard
The restaurants listed above are also located in World Expo, however Fear Factor Live is on the opposite side. Leaky Cauldron and Florean Fortescue's Ice Cream Parlour in the Wizarding World of Harry Potter are about the same distance from the show.
General Show Times: 1pm, 2:30pm, 4pm, and 5:30pm.
*Shows times are subject to change without notice.
Fear Factor Live Casting
There are two ways to participate in this exhilarating show:
Arrive at Fear Factor Live 70 minutes before the show starts. In order to be selected guests must meet the safety requirements.
Once guests are seated in the outdoor theatre the host will ask for a handful of volunteers to participate in more kid-oriented tasks.
Audience participation in each show involves 18 guests, and 6 guests will be chosen per show to compete in 3 stunts with 1 winner. Winners can receive items like extra park tickets & passes, special souvenirs, etc.
Casting Safety Requirements
Must be at least 18 years old.
Guests must be between the heights of 5′ and 6'2″.
Weight must be between 110 pounds and 225 pounds.
Guests with any back, neck, or muscle problems will not be selected. As well as those recommended by a physician to stay away from physically demanding activities
Anyone with a heart condition, abnormal blood pressure, or who could be expecting to be pregnant are not permitted to participate.
Guests with prosthetic limbs or special physical needs will need to speak with the casting director to determine eligibility.
*Universal Orlando Resort reserves the right to refuse any participant based on their discretion.
The Mouse For Less Tips
Fear Factor Live is intended for audiences of all ages, but certain stunts can be intense. Parental advisory is recommended for younger audience members.
The theatre is equipped for the needs of every guest. American Sign Language (ASL) is provided at certain show times, wheelchairs (manual and ECV) are permitted, and service animals are also welcome. For more information on accessibility in the parks, click here.
This show runs throughout the day so the wait times are typically not very long, though most wait times will vary depending on the time of year and crowd size. Should you see a wait time too long for your preference you can use your Universal Express Pass to jump ahead of the line.
For your best shot at being an audience participant guests will want to get a seat close to the stage. Be sure to shout and holler when asked to volunteer!