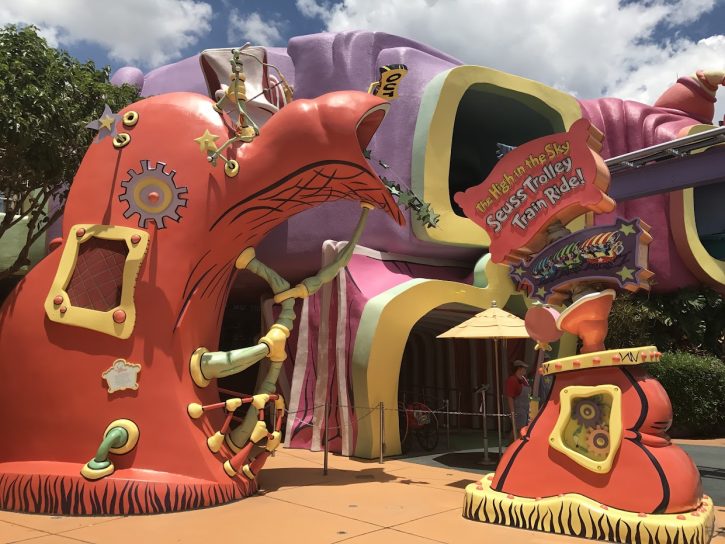 The High in the Sky Seuss Trolley Train Ride! is the best ride for the family. With its easy, slow-moving nature kids of all ages will be comfortable as well as amazed by the sights of Seuss Landing from above. Riders will take one of two paths and even get to ride over the top of the Circus McGurkus Café Stoo-pendus while other visitors grab a bite to eat and wave hello.
Ride Information  Ride Restrictions  Location  Fun Facts  Tips
Ride Information
Opening Day: Summer 2006
Type of Ride: Elevated Trolley Ride
Age Recommendation: All ages (per height requirements)
Duration of Ride: 6 Minutes
Typical Wait Time: 45-50 Minutes
Single Rider Line: No
Express Pass: Yes
Child Swap: Yes
Wheelchair Accessible: No
Ride Photo Available for Purchase: No
Ride Restrictions
Height Requirements: 36″(cm) Minimum – Riders between 36″ and 48″(121.9cm) must ride with a supervising companion.
Wheelchair Restrictions: Guests will need to transfer from both ECV and manual wheelchairs in order to ride The High in the Sky Seuss Trolley Train Ride!
Location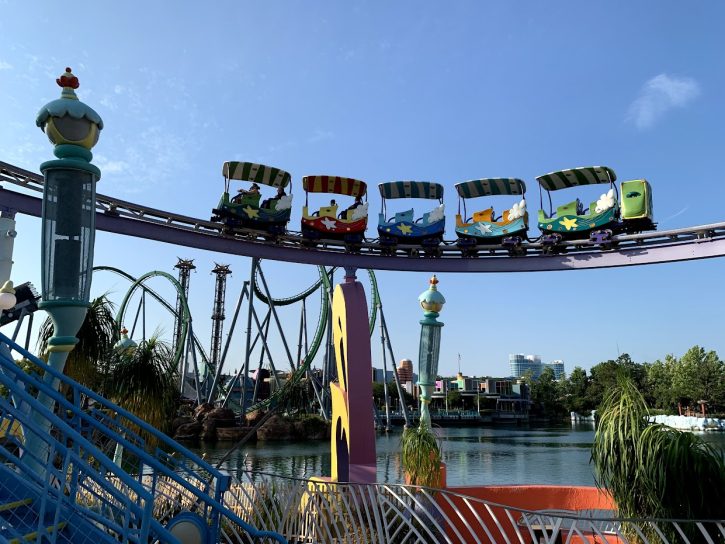 Nearby Attractions: Caro-Seuss-el & One Fish, Two Fish, Red Fish, Blue Fish
Dining: Circus McGurkus Café Stoo-pendus
Shopping: Mulberry Street Store, All The Books You Can Read, Snookers & Snookers Sweet Candy Cookers
Did You Know?
When the tracks for this ride were laid down they were originally for a ride to be named Sylvester's McMonkey McBean Unusual Driving Machines. This ride was supposed to be debuted with the rest of Seuss Landing in May 1999.
When you ride The High in the Sky Seuss Trolley Train Ride! you will see creatures all over Seuss Landing you may not have seen while walking on the ground. Included are characters from all 45 of Dr. Seuss' children's books. How many can you name?
Even though there is not a photo opportunity on the ride itself, there is an opportunity in the "queue" or waiting area.
The Mouse For Less Tips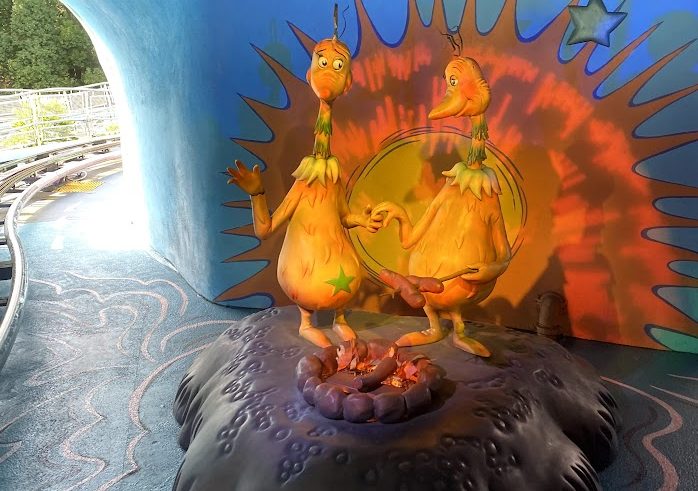 The High in the Sky Seuss Trolley Train Ride! attraction is a great time for everyone, however its mainly geared towards younger kids as its shorter, slower, and based on Dr. Seuss' children's books. If you are wanting to check it out, try to get in line shortly after the park opens or towards the end of the day when most of the families have not arrived or already left.
Although this ride does not accommodate a wheel chair (manual or ECV) some of the ride vehicles are designed to assist people with mobile disabilities to make boarding the ride easier. For further assistance you can locate an Attractions Attendant. For more on disability assistance at Universal Orlando Resort click here.
The Circus McGurkus Café Stoo-pendus is the closest dine-in restaurant to The High in the Sky Seuss Trolley Train Ride! But if you're looking for something different but just about as close try Mythos Restaurant in The Lost Continent in Islands of Adventure.