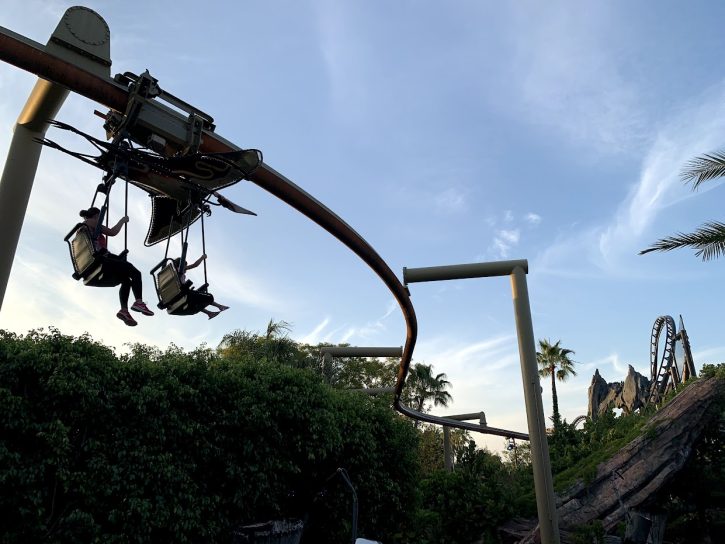 Pteranodon Flyers is Jurassic Park's most kid-friendly attraction. This Universal Orlando Resort attraction is specifically designed for your little ones in mind. This ride is exciting in a not-so-scary kind of way, As you soar above the park riders will gently sway side to side beneath the wings of a Pteranodon! Also, Pteranodon Flyers is using the Virtual Line Pass option where guests can essentially check in at the kiosk and then return when their space in line is up.
Ride Information  Ride Restrictions  Location  Fun Facts  Tips
Ride Information
Opening Day: May 28, 1999
Type of Ride: Kid-Friendly Coaster
Age Recommendation: Young Children
Ride Duration: 1 Minute
Typical Wait Time: 45 Minutes
Express Pass: No
Child Swap: Yes
Wheelchair Accessible: No
Ride Photo: No
Ride Restricitons
Height Requirements: 36″(92cm) Minimum. Riders under 48″(121.9cm) must be accompanied by a supervising companion.
Wheelchair Requirements: Riders will need to transfer from chair to ride vehicle.
Location
Nearby Attractions: Jurassic Park River Adventure | Jurassic World VelociCoaster
Dining: Thunder Falls Terrace
Shopping: Dinostore | Jurassic Outfitters
Did You Know?
In Pteranodon Flyers the winged reptiles have a wingspan of 10 feet. Real Pteranodons had wingspans of up to 18 feet!
With weight distribution in mind, this ride was specifically designed for children. Which is why anyone above 56″ shouldn't ride alone.
The Camp Jurassic play area is directly behind Pteranodon Flyers.
The Mouse For Less Tips
Now you can use the Virtual Line Pass to wait for your turn to ride. This is great since it can be incredibly popular which makes wait times much longer. While waiting kids can play in Camp Jurassic or explore nearby shops!
Because this ride can have up to an hour wait at certain times of day or peak seasons, be sure to download the official Universal Orlando Resort app to view real time waits.
For shortest wait times guests should try riding early in the day or before closing. To view additional average wait time information on Pteranodon Flyers and other Universal attractions, click here.