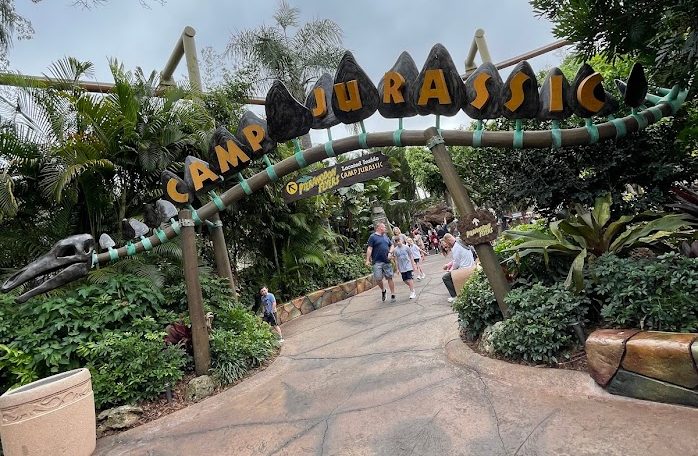 Come to visit Camp Jurassic and you will not be disappointed. In this large outdoor play area, guests of all ages will enjoy some time playing and climbing over obstacles and through great big dinosaur nets. There is so much to do at Camp Jurassic if you can just imagine. Think of a traditional playground with ladders and slide, but also included are swaying bridges, dark exploration caves, and even water cannons. This is truly one of Universal Orlando Resort's most elaborate play areas in all of it's parks.
Location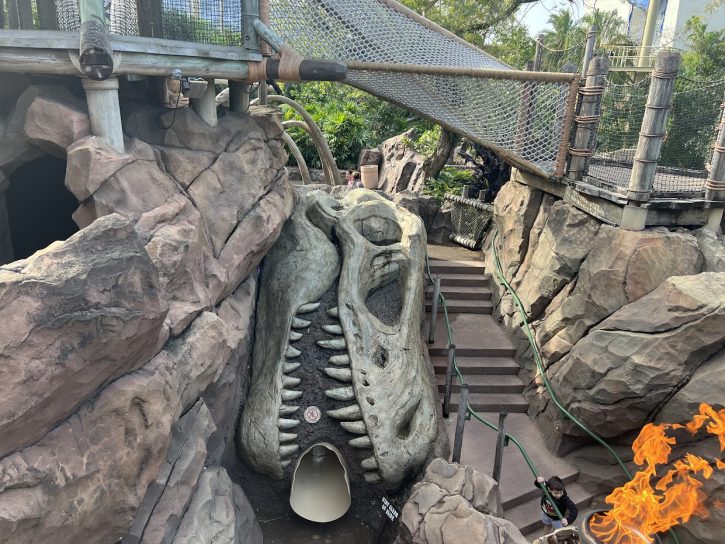 Nearby Attractions: Pteranodon Flyers | Jurassic Park River Adventure
Dining: Thunder Falls Terrace | Pizza Predattoria
The Mouse For Less Tips
Camp Jurassic is intended for those about 13 years of age or younger. Although anyone can have their fun, if you are bringing small children it may be a good idea to explore with them. This is due to the sheer size of the area.
Pteranodon Flyers is located inside Camp Jurassic, so the queue area will collide with other explorers. Keep an eye on those kiddos so they don't end up on a ride unplanned!
With so much to experience here guests can easily spend an hour or so having the time of their lives. If you're traveling with children and adults this can be a great place for the younger ones to play while mom, dad, and big brother or sister find exhilarating coasters nearby.
As mentioned above, there are water cannons, more accurately spitting (water) dinosaurs. Don't let this scare you off, they are, for the most part sectioned off. If you do go near them be prepared to be soaked!
If you do end up leaving the camp covered in water note that there are drying stations next door over in Toon Lagoon as well as the following water rides where you will be sure to get soaked anyways: Popeye & Bluto's Bilge-Rat Races and Dudley Do-Right's Ripsaw Falls.