Of course we all know that every sailing on Disney Cruise Line is special. But sometimes there are sailings that offer a little more magic. Two such sailings are Star Wars at Sea and Frozen Fun.
Star Wars Day at Sea Frozen Fun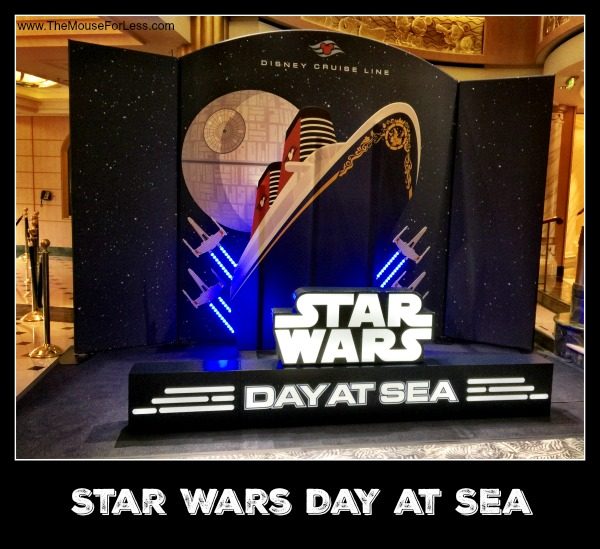 Star Wars at Sea Special Sailing Dates
From January through April 2017, Disney Cruise Line Guests can enjoy the return of the popular Star Wars Day at Sea. Come aboard and experience the heroes, villains and sensational action of the saga up close.
Star Wars Day at Sea —available on select Caribbean cruises—combines the power of the Force and the magic of Disney—in an out-of-this-world adventure unlike any other!
As you enjoy your Caribbean cruise, you'll be transported to "a galaxy far, far away" for an entire day of fun, including:
A deck party featuring Star Wars Characters, music, dancing and fireworks
Photo opportunities with Characters from across the Stars Wars universe
An onboard version of the Jedi Training Academy, where young Padawans learn lightsaber maneuvers
Star Wars-themed games and activities at Disney's Oceaneer Club and Disney's Oceaneer Lab
Stellar food and beverage offerings
Screenings of the Star Wars films plus episodes of Disney's animated series Star Wars Rebels
Exclusive themed merchandise
Please remember that while all Guests are invited to wear costumes at special deck parties, masks that completely cover a person's face may only be worn when standing still at character photo locations and must be carried when moving around the ship.  We also ask that you choose costumes that are not obstructive or offensive.  To avoid any disappointment or delay in the boarding process, please refrain from bringing toys or props that resemble guns, knives or other related implements, as these items will not be allowed onboard.
Star Wars Day at Sea Special Sailing Dates:
7-Night Western Caribbean sailings
January 7, 2017
January 21, 2017
February 4, 2017
February 18, 2017
March 4, 2017
March 18, 2017
April 1, 2017
April 15, 2017
7-Night Eastern Caribbean sailings
January 14, 2017
January 28, 2017
February 11, 2017
February 25, 2017
March 11, 2017
March 25, 2017
April 8, 2017
Frozen Fun Special Sailing Dates
During the Summer of 2016, the Disney Magic and Disney Wonder will be offering some special Frozen Fun. The Disney Magic will sail in Europe and the Disney Wonder will be in Alaska. However even though the ports may be far from each other, they ships will have one thing in common — some special friends from the Kingdom of Arendelle.
On select 7-night sailings, the Disney Magic and Disney Wonder will be transformed into a winter wonderland. On one special morning, you'll awake to discover a magical freeze has overtaken the atrium lobby with sparkling icicles adorning the grand staircase, resembling the majestic mountaintop ice palace of Queen Elsa. Throughout the day there will be Scandinavian-inspired family activities, a themed dining experience with a menu of traditional Nordic fare and meet and greets with Anna, Elsa, Kristoff and Olaf.
This "cool" day of frozen fun culminates with family friendly deck park, "Freezing the Night Away with Anna, Elsa and Friends."  The celebration begins with a high-energy line dance, set to the movie's ice cutting scene, featuring the arrival of Kristoff, impressively twirling his ice picks, and Princess Anna. Kristoff and Anna's beloved companions, Sven, the trolls and Olaf, make virtual appearances at the party. Sven engages the crowd in reindeer games like "Sven Says" and the "Troll Stroll," and Olaf leads a sing along to his signature song, "In Summer."
Elsa arrives with a snowy gust of wind, calling on guests to sing "Let it Go" with her as she conjures up a wintry spectacle to cool things down for Olaf. In true Disney fashion, Elsa unleashes her magic, sending a chill through everyone as the powerful Academy Award-winning song echoes from the ship. The evening concludes with more family dancing on the pool deck. Then the fun continues just for adults in the dance club featuring performances and frozen specialty drinks.
Frozen Special Sailing Dates: 7-night Disney Wonder sailings departing May 1, 2016 through August 26, 2016, and on 7-night Disney Magic sailings departing May 15, 2016 through September 17, 2016.