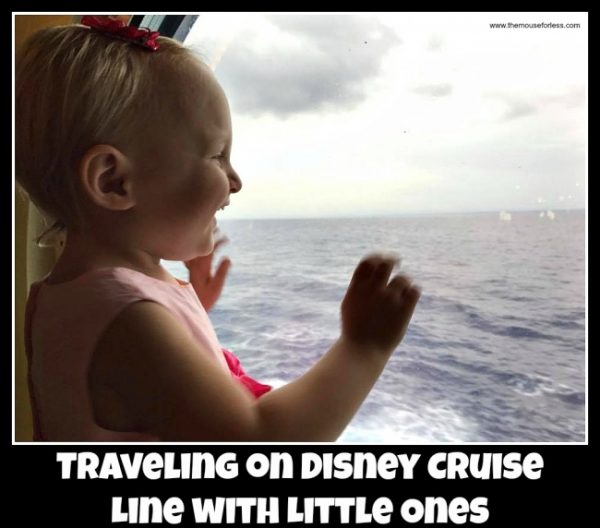 As so many parents know vacationing with the little ones is not always as relaxing as it sounds. Often times parents put off vacations until their kids are much older because what do you do with a young child on a cruise? Where do you go that is toddler friendly? Disney Cruise Line has the answer moms and dads have been waiting for!
While aboard any of the Disney Cruise Line ships there are plenty of amenities, activities, and services provided for you. Caring for and entertaining all guests on board includes even its tiny sailors.
Activities Amenities It's a Small World Nursery

Planning a Disney Cruise Vacation?
For a Free no-obligation quote, contact our sponsor
The Magic For Less Travel
. Receive the best prices, free concierge travel planning & a shipboard credit of up to 5% of your cruise price when you book any new Disney Cruise Line vacation with The Magic For Less Travel
Activities For Little Ones
There are a number of activities to do with your youngster to entertain them for hours. Then when you need some time to relax let the kids enjoy the smaller pools and splash zones while you lounge on the deck. Check out our Disney Cruise Lines activities for children page for more information about kid clubs. In addition, when onboard the ship, make sure to request a special toddler version of the Disney Cruise Line Navigator, which lists special activities with little ones in mind.
Now available on all 4 Disney Ships your little ones can dress up like royalty and enjoy a full Princess or pirate makeover. For the special sailings guests an choose a Star Wars package!
Disney Fantasy Package
Captain Mickey Package
Princess Minnie & First Mate Minnie Castle Packages
The Under The Sea Package
The Royal Sea Package
Locations
Disney Dream & Fantasy – Midship, Deck 5
Disney Magic & Wonder – Forward of ship, Deck 10
The Pirates League
Like the Bibbidi Bobbidi Boutique, there are exclusive offers and costumes when you bring your little one to The Pirates League on the Disney Dream ship. However, The Pirates League has costumes for the rough and tough as well.
First Mate Package
Empress Package
Deluxe Maiden
Pirate's League Captain Package
Pools & Splash Zones
Aboard every Disney Cruise Lines ship there are many places for your little one to cool off and have age appropriate fun.
Additional Activities
There are a lot of great activities that are scheduled with toddlers in mind. These can include:
Toddler Time
Wake Up With Disney Junior Dance Party
Jack-Jack's Incredible Diaper Dash
Character Dance Parties
Activities are subject to change. Make sure to pick up a toddler-inspired Navigator for full details of what will be available for your cruise.
Infant & Toddler Amenities
Infants and toddlers come along with a lot of equipment for proper care, so Disney Cruise Lines provides parents with a number of items and amenities. All complimentary services are not available for reservation.
Complimentary Items
Diaper Disposal pails, bottle warmers, bottle sterilizers, cribs, and play pens. Ask your stateroom host/hostess.
Strollers are available at guests services.
Pack N Plays are available and upon request your stateroom host/hostess can set it up and take it down for you each day.
Bedrails can also be provided.
Parents can request a high chair at any of the cruise ship's restaurants.
Wagons are available at Disney's private island, Castaway Cay. These are available on a first come first serve basis.
There are also strollers available. These must be requested for use onboard with Guest Relations.
Make sure to
Available to Purchase
In any of the ship's merchandise shops you can find baby and toddler essentials. Baby powder, diapers, pull ups, formula, pacifiers, and baby food.
Upon request fresh pureed vegetables can be made in the main dining rooms and through room service.
"It's a Small World" Nursery
Brought to you by Huggies the nursery and day care facility is one of the best! You can leave your little sailor to play with babies and toddlers his or her own age while you relax by the pool or simply have a quiet grown up meal. Little ones love the nursery for its classic Disney inspired wall designs, a 3D version of the it's a small world attraction, and of course the peaceful napping room because our little ones need rest too!
Tips for Parents
"It's a Small World" Nursery is available on Disney Magic, Disney Dream, Disney Wonder, and Disney Fantasy.
Children ages 6 months to 3 years are welcome. Or 1 to 3 on Transatlantic, Hawaii, and Panama Canal itineraries.
Depending on the child parents should bring their child's baby food, bottle, pacifier, blanket for napping, extra clothing, diapers/pull ups and wipes.
Reservations are required due to limited space.
Rates & Reservations
Reservations
Reservations are required for the "It's a Small World" Nursery onboard Disney Cruise Line and they can be made online in advanced or anytime during the cruise on a first come first serve basis.
Concierge and Platinum Castaway Club guests can reserve up to 120 days in advance.
Gold Castaway Club guest can reserve a spot up to 105 days in advance.
Silver Castaway Club guest can reserve up to 90 days in advance.
All Other guests can reserve 75 days in advance.
Minimum reservation time is one hour. 
**Cancellations can be made 4 or more hours ahead of time. If reservations are canceled less than 4 hours before guests will be charged half the cost of their reserved time. For any no shows guests will be charged in full for the reserved amount of time.**