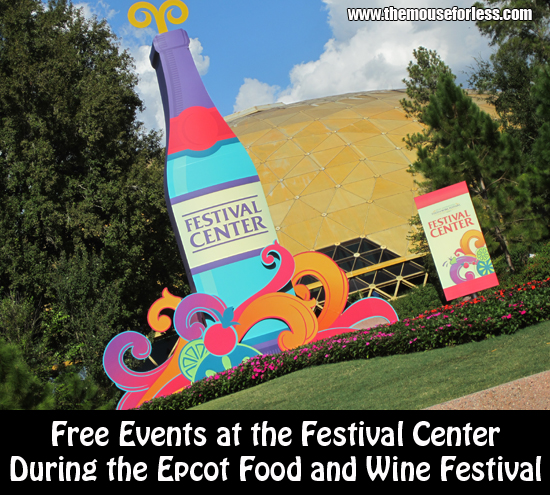 The Epcot Food and Wine Festival Center offers a cornucopia of experiences. Most are free with your Epcot park admission including a special series of programs and experiences, sampling mouth-watering chocolate, learning hosting tips from the pros, and more. While you're there, be sure to check out the lists of famous personalities who will be appearing plus the times of their scheduled book or bottle signings. Be sure to visit the Festival Welcome Center at Epcot Theme Park for additional information.
The Festival Welcome Center is located in the former Wonders of Life Pavilion in Future World (between the Universe of Energy Pavilion and Mission: SPACE) and is open daily from 9 a.m. until park closing.
Please note that participation in some events may offer or require the "purchase" of merchandise.
Chocolate Experience Back to Basics ABC's The Chew Book & Bottle Signings Seasons of the Vine Additional Festival Center Experiences
The Chocolate Experience: From Bean to the Bar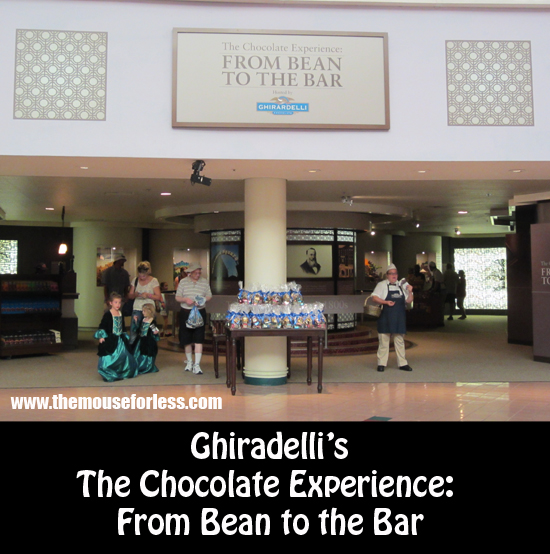 Immerse yourself in the sights, smells and flavors of Chocolate. Here you can sample chocolates, marvel at chocolate sculptures created by WDW Resort pastry chefs, explore the journey chocolate must take to get from the bean to the bar, purchase gourmet drinking chocolate, and much more. Don't miss your chance to sample chocolates, purchase gourmet drinking chocolate, select a wine and chocolate pairing, and shop for a bag of your favorite Ghirardelli Gourmet Chocolates.
Where: Festival Welcome Center
When: Daily, 9 a.m. to Park Close
Cost: Included with your Epcot admission
Back to Basics
Discover tips and tricks that will have a profound effect on your next meal all courtesy of the food industry's top culinary pros!
Where: Epcot's Festival Welcome Center, Spotlight Stage
When: Fridays – Sundays, 2:00 p.m., & 4:00 p.m.
Cost: Included with your Epcot admission
Presenters include:
Joffrey's Coffee & Tea Company – September 1-3
The Olive Pantry – September 8-10
Pam Smith, P.S. Flavor! – September 15-17
Melissa's Produce – September 22-24
National Watermelon Promotion Board – September 29-October 1
AMERICAN HERITAGE Chocolate – October 6-8
Minus 8 Vinegar – October 13-15
Kumquat Growers, Inc. – October 20-22
Blue Diamond Almond Breeze – October 27-29; November 3-5
Twinings of London– November 10-12
Festival Stage hosted by ABC-TV's The CHEW
Ready for a crash course in the culinary arts? Go on the road again with the cast of The CHEW, one of ABC's most delicious chat fests. As the show's experts divulge their secrets to success, you'll glean entertaining ideas sure to make your next event party-perfect.
Live Episodes from Epcot
Be part of the audience when The Chew broadcasts live episodes right from Epcot—taking place from 9:00 AM to 12:00 PM, October 4 to 6, 2017 (Wednesday through Friday).
To attend a live broadcast, you must first obtain a valid audience ticket from The Chew. In addition, valid Epcot admission is also required.
Where: Festival Welcome Center
When: Daily, 9 a.m. to Park Close
Cost: Included with your Epcot admission
Book Signings, Bottle Signings and Meet & Greets
Chat with a celebrated author, personality or winemaker while you have your purchased book, wine or merchandise autographed. Please check the daily schedules for featured authors and personalities or visit the Festival Center Information Desk.
Where: Epcot's Festival Welcome Center
When: Check daily schedule for guests & times
Cost: Signings and meet and greets are included with your Epcot admission
Seasons of the Vine
Voyage into the world of winemaking as you travel along on this journey behind the vines to see how these delectable grapes become even more spectacular wine. Running 7 minutes in length, this exciting film shows continuously throughout each day of the event.
Where: Festival Welcome Center
When: Daily, 9 a.m. to Park Close
Cost: Included with your Epcot admission
Festival Center Guest Relations
Stop by the Guest Relations booth for more details and helpful Festival information, including a park map, Times Guide and Festival Passport.
Other Festival Center Experiences
These Festival Center experiences can carry a cost, if you choose to partake in them.
Remy's Ratatouille Hide & Squeak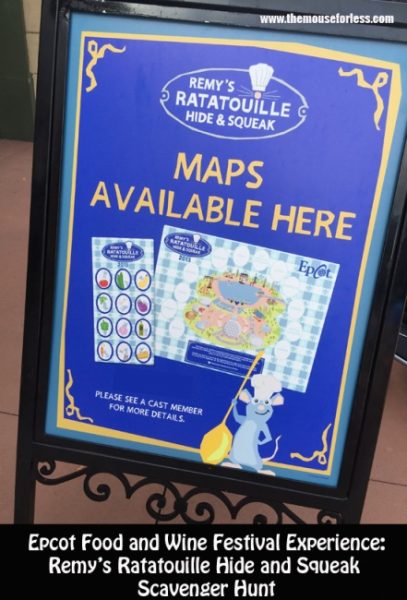 Kids of all ages can search for Remy on a savory scavenger hunt around World Showcase. You'll be able to purchase your map and stickers from select Festival merchandise locations—including the Festival Center, Pin Central, Port of Entry or World Traveler at the International Gateway. Then, when traveling around World Showcase, locate statuettes of Remy hidden throughout and match the ingredient stickers to your map. Once you've found them all, bring your completed map to any of the above locations for a sweet surprise—compliments of Chef Remy!
Cost: Nominal Fee
Shopping and Dining
Stockpot Shop
Commemorate your visit with a poster and cookbook or browse our top-notch kitchenware to continue the culinary magic at home!
Wine Shop
Connoisseurs can choose from an incredible selection of wines, beer and spirits from prestigious makers featured throughout the Festival.
Recharge and relax with mouthwatering menu options perfect for day or night noshing including wine, cheese, salads, sandwiches and more.
---
Call your travel agent or contact The Magic For Less Travel at (888) 330-6201 to book your Walt Disney World stay during this event.