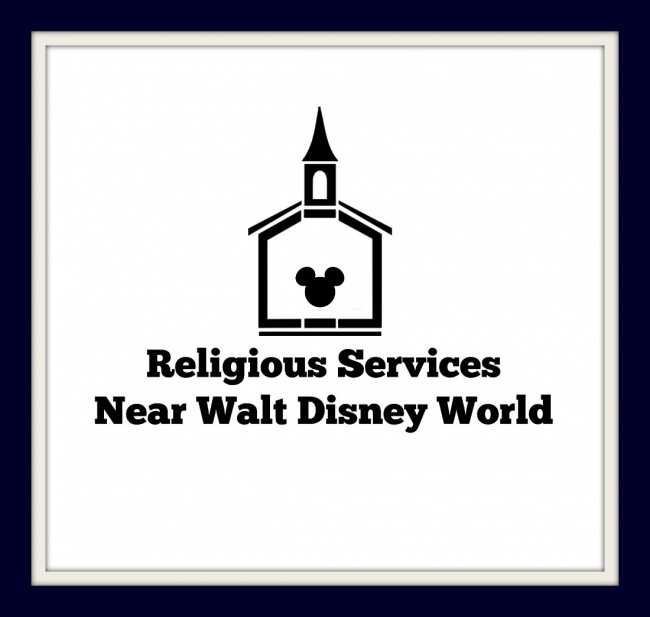 There are no religious services held on Disney property. To help you find a place to worship while on vacation, we've compiled a list of nearby houses of worship. These religious services near Walt Disney World are listed alphabetically by denomination. Service times may change so please contact the church of your choice to verify service schedules. This is by no means an exhaustive list. You can consult local listings for additional options.

Planning a Walt Disney World Vacation?
For a Free no-obligation quote, contact our sponsor
The Magic For Less Travel
. The Magic For Less Travel is an Authorized Disney Vacation Planner and has been helping guests plan magical vacations since 2002. Receive the best prices and free travel planning services. Their fee-free services will help you save time, money, and stress while planning a vacation designed around you and your needs!
Assembly of God
Evangel Assembly of God
5838 Hoffner Avenue
Orlando, FL 32822
Phone: 407-275-0046
www.evangelassembly.com
Baptist
First Baptist Church Windermere
8464 Winter Garden Vineland Road
Orlando, FL 32836
Phone: 407-876-2234
fbcwindermere.com
First Baptist Church of Orlando
3000 South John Young Parkway
Orlando, FL 32805
Phone: 407-425-2555
www.firstorlando.com
Catholic (Byzantine)
St Nicholas Byzantine Catholic
5135 Sand Lake Road, RT 482
Orlando, Florida 32819
Phone: 407-351-0133
orlandobyzantine.com
Catholic (Roman)
Mary Queen of the Universe Shrine Catholic Church
8300 Vineland Road
Orlando, Florida 32821
Phone: 407-239-6600
www.maryqueenoftheuniverse.org
Saint James Catholic Cathedral
215 N. Orange Avenue
Orlando, FL 32801
Phone: 407-422-2005
www.stjamesorlando.com
Church of the Nazarene
Metro West Church-The Nazarene
3705 N. Apopka Vineland Road
Orlando, Florida 32818
407-293-2781
www.metrowestchurch.org
Episcopal
Church of the Ascension- Episcopal
4950 South Apopka-Vineland Road
Orlando, FL 32819
Phone: 407-876-3480
www.ascension-orlando.org
The Cathedral Church of Saint Luke
130 North Magnolia Avenue
Orlando, FL 32801
Phone: 407-849-0680
www.stlukescathedral.org
Greek Orthodox
Holy Trinity Greek Orthodox Church
1217 Trinity Woods Lane
Maitland, FL 32751-3159
Phone: 407-331-4687
www.htgocorlando.org
Hindu
The Hindu Society of Central Florida
1994 Lake Drive
Casselberry, FL 32707
Phone: 407-699-5277
www.hindutempleorlando.org
Interdenominational
Christ Community Church
5425 S Apopka Vineland Road
Orlando, FL 32819
Phone: 407-909-9495
orlandoccc.org
Iglesia Cristiana ADD
614 S Park Avenue
Orlando, FL 32804
Phone: 407-869-7204
Islamic
Islamic Center of Orlando
11543 Ruby Lake Road
Orlando, FL 32836
Phone: 407-238-2700
www.icorlando.org
Muslim Prayer Room and Fountain at Epcot
There is a designated meditation area located inside the Morocco Museum at World Showcase. Small rugs are available for guest use.
Jehovah's Witness
Jehovah's Witnesses Kingdom
2050 Hempel Avenue
Windermere, FL 34786
Phone: 407-445-1833
Jewish
Orlando Community Weekday Morning Minyan (Conservative Egalitarian)
Location: Meets at the JCC at 851 N Maitland Ave, Maitland 32751
Phone: (407) 963-5731
URL: www.facebook.com/OrlandoMinyan
E-mail: OrlandoMinyan@gmail.com
Hours: Sunday at 9 AM; Monday-Friday at 7:45 AM — 9 AM on national holidays
Chabad of South Orlando (Chabad / Lubavitch)
Location: 7504 Universal Blvd, Orlando 32819 (12.5 mi)
Phone: (800) 765-7905
URL: www.jewishorlando.com
Congregation Ohev Shalom (Conservative)
Location: 600 Concourse Parkway South, Maitland, FL 32751
Phone: (407)-298-4650
URL: www.ohevshalom.org – www.facebook.com/OhevShalomOrlando
Congregation of Reform Judaism (Reform)
Location: 928 Malone Dr, Orlando 32810 (26 mi)
Phone: (407) 645-0444
URL: www.crjorlando.org
South West Orlando Jewish Congregation – Ohalel River
11200 South Apopka-Vineland
Orlando, FL 32836
Phone: 407-239-5444
www.sojc.org
Latter-Day Saints
Church of Jesus Christ of Latter Day Saints
3001 Apopka Vineland Road
Windermere, FL 32835
Phone: 407-876-8134
www.lds.org
Lutheran
Salem Lutheran
7900 Apopka-Vineland Road
Orlando, FL 32819
Phone: 407-876-4000
www.salemlc.net
St. John Evangelical Lutheran Church
1600 S. Orlando Avenue
Winter Park, FL 32789
Phone: 407-644-1783
www.mysj.org
Methodist
St. Luke's United Methodist Church
4851 South Apopka-Vineland
Orlando, FL 32819
Phone: 407-876-4991
www.st.lukes.org
First United Methodist Church
142 East Jackson Street
Orlando, FL 32801
Phone: 407-849-6080
firstchurchorlando.org
Non-Denominational/Born-Again
Calvary Chapel South Orlando
5505 Hansel Avenue
Meeting @FOP25
Orlando, FL 32809
Phone: 407-545-5228
Grace Fellowship Church
2551 Westside Blvd.
Kissimmee, FL 34747
Phone: 866-369-1100
mygracefellowship.org
Pentecostal
India Pentecostal Church
11551 State Road 535
Orlando, FL 32836
Phone: 407-239-7880
ipcorlando.org
Presbyterian
Community Presbyterian Church in Celebration
511 Celebration Avenue
Celebration, FL 34747
Phone: 407-566-1633
www.commpres.org
Seventh-Day Adventists
Apopka Seventh-Day Adventist Church
340 E. Votaw Rd
Apopka, FL 32703
Phone: 407-889-2812
www.apopkasdachurch.com
Unitarian Universalist
First Unitarian Church of Orlando (welcoming)
1901 E. Robinson Street
Orlando, FL 32803
Phone: 407-898-3621
orlandouu.org
University UU Society, Inc.
11648 McCulloch Road
Orlando, FL 32817
Phone: 407-737-4018
www.universityuus.org
Please contact us if you have other Religious Services near Walt Disney World that you would like to add to this page.